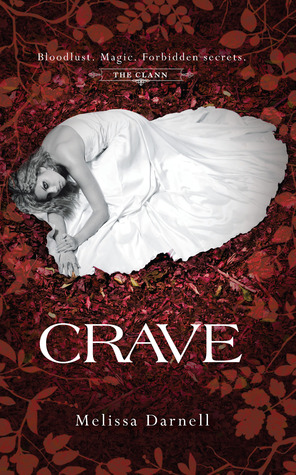 Crave by Melissa Darnell
Series: The Clann #1
Published by Harlequin Teen
Publish Date: October 25, 2011
Source: Publisher
Find it here: Goodreads / Amazon

Savannah Colbert has never known why she's so hated by the kids of the Clann. Nor can she deny her instinct to get close to Clann golden boy Tristan Coleman. Especially when she recovers from a strange illness and the attraction becomes nearly irresistible. It's as if he's a magnet, pulling her gaze, her thoughts, even her dreams. Her family has warned her to have nothing to do with him, or any members of the Clann. But when Tristan is suddenly everywhere she goes, Savannah fears she's destined to fail.
For years, Tristan has been forbidden to even speak to Savannah Colbert. Then Savannah disappears from school for a week and comes back different, and suddenly he can't stay away. Boys seem intoxicated just from looking at her. His own family becomes stricter than ever. And Tristan has to fight his own urge to protect her, to be near her no matter the consequences.
(Goodreads)
Crave by Melissa Darnell
My Thoughts:
Crave
by Melissa Darnell is the first book in
The Clann Series
, featuring Savannah Colbert and Tristan Coleman. Savannah and Tristan were the best of friends when they were younger, but their families forced them to end their friendship when they were still very young. They were not given exact reasons why. To this day, the descendants of The Clann continue to harass and bully Savannah both at school and outside of school, to the point she is practically an outcast.

The Clann is a group of powerful witches that live scattered among the population of Jacksonville, Texas.

Half-witch, half-vampire Savannah lives with her mother and grandmother, both witches that were exiled from The Clann in years past. They have been forbidden to teach Savannah any magic at all. Savannah has never understood the reason for the way Clann descendants treat her. Thankfully, she has one or two good friends and her dancing to keep her grounded.

Early in the story, Savannah misses several days of school because of a strange sickness. When she comes back, there is something different about her – her friends can't quite discern the reason for this change. Savannah also notices that nearly everyone is responding differently to her, some with excessive admiration which she finds very uncomfortable. Over time, she also notices other changes occurring, for example: her ability to dance has gone from not-very-good to better-than-anyone-else-at-school, and she eventually develops bloodlust.

Tristan is part of The Clann's head family – he is also a powerful witch. After having a crush on her for years, he hates that he has to stay away from Savannah. He nor the rest of the descendants have any idea that Savannah is part-vampire; they are only following the instructions of The Clann by staying away from her. Tristan's feelings toward Savannah grow to a point where he cannot deny them any longer and he chooses NOT to stay away from her, no matter the cost.



********************************************************************************


I was initially drawn to Crave because the cover is so pretty. Admittedly, I've had this entire series on my Kindle for a few years. I put off reading it only because I saw some mixed reviews of this first book when it first released and I wanted to start the series without any influence. I think this was a really good decision. I ended up reading thru the entire book in just a few hours because I got caught up in the story. This is not the deepest paranormal story that I've ever read, but I found it very entertaining.

I liked Savannah. Reading her, I felt like I got a good handle on her character, what she had dealt with over the past few years, and what she was dealing with presently as her entire life began to change. Savannah's story didn't have a big coming-of-age feel to it; it felt more like a transition from thinking she is one thing to learning she is truly something different. Savannah is pretty honest with readers about how she feels by way of her thoughts and her dialogue – not all of her family/friends were privy to her entire thought processes, which made the story more interesting. Sometimes Savannah made some not-great decisions and I felt a little frustrated with her, but certainly this allows for some character grown across the series. Savannah has great friends and a great family and she appreciates these people. I love these well-written relationships.

Also regarding Savannah: (scroll over to read, may be kind-of spoilery for some)With all of the changes associated with her turn into part-vampire, it seemed like Savannah was either slow to realize she was becoming a vampire or slow to want to admit this – this put her friends and family in danger. I couldn't really tell which, but it kept jumping out to me that perhaps she should realize what is going on over and over. I mean, I didn't like the story any less, but I did think this about her more than once while I was reading.

I like Tristan too. At the end of the book, I feel like I know Savannah more, but I do like Tristan very much. I like that he wants to make his own plans for his future instead of move ahead with what his parents have laid out for him. I like the fact that he pushed back against the Clann rules that didn't feel right to him, especially the rule about contact with Savannah. I like that he sticks up for Savannah when she is being bullied by members of his own Clann. He is respectful of Savannah and I love this.

Both Savannah and Tristan are different people at the end of this book than they were at the beginning, and I'm curious about where the rest of this series will take them.

The romance between these two is very slow, built on top of a crush that already exists for both of them. For a couple of reasons, Savannah was unsure of Tristan's intentions. Because he really liked her, he was patient and respectful — he took his time proving to her that he was not like the other guys, that he liked her truly, not because of her new, special, unusual circumstances. He also proved to her that he had always liked her and that his feelings were genuine and deep.

Crave was a fun read. It felt convenient plot-wise, yes. But in truth, I have never gotten tired of this type of story and I was transported someplace else while I read this, which is the main reason that I read anyway. FURTHER and even better, I think that my entire house could read this book – it felt safe for all-ages readers. I would recommend Crave to readers that enjoy young adult paranormal stories with romance.
********************************************************************************
Crave will appeal to fans of:
Young Adult Paranormal with Romance
Romance: Slow. No triangle.
Alternating POV's
Crave by Melissa Darnell
is currently available for purchase.
********************************************************************************
More by Melissa Darnell: