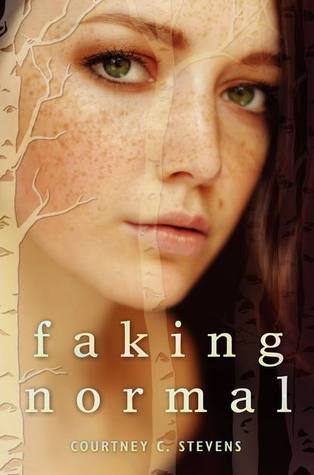 Faking Normal by Courtney C. Stevens
Published by HarperTeen
Publish Date: February 25, 2014
Source: Book – Library, Audiobook – Library
Find it here: Goodreads / Amazon / B&N

Alexi Littrell hasn't told anyone what happened to her over the summer. Ashamed and embarrassed, she hides in her closet and compulsively scratches the back of her neck, trying to make the outside hurt more than the inside does.
When Bodee Lennox, the quiet and awkward boy next door, comes to live with the Littrells, Alexi discovers an unlikely friend in "the Kool-Aid Kid," who has secrets of his own. As they lean on each other for support, Alexi gives him the strength to deal with his past, and Bodee helps her find the courage to finally face the truth.
A searing, poignant book, Faking Normal is the extraordinary debut novel from an exciting new author-Courtney C. Stevens.
(Goodreads)
Faking Normal by Courtney C. Stevens
My Thoughts: Faking Normal by Courtney C. Stevens is one of those "issues" young adult contemporary books that I tend to really like. Here we have both a boy and a girl that have been through some significant trauma, so they're both dealing with the aftermath of those events, but they're also navigating the day-to-day of school, friendships, and such. I love those stories.
I've tried to write my thoughts on this book and find that I can't organize them well, so I'm doing what I do in this situation and MAKING A LIST.
1. Alexi Littrell was raped a few months ago. She is having a difficult time dealing with guilt in the aftermath of this crime. Is it really rape if she never said no? She KNOWS he saw her crying, surely he KNOWS she didn't want it, right? She hasn't been able to talk to anyone about it, including her parents, her older sister, her best friends. Alexi has taken to picking at the skin at the back of her neck and
near-incessant counting rituals t
o calm her down, which doesn't really help her but she does it anyway. She hides these behaviors from everyone except for Bodee.
2. Bodee Lennox is the quiet boy that keeps to himself and dyes his hair with Kool Aid. After his father murders his mother, he comes to live with Alexi's family. Bodee has always had sweet, secret feelings for Alexi, but he has never acted on them or revealed them to anyone. Because of what he has endured in his own life, he is sort-of wise-beyond-his-years, and he can easily see that Alexi has some sort of pain that she is hiding away. Bodee has a habit of hiding away in small places as a means of coping with his pain, like under the bed or in a tent.
3. The two begin to trust one another as they develop build rapport around their obsessive behaviors. These behaviors initially began as a way for the two to individually retreat from their pain, but both realize that they are not acting "normal." Bodee begins to slowly help Alexi, and in turn he finds help in Alexi.
4. When Alexi and her friends hang out, they seem to talk a lot about sex. I know that people this age talk a lot about sex and things of that nature, but it was SO MUCH in this book (perhaps because of the nature of the story?). The more Alexi's friends discussed it, the more she seemed to retreat into herself and rely on Bodee. I thought it was really interesting that she never revealed anything about what happened to her best friends, yet she was able to trust Bodee who was a new friend to her.
5. I loved the development of the relationship between Alexi and Bodee. Friends first, quietly, then a strengthening romantic relationship. It never, ever overshadowed the real issue of the story, which was what happened to Alexi and how she was able to eventually begin to cope with Bodee's help — BUT the romance was like this very-big small thing that hovered throughout the novel. Even though the romance was not even fully realized by the end of the book, it was awesome and I had a sense that these two were going to be okay.
6. I found myself wondering all. the. time. who hurt Alexi – I know that was supposed to be part of the secrecy of the story as Alexi hadn't revealed it to anyone and barely even admitted it to herself. Still I wonder if I had known earlier in the story, if it would have made me feel differently toward a few of the other characters? I unfairly judged them because I DIDN'T KNOW all of the information, and I feel awful about that. I almost want to go back and reread to see if I feel differently now that I know WHO DID THIS THING.
7. About who did it, WOW, I'm mad at this person. For doing that.
8. I felt relief at the end of the book because this story, while great, is heavy and heartbreaking. It IS issues contemporary, after all. However, I wish that the story went just a little bit further so 1) we could get a little sense of Alexi and Bodee as a couple and 2) we could see SOME of the punishment or consequences for the person that committed the rape after the confrontation by Alexi and 3) we could see Alexi's character's healing process begin.
Faking Normal by Courtney C. Stevens is great. I love issues contemporaries even though they are tough at times. They're real life and people do go through these things! I thing the author took on a big task in writing this as a debut and pulled it off well. I loved reading it and am so grateful that Alexi had someone like Bodee in her life. By the end of it, even though I wish there was just a little more to the story, I feel like the author really had delivered a story that shouted out IT'S NOT YOUR FAULT to a character that struggled with doubt and guilt and an inability to think things through in a healthy way. I recommend Faking Normal for readers that enjoy young adult contemporary stories with realistic fiction inside as well as a small thread of romance.
Audiobook Notes:
The audiobook format of Faking Normal
by
Courtney C. Stevens
is published by HarperAudio
and is 7 hours and 45 minutes, Unabridged. It is narrated by Emma Galvin who is one of my favorite narrators for audiobooks, period. This reader always tends to place me in the head of the character and make me feel as if the actual character of the story is speaking to me, which she easily did yet again with the characters of Alexi Littrell and Bodee Lennox. She has a great voice for reading, she has a great dialect or accent for a story that is set in (I think) Tennesee. I would HIGHLY recommend the audiobook format for a first read or reread.
***********************************************************************
Faking Normal will appeal to fans of:
YA Contemporary with Issues
Romance: Slowly-building & also NOT the main plot point. No triangle.
Standalone
Issues: Rape, Abuse (both happen before the story but are recounted,
so slight *trigger warnings* for those issues)
Faking Normal by Courtney C. Stevens
is currently available for purchase.
***********************************************************************
Who has read FAKING NORMAL?
What are your thoughts on this one?


Do you enjoy issues contemporaries?
Do you have favorites?