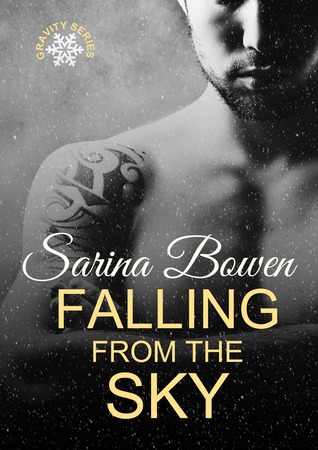 Falling From The Sky by Sarina Bowen
Series: Gravity #2
Published by Rennie Road Books
Publish Date: February 2, 2015
Source: Author – Thank you!
Find it here: Goodreads / Amazon

Bad boy Hank "Hazardous" Lazarus used to have everything: a gorgeous girlfriend, a career as a freestyle snowboarder and a spot on the US Olympic team. Nine months ago, after a bad crash in the half pipe, he woke up in the hospital, unable to move his legs. Now he's landed there again, but gravity is not the culprit. With his family pressuring him to try a groundbreaking treatment, Hank self-medicates with too much tequila instead.

Doctor Callie Anders has the courage to restart a patient's heart with a thousand volts of electricity, yet she's afraid to risk her own. So she doesn't confess to her newest patient they they met just before the accident, an encounter that he doesn't remember. Even as their friendship develops, she won't admit that she regrets turning down his dinner invitation, or that her heart stutters every time those inked shoulders roll through the door of the therapy department.

With another Vermont winter coming again, Hank needs a hand out from under the avalanche of his disappointments. If only Callie were brave enough to take the job.

*This book is a standalone novel, no cliffhangers, no prior experience necessary. (excerpt from Goodreads)



Falling From The Sky by Sarina Bowen
My Thoughts: The first time I read one of Sarina Bowen's books, I remember being really excited because she managed to merge contemporary romance + a few issues, but not in a whiny, depressing way. I remember thinking, ohmygosh yes I love this. I have read and reviewed two of her Ivy Series books and loved them (here and here) and now hello there, Gravity Series.
Falling From The Sky features Doctor Callie Anders and Snowboarder Hank Lazarus. When the book opens, Callie is with her friends at a big snowboarding event up in Vermont when tragedy strikes. Hank "Hazardous" Lazarus is injured while performing a snowboarding jump. Callie is assigned to his case and sees him regularly while he is an inpatient in the hospital. Hank is broken over his injury – now wheelchair bound, no longer able to do the thing he loves most. Callie knows that it is unethical to have feelings for a patient so she maintains her distance although she cannot deny that there is something attractive about Hank. They have a great doctor-patient relationship, great rapport, and mutual respect. When Hank is discharged, life goes on, but they still think of one another.
Then Hank's affluent family makes a proposal to the small hospital: they will fund a major study that could help Hank and other patients like him. Patients that are paralyzed could possibly gain some mobility back with this therapy, and they would like to bring that therapy to their area in hopes, of course, that Hank will benefit from it. The catch? Hank wants Callie to run the study. Callie knows she probably shouldn't because of her attraction to him, but Hank refuses to participate unless she also does, so she agrees.


The study helps everyone, right? She isn't doing it just so she can see Hank? No, no way!




********************************************************************************
Up until the accident, Hank dates beautiful women, he always has parties and events to attend, very sure of himself and his place in the world. After his accident, his girlfriend breaks up with him plus he now has some limitations on what he can do. He loses some big corporate sponsorships because of his inability to snowboard and he falls into a depression. So, sure, Hank is dealing with some coping issues and some anger, and he has a hard time for a little while. While he is dealing with these things, his house is remodeled into a wheelchair-accessible home and he purchases and modifies a sportscar that he is able to drive comfortably, but he does these things with the assumptions that he will enjoy them alone. Who wants to love a man that isn't even whole, a man stuck in a wheelchair? Even though Hank is always happy to see Callie at therapy, he is reluctant to actually go to therapy because he realizes that he may not walk again.


Callie, on the other hand, is opposite of Hank. She prefers to stick to the rules, she is a people-pleaser – she can't afford to lose what she already has. She's worked hard for everything and money has never been easy to come by. When Callie meets Hank, she sees past his money and fame and his accident, and
my gosh how he loves that about her
. She is also able to see past his depressed "funk" – she not only treats him as a physician would but she treats him as a friend. This is one reason that Hank trusts her, and this helps their relationship move from doctor-patient to slowly, slowly more than that.
Callie is stubborn throughout this process, she is slow to admit what she knows is true – her true feelings – she has so much at risk, see. But I like her stubbornness. When mixed with Hank's stubbornness (which is totally different), it is so much fun. They complement each other well both as friends and more than friends. I loved watching Callie loosen up over the course of the book, with Hank's help plus a friend or two, but I have to say that it is Hank's character and story that really won me over. Hank is a super-strong character that showed weakness and vulnerability, he couldn't help it, and watching him build his self-esteem and his stamina and his motivation was very cool. I loved his thought processes, the highs and even the lows. I loved being inside the head of this character because I've never had this particular reading experience before. (One of Sarina Bowen's characters in her other series is in a wheelchair, but she is further along in the grief and acceptance part, further along after her accident, so this really is a different reading experience.) Hank ends up with a great ending. I love experiencing his HEA and his return to the mountain.
Okay, so here's the deal about Falling From The Sky by Sarina Bowen: There is so much more than romance in this book. There is an athlete that falls from the heights of his career, loses "everything" and gains it back. There is a man that has to rewrite his definition of what it means to be a man. There is a woman that has to step back and decide exactly what she wants out of life, because maybe she is spending too much time trying to run from a life that she might love. I'm amazed at the things I learned about wheelchair-bound folks while reading this book – I'm a nurse for crying out loud and I learned more about someone with this type of injury from reading this book than I have in my entire career! What I mean is that this book is so realistic and I got so caught up in it that I had the hardest time putting it down. My eyes were burning from reading for so long without breaks and I just want to know these people. They seem like great people and boatloads of fun.
Don't be fooled by me talking about this accident – this character is hilarious, he has great banter and cracks great jokes. This book isn't a heavy read at all. Equal parts romance and issues = THESE are my favorite types of romances, the ones that feel like they could be just any person that I meet out in town with a story that could be very real. I recommend Falling From The Sky by Sarina Bowen to everyone, but especially readers that enjoy adult/new adult contemporary romance that feature athletes and issues. This author is one of my favorites, you guys, so if you trust my recommendations I would love for you to read her stories.
********************************************************************************
Falling From The Sky will appeal to fans of:
Adult/New Adult Contemporary Romance
Romance: Slow Burn. No Triangle.
Sports: Snowboarding.
Great Setting: Vermont
Great Secondary Characters
Companion Series but this works as a Standalone!
Falling From The Sky by Sarina Bowen
is currently available for purchase.
********************************************************************************
The Gravity Series: