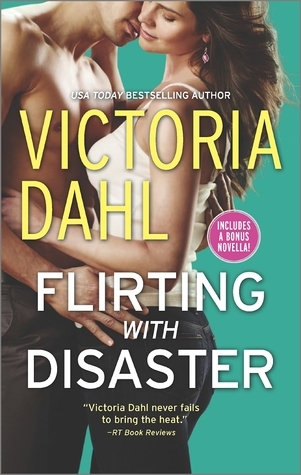 Flirting With Disaster by Victoria Dahl
Series: Jackson: Girls' Night Out #2
Published by Harlequin
Publish Date: January 27, 2015
Source: Book – Publisher, Audiobook – Bought
Find it here: Goodreads / Amazon


There's no hiding from sizzling chemistry…

Artist Isabelle West has good reasons for preferring a solitary life. Tucked away in a cabin in the woods, she has everything she needs . . . except a red-hot love life. That is, until a hard-bodied U.S. marshal threatens to unearth secrets she's spent years protecting. But giving in to the sparks flying between them can only lead to one thing…disaster. Tom Duncan lives by the letter of the law. But no one has tempted him—or confused him—more than free-spirited Isabelle, who arouses his suspicion and his desire. As their connection grows, and their nights get hotter, they find their wild attraction might shake everything he stands for—and expose everything she has to hide. (Goodreads)



Flirting With Disaster by Victoria Dahl
My Thoughts:
I am such a big fan of Victoria Dahl's books. I know that I say that over and over, but I am always so excited about how she writes these strong, sassy, independent women that are so comfortable with themselves but also have vulnerabilities; this combination makes for such great storylines. (Her heroes are pretty awesome too.)

Flirting With Disaster features Isabelle West (finally!), one of the original trio of best friends from Looking For Trouble and Fanning The Flames , and US Deputy Marshal Tom Duncan. I've been waiting for Isabelle's story!

Isabelle is the most introverted of the three friends, preferring to live outside of Jackson city limits, keeping a low profile, and maintaining as much privacy as possible. Tom is in town on a temporary assignment. His assignment's base of activities is at a house near Isabelle's, which irks her a great deal since she chose her property for its privacy. When Tom stops by Isabelle's house to introduce himself and ask some routine interview questions, her less-than-friendly behavior makes him curious about what she could be hiding. Tom determines that she may have a secret or two up her sleeve, which she in fact does. The very fact that the US Marshal's office is in town sends Isabelle into panic-mode because she feels certain that she has finally been found. She isn't fooling Tom; he just needs to figure out why she is hiding.

But Tom likes her. He doesn't want to find out her secrets only to turn her in and get her into trouble – he knows that he can probably help her with whatever is going on. If, and it is a BIG if, she will just trust him.


********************************************************************************

Not having met Tom before, it is great to meet him as a US Deputy Marshal. He is professional and efficient and he does his job well. But his attraction to Isabelle presents a problem – he can't go around being massively attracted to the neighbor nearby when there are people depending on him to do good work, to stay safe and alive. But WHOA, Tom thinks, she is so pretty! And feisty, which he likes actually. And she is self-assured and confident, which is downright crushworthy.

Meanwhile, Isabelle is finally showing some of herself to readers after being so guarded in the previous installments of this series. NOW we are beginning to see WHY she is so guarded and holy batman! she has a great backstory! More than that, she has a great life carved out for herself in town but will she be able to keep it if she gets involved with Tom Duncan?

Lots at stake. Is trust an option?

I love the way Isabelle only makes herself more obvious the more she tries to be secretive. She is the one that tips Tom off herself, and he secretly begins to seek out what she is hiding. So here are two people that are increasingly crazy about each other…both keeping these secrets that just keep growing. It's funny at times, the way these two go back and forth, and this author is so good at writing humor into her stories. I was so into this particular installment that I couldn't stand to put the book down. Actually, I hardly put the book down. I cooked dinner with my Kindle on the counter beside of the stovetop and listened to the audiobook when I wasn't reading on my Kindle.

Flirting With Disaster is my favorite in this series so far, hands down. Writing secrets into romances and stories can feel tricky for me to read sometimes, but this isn't the first time that Ms. Dahl's has done it and done it very well. Here, it plays out realistically and works out for all parties in the end.

Sidenote: the new characters in this book are so, so great – Isabelle's neighbor and Tom's partner? Love them. Also there is a new friend that is invited to be a part of the girls' night out, and the next installment will be her story. Her name is Veronica! And as before with this series, I am smitten with Ms. Dahl's choice of Jackson, Wyoming for the setting.

I recommend Flirting With Disaster by Victoria Dahl for readers that enjoy adult contemporary romance with strong female heroines and a great accompanying plotline. I'm not sure how long this series will be continuing, but I hope it goes on for a while. I'm loving it.


Audiobook Notes: The audiobook format of Flirting With Disaster by Victoria Dahl is published by RecordedBooks and is 11 hours and 23 minutes, Unabridged. It is narrated by Celeste Ciulla, who narrated the first book in the series and continues this installment with her strong-sounding narrative, perfect for Isabelle who is a strong, independent character. It took me a little while to get used to this narrator's reading both in the first installment and again in this audio, but I eventually did and ended up enjoying the listen.


**A note to this audiobook's credit: included at the end of Flirting With Disaster is the prequel novella, Fanning The Flames, which I have already read and loved. I listened to it, since I hadn't heard it yet, and of course, I loved it as well. So this audiobook is like a bonus, which is always a very cool thing.



********************************************************************************
Flirting With Disaster will appeal to fans of:
Adult Contemporary Romance
Romance: No triangle.
Great Setting: Jackson, Wyoming
Strong female characters
Great friendships
Flirting With Disaster by Victoria Dahl
is currently available for purchase.
********************************************************************************
The Jackson: Girls' Night Out Series:
I LOVE Victoria Dahl's strong female characters!
PLUS her settings are AMAZING.