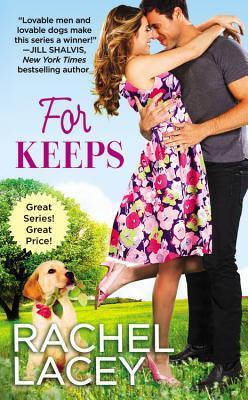 For Keeps by Rachel Lacey
Series: Love to the Rescue #2
Published by Forever
Publish Date: January 27, 2015
Source: Publisher
Find it here: Goodreads / Amazon / B&N


A SUMMER FLING . . . OR SOMETHING MORE?
Merry Atwater would do just about anything to save her dog rescue – even if it means working with the most stubborn man on the planet. It's hard to avoid the sparks that fly with TJ Jameson, the ruggedly sexy cowboy in charge of the children's camp where she's just taken an animal therapy job. But commitment is not Merry's style, and TJ clearly wants more than just a roll in the hay.
TJ Jameson isn't looking for anything complicated-just a peaceful life on his family's ranch with a wife and kids. "No-strings" Merry Atwater doesn't fit that bill, no matter how irresistible she is. But when he sees how Merry gets through to his autistic nephew and the other kids at Camp Blue Sky, TJ's a goner. If he doesn't give in to the now, he might just lose his shot at forever . . .
(Goodreads)
For Keeps by Rachel Lacey
My Thoughts: For Keeps is the second book in the Love to the Rescue Series by Rachel Lacey. I read this one on the heels of Unleashed, which is the first book in the series. (Here's my review.) I have to admit that while I'm not the type of person that normally goes crazy over pets, I'm head-over-heels over this series and I love the way dogs and other animals play into these stories.
Merry Atwater is a full-time nurse who also founded the Triangle Boxer Rescue right after finishing nursing school a few years ago. She loves dogs – rescuing them, fostering them, helping them find adoptive families. This makes her so happy! It's hard work, but good work, but lately the Rescue has taken a huge financial hit. A very supportive anonymous donor has recently stopped sending their generous donations, and this has been a big blow to the Rescue's accounts. As a result, Merry has been using her own personal accounts to pay for everything, and running an organization like this is extremely expensive – she has to stop. Merry is stressed! This Rescue means life and death for these dogs! Also, how could she have let herself depend so heavily on an anonymous donation like that? She should have been more forward-thinking! Merry needs a plan and now.
Suddenly a solution falls into Merry's lap, albeit a temporary one: local veterinarian T.J. Jameson runs a summer camp for special needs children with horses. Equine therapy, so cool! This year, he wants to add specially-trained dogs to the camp and he's reached out to Merry. In exchange for a nice donation to her Rescue, he has asked Merry to donate her time and a few dogs to the camp. This is a large commitment but it can help Merry pay some of the Rescue's expenses for at least a little while…except when she meets T.J., his ideas for what he wants are not the same things that Merry is willing to provide — and neither seem to want to compromise.


Well, neither are initially willing to compromise. It doesn't take very long for THAT to change…
********************************************************************************
For Keeps by Rachel Lacey is SUCH a cute story! Merry and T.J. have a chemistry that is so present and obvious, and one of the things I loved about these two was that they acknowledged it right away instead of refusing to admit it, dancing around it like some couples do sometimes. Don't get me wrong, I'm all for a slow burn, but I like when people admit there is an attraction too. HOWEVER, even though the attraction is obvious, Merry and T.J. take a while to agree on exactly what they want in terms of a romantic relationship. Is a future even possible for them?
Here are some THINGS about For Keeps that I love
:
1. T.J. Jameson is a veterinarian, and Merry thinks that's charming. She loves his farm/ranch but when she finds out that he rescues horse – like she does with dogs – it elevates her feelings for him by WELL, A WHOLE LOT. Because, see, here this means that what they have in common, a love for animals, is deeper than Merry realized. Maybe Merry judged T.J. a little bit prematurely when she made assumptions about his cowboy-ness, his big truck, his extreme hesitance to foster one of her dogs…
2. T.J. is also uncle to an autistic boy, Noah. He's a FANTASTIC uncle. Noah is the primary reason T.J. hosts his summer camp. Merry loves watching his interaction with Noah, and T.J. loves watching Merry interact with his nephew. Heck, T.J. may even be a little bit jealous of how well Noah responds to Merry BUT he tries to remember that she is a pediatric nurse so she does have some experience in working with kids. If only this camp could be successful at helping Noah to interact more, become more verbal, and be more social! Merry's dogs seem to be just about the only thing Noah responds to…
3. Merry has a THING from her past that comes up while the two are developing their relationship – I've seen and read before where this THING sends a man running away fast, fast, fast. BUT! Here, it doesn't even make T.J. flinch and I kind of loved that about him. Merry does too.
4. Merry's nursing job, her work with the Rescue, and her work with the summer camp are all connected – this shows the type of person Merry is even though she is determined that she doesn't want to get married and have a family (while T.J. does – here's our romantic tension!). T.J. watches her, and puts bits and pieces of her life together over the course of the month-long camp, and he falls for her as he sees who she really is through all of these pieces of her life.
5. Both Merry and T.J. have fears and vulnerabilities. Both of their fears and vulnerabilities come out in the story, and both are dealt with. I love how both can depend on the other one to help with these challenges, and there is no judgment given. This is really special.


You know how many romance have that 'falling-out thing' that happens about about three-quarters into the story, the thing that causes the big issue that must be resolved before the happy ending? Well, there is a little bit of that, but it didn't feel like such a big thing because Merry and T.J. were so good for each other from the beginning. There is some dramatic tension, but it is quickly resolved, and the happy ending does come. There is plenty of depth to this story, and this was a nice change for me.


Two books into the Love to the Rescue Series, and I'm all in! I love the way the series is set up, I love the characters, I love the North Carolina setting. I hope Merry's friend Olivia, who plays a nice role in the summer camp as an assistant to Merry, will have her own book because she seems to have some shenanigans of her own going on and I'd love to find out more about her! I recommend this series to fans of small town romances with happy endings, fans of companion stories, and fans of stories that feature animals because the dogs play a nice, big role in the romances in these books.
Click below to win a collection of books by Rachel Lacey!
For Keeps will appeal to fans of:
Adult Contemporary Romance
Great setting: North Carolina
Dog-lovers & Horse-lovers will love this one!
For Keeps by Rachel Lacey
is currently available for purchase.
********************************************************************************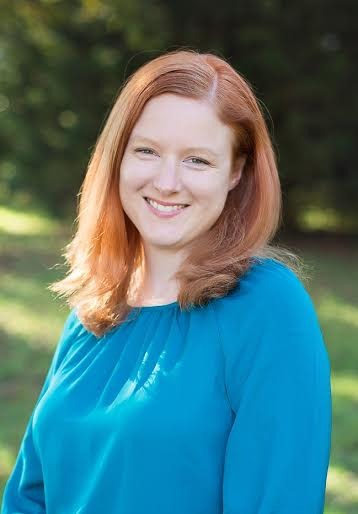 Rachel Lacey lives in North Carolina, with her husband, son, and their own rescued pup. She volunteers her spare time with Carolina Boxer Rescue and truly has a passion for helping our furry friends. She is a member of the Romance Writers of America as well as her local Heart of Carolina RWA chapter.
********************************************************************************
Love to the Rescue Series: