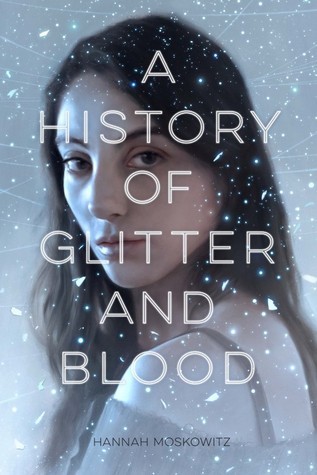 A History of Glitter and Blood by Hannah Moskowitz
Published by Chronicle Books
Publish Date: August 18, 2015
Source: Publisher
Find it here: Goodreads / Amazon

Sixteen-year-old Beckan and her friends are the only fairies brave enough to stay in Ferrum when war breaks out. Now there is tension between the immortal fairies, the subterranean gnomes, and the mysterious tightropers who arrived to liberate the fairies.

But when Beckan's clan is forced to venture into the gnome underworld to survive, they find themselves tentatively forming unlikely friendships and making sacrifices they couldn't have imagined. As danger mounts, Beckan finds herself caught between her loyalty to her friends, her desire for peace, and a love she never expected.

This stunning, lyrical fantasy is a powerful exploration of what makes a family, what justifies a war, and what it means to truly love. (Goodreads)
A History of Glitter and Blood by Hannah Moskowitz
My Thoughts: A History of Glitter and Blood was so, so great. I inhaled it and I want to read it again right now, especially since I know how it all ends.

This is a strange little book, yes, and complicated. It probably helps to know going into it that the narrator is unreliable and relays the story in a nonlinear pattern with a hurried, distressed tone. Oh yes, I know how this can feel a little confusing and jarring to us as readers but push through, just do it. Also, there are some unusual and uncomfortable things in the story, but again, push through it. Because the writing is spectacular and the story is so smart and I can't believe this book. This one was such a surprise for me and doggone it, I love surprises.
Once upon a time there were four fairies in the city who hadn't been maimed. p. 1, ARC
And here is the story of Beckan, Josha, Scrap, and Cricket, four fairies living in a city during wartime. ALL of the other fairies have fled, and the gnomes that live underground are at war with the tightropers that live in the sky. These four fairies work in the underground, with the gnomes, because this is how they earn food. And also how they manage to not get eaten.

Because gnomes eat fairies.

Gnomes can survive for a long time on even a small bite of fairy, like a finger or an arm or a tiny snippet off of the ear. And fairies taste delicious. So these four remaining fairies work for food and their lives, and they hope the war will end soon.

Hope begins to dwindle as food becomes scarce, as is often the case.

They meet a tightroper that doesn't really care to fight the war. Together this tightroper, the fairies, and a couple of rebel gnomes band together to create a group that wants to end the war. To protest. To have a movement. To do something, anything. They have ideas about how this should happen, so they talk about it and make some loose plans and maybe their ideas are pretty good.


Maybe? Or maybe not so much –


********************************************************************************

By the time things had begun to really unravel for this group, I had totally, unequivocally fallen so hard for this story, this world, these creatures that I WANTED EVERYTHING FOR THEM. I fell so hard for the city of Ferrum and these four fairies. From a certain point in the story, their plan looks pretty crazy, and it honestly never stops looking crazy. Even impossible, maybe. But I held my breath, I turned the pages, and the ending is really satisfying. I loved this ride.

I've noticed that there are some questions on Goodreads about the structuring of the story and about the inclusion of statements and paragraphs that look like this one:
Once upon a time there was a writer who couldn't write a fucking book.
I don't know what comes next. That whole chapter's going to need to be thrown out anyway… p. 14, ARC
They're littered in throughout the narrative, which is partly told in Beckan's perspective and partly in other ways. There are illustrations and also paper/newspaper clippings used to tell this story. The narrator is working hard to complete this tale, using more than just his/her own voice, and it is absolutely brilliant. It is a little confusing in the beginning and it takes a little getting used to, so you have to give it a chance. The paragraphs like the one I've included above indicate the state of mind of the narrator, and also made me wonder who in the world was really telling this story (the actual author or one of the characters?). I second-guessed myself for a while, until this one particular scene, and then I wanted to jump up and down and dance and SHOUT OUT TO THE WORLD because good gracious, what a great idea, author. Well done.


I realize that since it took me a while to catch onto who the storyteller is, it probably will with other people too. And if there are quite a few people abandoning early on because of confusion…well, I'm cringing at how many are missing something truly spectacular.


Stick with this one! Because –

The world-building here is really fantastic. The tightropers live above-ground. The fairies live in what is left of the abandoned city of Ferrum, and the gnomes live underground. (Dorky Asheley stopped reading and drew her own little picture of the city, geeking out about it, yes she did.) Ferrum is a walled city. There isn't often exploration outside of those walls but –

The characterization is lovely. The themes are apparent, as with many good fantasy stories: hunger, death, war. There is also some prostitution, racism (between the different creatures, yes, it exists!), and also antiwar resistance. Some of these are not as big-a-deal as others but, you know, the gnomes are hungry and the fairies have to work. So, hunger and prostitution.

There is also love. These friends call themselves a "pack" and this means that they are are close-knit group that genuinely loves one another. There are different kinds of love, sure, like family and romantic, etc, but it is there. The romance was my least favorite aspect of this book, to be honest. Everything else was just bigger and better to me. The overriding theme here in general is love and I think it totally drives this book.

I want more people to pick up A History of Glitter and Blood and read it completely. It is a very smart story. I haven't read anything that made me feel exactly this way in a while, and I'm interested in seeing the thoughts of other readers that see the story to completion. Do others feel surprised at the identity of the narrator? Or is it easier for others to figure it out? Do others squirm a bit at some of what goes down between some of these "races" (fairies vs gnomes, etc) and even what goes down between some of these characters? DO YOU LOVE IT LIKE I DO? This title needs to be out and about, and I would love to hear from anyone that has any thoughts on it.


Note: This isn't a book for younger readers and there are people that will not like it even if they choose to stick with it. But if you do, high fives to you for days.


I recommend A History of Glitter and Blood by Hannah Moskowitz to readers that enjoy fantasy stories, stories about fairies, and unreliable narrators. The story structure/unreliable narrator sealed the deal for me, LOVED.



********************************************************************************
A History of Glitter and Blood will appeal to fans of:
Young Adult Fantasy/Paranormal
Fairies, Gnomes
Romance: Yes, and the romances are complicated.
A History of Glitter and Blood by Hannah Moskowitz
will be available for purchase August 18, 2015.
********************************************************************************
More by Hannah Moskowitz:
A History of Glitter and Blood was my first book by Hannah Moskowitz.
Have you read any others? Recommendations for which should be next for me?