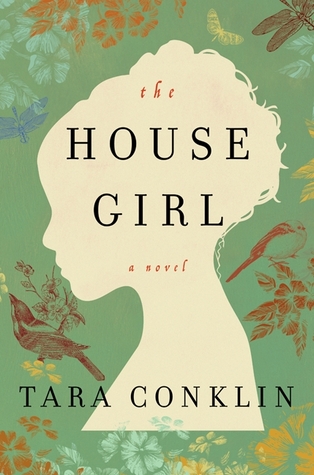 The House Girl by Tara Conklin
Published by William Morrow
Publish Date: February 12, 2013
Source: Book – Library, Audiobook – Library
Find It: Goodreads / Amazon


Virginia, 1852. Seventeen-year-old Josephine Bell decides to run from the failing tobacco farm where she is a slave and nurse to her ailing mistress, the aspiring artist Lu Anne Bell. New York City, 2004. Lina Sparrow, an ambitious first-year associate in an elite law firm, is given a difficult, highly sensitive assignment that could make her career: she must find the "perfect plaintiff" to lead a historic class-action lawsuit worth trillions of dollars in reparations for descendants of American slaves.

It is through her father, the renowned artist Oscar Sparrow, that Lina discovers Josephine Bell and a controversy roiling the art world: are the iconic paintings long ascribed to Lu Anne Bell really the work of her house slave, Josephine? A descendant of Josephine's would be the perfect face for the reparations lawsuit—if Lina can find one. While following the runaway girl's faint trail through old letters and plantation records, Lina finds herself questioning her own family history and the secrets that her father has never revealed: How did Lina's mother die? And why will he never speak about her?

Moving between antebellum Virginia and modern-day New York, this searing, suspenseful and heartbreaking tale of art and history, love and secrets, explores what it means to repair a wrong and asks whether truth is sometimes more important than justice.
(
Goodreads

)
The House Girl by Tara Conklin
My Thoughts: The House Girl is a dual-narrative story told by Josephine Bell and Lina Sparrow. Josephine is a seventeen-year-old slave from the 1850's, looking to escape. Lina is a young attorney living in the present time. She is working on a huge slave reparations case and learns about Josephine Bell through some of the people that her artist father know in his art community. Josephine worked as a slave in the house of artist Lu Ann Bell. Recently, the authenticity of Lu Ann's art has been questioned, with Josephine suspected as the true artist. Lina is looking to find Josephine's descendants – if she has any – because linking this type of publicity to this slave reparations case could potentially influence the outcome as well as the public perception of the case. Lina is following up on Josephine's story very closely and this, in the art world of both the past and the present, is where the lives of the two women intersect.

First of all, I just love the way the art is written into this story. It was easy to visualize each piece of art discussed because of its seamless placement into the narrative.

I also love the two-POV structure in this book, particularly since Josephine's time setting is one of my absolute favorite in literature. I found her story so compelling; her voice is so strong. Recently I reread via audiobook during a move from one home to another, there were a few instances were I was so captivated by Josephine's portion of the story that I was brought to a standstill – no packing or unpacking. I had to completely stop and concentrate on her story as she told it, even though I had heard it before. When her chapter was complete, I felt free to move again. I love when audio rereads grab me in this way.

I have to be honest here and say that Lina's portion of the story just didn't hold my interest as much as Josephine's did. Lina's story was a good one, and there was plenty to it, but it held less emotion to me. Perhaps this is because I'm so attracted to historical fiction.

This is one heck of a story that easily flew to my favorites shelf. The ending felt a teensy bit abrupt or unexplored, but even so, this story is exceptional. After I read it the first time (November 2015) I couldn't stop thinking about it, which is why I reread it so soon (January 2016).


Audiobook Notes: The audiobook format of The House Girl by Tara Conklin is published by Harper Audio and is 14 hours and 46 minutes, Unabridged. It is narrated by Bahni Turpin who was so doggone believable as Josephine Bell, I promise you that my heart raced at some points and my breath caught at others.

********************************************************************************
The House Girl will appeal to fans of:


Historical Fiction/Contemporary
Dual-Narration/Alternating POV
Strong female protagonists
The House Girl by Tara Conklin
is currently available for purchase.
********************************************************************************