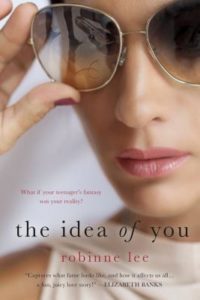 The Idea of You
by
Robinne Lee
Series:
Standalone
Published by
St. Martin's Griffin
on June 13, 2017
Pages:
384
Source:
the publisher
Buy from Amazon
|
Buy from Barnes & Noble
|
Buy from Book Depository
Goodreads
When Solène Marchand, the thirty-nine-year-old owner of a prestigious art gallery in Los Angeles, takes her daughter, Isabelle, to meet her favorite boy band, she does so reluctantly and at her ex-husband's request. The last thing she expects is to make a connection with one of the members of the world-famous August Moon. But Hayes Campbell is clever, winning, confident, and posh, and the attraction is immediate. That he is all of twenty years old further complicates things.

What begins as a series of clandestine trysts quickly evolves into a passionate relationship. It is a journey that spans continents as Solène and Hayes navigate each other's disparate worlds: from stadium tours to international art fairs to secluded hideaways. And for Solène, it is as much a reclaiming of self, as it is a rediscovery of happiness and love. When their romance becomes a viral sensation, and both she and her daughter become the target of rabid fans and an insatiable media, Solène must face how her new status has impacted not only her life, but the lives of those closest to her.
I received this book for free from the publisher in exchange for an honest review. This does not affect my opinion of the book or the content of my review.
Review:
There is something so alluring about being on the arm of a rock star and while most of us know that it will never happen to us, that's exactly what happens to Solene in The Idea of You by Robinne Lee. It happens when she isn't expecting it: Solene is taking her young daughter, Isabelle, and some of her daughter's friends to a VIP event at boy band August Moon's Las Vegas show when she catches the eye of one of the guys in the band. Hayes is only 20 years old, but he doesn't seem to mind that Solene is 39 years old. Hayes is vitality and good looks and impeccably good British manners, and Solene is a self-assured, successful, beautiful woman with a young teenage daughter — who happens to be one of August Moon's biggest fans. It isn't instant love, but it is definitely instant attraction.
Part of the allure of this story, for me, is that I know this type of whirlwind romance is not very likely to happen in the life that I've created for myself, and yet I so easily placed myself into Solene's shoes while I was reading: I'm close to her age, I have daughters just like Isabelle, and fangirl over music very much like Isabelle loves August Moon. I loved imaging myself in Solene's place as she traveled all over the world to the most exclusive restaurants and hotels to meet with Hayes while he traveled while working, and it was fun to imagine myself being able to rent private estates for the week to meet for a secret love affair. This story is incredibly romantic and such a great escape.
Another part of the story that I loved was the way that Hayes pursued Solene. Hayes was clear in his intentions and motivations and yet there was plenty of room in the relationship for the both of them to assert themselves and make decisions and to be independent. It could have been very easy for either one of these two to gain an unfair position of power, but that was not an issue–even with the celebrity, even with the age difference. I love that.
I love reading about 'real women' with flaws and insecurities, but Solene is a little bit different. She is every bit a real woman and she has some insecurities, but hers are mostly related to the fact that she has a secret relationship with one of the most famous people in the world rather than her looks or career choices or things like that. Solene is worried about how this potentially-scandalous romance will play out for the people that she loves. She doesn't want to hurt anyone, but at the same time, she wants to be true to herself and explore her own (second) coming-of-age since she her divorce a few years ago. I love her independence, but I love that she allows herself to feel things with Hayes. And Hayes, while young, isn't the typical alpha male, the wild and crazy rock star. He has manners. He is intelligent and confident. He is kind and thoughtful, and he genuinely cares about Solene and how their relationship will affect young Isabelle. In fact, he genuinely likes Isabelle. Aside for the story reminding us of the age differences in a few places, it is almost easy to forget that it exists.
I expected to enjoy The Idea of You by Robinne Lee, but I didn't know that I would be so glued to the pages and so fully immersed in the story. It looks like this is a standalone, but selfishly I wish there was just a little bit more to it. There is a real depth to the story beyond a typical contemporary romance (particularly with Solene's character), and MAN I really fell for these two. I want good things for them!
I LOVED this one!
ABOUT ROBINNE LEE
Robinne Lee was born and raised in Westchester County, New York and currently lives in Los Angeles with her husband and two children. She has numerous acting credits in both television and film, most notably opposite Will Smith in both Hitch and Seven Pounds, Don Cheadle in Hotel for Dogs, and Jennifer Garner in 13 Going on 30. Her most recent role was Christian Grey's trusted COO, Ros Bailey in Fifty Shades Darker and in next year's Fifty Shades Freed. An inactive member of the New York Bar, Robinne has served as a producer on various independent films and regularly speaks on panels regarding the roles of women and actors of color in the industry.
Find out more about Robinne at her website, and connect with her on Facebook,  Twitter, and Instagram.