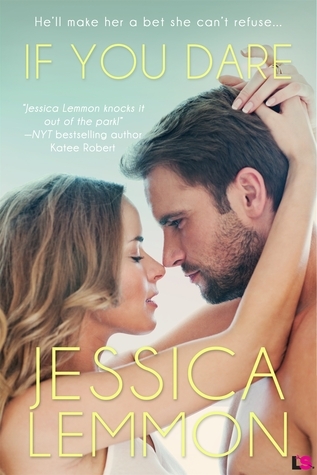 If You Dare by Jessica Lemmon
Published by Entangled Lovestruck
Publish Date: July 21, 2015
Source: Publisher
Find it here: Goodreads / Amazon

He'll make her a bet she can't refuse…

Lily McIntire is in the creepiest mansion in town. Alone. At night. Because she's an idiot-and can't ignore a dare from her cocky and infuriatingly hot co-worker, Marcus Black. But she'll be damned if she's going to give him the satisfaction of winning.

Marcus has had a thing for Lily for ages, and he has no intention of losing this bet. His plan? Scare her out of the house, and into his arms. Once there, scaring her turns into protecting her and soon after, into seducing her. And his plan is working…

Lily is having trouble relegating Marcus to the role of "asshat" as easily as before. He came to her rescue, and he's actually funny. Charming. Sexy as sin on a stick. But Lily has a strict no-love-in-the-workplace rule, and even one night of the best sex ever won't make her change her mind. So she's calling everything off…

Surviving a night in the mansion might just be the easy part. Surviving Marcus's increasingly convincing advances is going to take everything she has. Losing is not an option… (Goodreads)


If You Dare by Jessica Lemmon
My Thoughts
:
Lily McIntire has accepted a dare from co-worker Marcus Black: Spend the entire night in their town's local haunted mansion. If she can do it, Marcus will give up his recently-won trip to Hawaii. If she can't handle the entire night there, she has to go to a local dinner event with him – as his date!

Marcus has wanted to go on a date with Lily for ages. He even asked her once, but she turned him down – she doesn't realize that he likes her so much and that he really wants to go on a date with her.

Marcus has no intention of losing this bet to Lily, especially if it means he earns a date with her! ALSO, he won that trip to Hawaii fair and square. He certainly doesn't wait to give it up. When Lily settles in for a night at the mansion, complete with a few comforts from home (an air mattress, wine, sushi – the works), Marcus arrives on the scene ready to make her stay extra spooky.

That's right! Marcus isn't above cheating to win the bet.

It's great, though. Because it totally backfires on him. The results are super fun.

Lily has been burned in the past by going out with a coworker – I'll spare you the details, but Marcus has his work cut out for him in convincing her that it's okay to trust wherever their feelings take them. And Marcus is almost jumping up and down to finally get a chance to go out with this gal that he's liked so much for so long – he's a guy that used to play the field…until he found Lily. Yes, I've seen these types of characters before, but I never get tired of them!

If You Dare by Jessica Lemmon is a quick read, and I totally enjoyed it. My husband remarked to me more than once that I had a big smile on my face while I was reading and YES! that is what happens when I read books by this author. I've read several of hers now and I get so doggone excited when I'm about to pick up another one because I know that when I'm finished, my cheeks will hurt. They're just such fun stories.

This story was originally a much shorter story, but the author recently expanded it and viola! we have this longer version of the original. To be honest, this less-than-200 page story was exactly what I was looking for right now because I had just finished multiple long, heavy fantasy and nonfiction books – I wanted something light and fun. This book delivers plus has the HEA, without a triangle. I wish that I could have read If You Dare by the pool or at the beach, paired with a cold drink. However, I personally started my day off with this book, so it went perfectly with my coffee.

I recommend this story for fans of contemporary romances and fun, quick romantic reads.
********************************************************************************
If You Dare will appeal to fans of:
Adult Contemporary Romance
Romance: No triangle.
Humorous
If You Dare by Jessica Lemmon
will be available for purchase on July 21, 2015.
********************************************************************************
The Second Chance Series by Jessica Lemmon:
The Second Chance Series is one of my favorites!