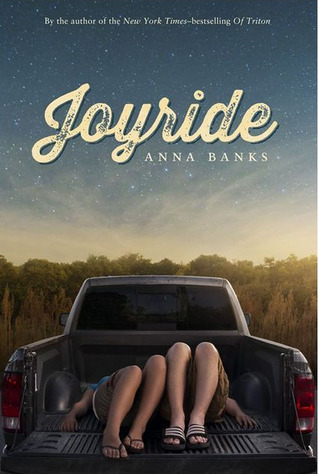 Joyride by Anna Banks
Published by Feiwel & Friends
Publish Date: June 2, 2015
Source: Book – Publisher, Audio – Library
Find It: Goodreads / Amazon

A popular guy and a shy girl with a secret become unlikely accomplices for midnight pranking, and are soon in over their heads—with the law and with each other—in this sparkling standalone from NYT-bestselling author Anna Banks.

It's been years since Carly Vega's parents were deported. She lives with her brother, studies hard, and works at a convenience store to contribute to getting her parents back from Mexico.

Arden Moss used to be the star quarterback at school. He dated popular blondes and had fun with his older sister, Amber. But now Amber's dead, and Arden blames his father, the town sheriff who wouldn't acknowledge Amber's mental illness. Arden refuses to fulfill whatever his conservative father expects.

All Carly wants is to stay under the radar and do what her family expects. All Arden wants is to NOT do what his family expects. When their paths cross, they each realize they've been living according to others. Carly and Arden's journey toward their true hearts—and one another—is funny, romantic, and sometimes harsh. (Goodreads)
My Thoughts: Joyride by Anna Banks is such an enjoyable YA contemporary. When I grabbed it off of my shelf, I think I was expecting a fun contemporary romance based solely on the cover – and there is a really great romance plot line in here – but this story is so much more than that and I found myself more and more excited about what Author Anna Banks was laying out within these pages as I got further into the book.

Carly Vega is a high school student living alone with her brother Julio here in the US after her parents were deported back to Mexico some years ago. Both Carly and Julio work their butts off to try and save the money for the transport of their parents and younger siblings back into America – seriously, they work harder than I could ever imagine. Julio concentrates solely on gathering money and resources to bring the family back while Carly has other goals in mind: good grades, financial aid, college admission. Carly feels like these goals are solid, important. A career will help her keep her family taken care of once they're all reunited here in America. She splits her precious little time between working and studying, working and studying. She has basically no social life and practically no money – everything they raise goes toward bringing their family to America.

Arden Moss goes to Carly's school but he is almost her exact opposite. He has everything that he needs and most of the things that he wants because he happened to be born into an affluent family. Arden's relationship with his parents is a little strained since the death of his sister – he has taken to pranking, goofing off, and spending more money than necessary in an attempt to annoy his father.

An event early in the story places Carly into Arden's path, and Arden becomes super-impressed with her. He realizes that she is the perfect person to join him while he pranks his way through the rest of high school. Arden doesn't realize that Carly is on a mission to float just under the radar, to never be noticed, to stay out of trouble. He convinces her, though, and the more pranking they do/the more they hang out, the more they like one another – soon there is a sweet romance. Here is where secrets start threaten things; here is where the these two begin to question their feelings about family loyalty and what they really want out of life.

Joyride a really great story and the friendship-to-romance is so sweet.


********************************************************************************

Okay, so I have to admit that I was really immersed into this immigration story line: to be honest, this is just something that I don't really know that much about other than what I see on television and in movies. I think it is brilliant, the way that Anna Banks has chosen to use Carly's voice here, because I think that Carly had some really great points along the way. Carly taught me about the realities of living in America (without parents!) while burning-the-candle-at-both-ends to get the rest of her family here – the secrets she had to keep, the fear of exposure, the constant worry…and also some of the little technical details of day-to-day life. Carly worked so much more than I could have imagined possible for someone her age, yet I am quite positive that this happens here in the US.

What I also loved about Carly was the way she was so honest about how she felt. She had this huge loyalty to and love for her family, which is awesome, but she also had this big, burning desire to make something of herself beyond small jobs – she wanted to study, to go to college, to have a career beyond high school. This is huge because more than once in the story, she is encouraged to work more, study less in order to raise money more quickly. Again, I'm sure this prioritization is more prevalent than I'm aware of in these communities here in America; I'm sure that this is something that happens. I can't imagine the stress of having to maybe-choose work over school at that age. We know how Carly feels about this all along the way.

The more time she spent around Arden, the more at-war she was with how much time she spent working. The more time she spent around this boy that she liked, the more she wanted to be "normal" and I appreciated this as well.

Speaking of Arden, I liked him too. He's the opposite of Carly in many ways and for much of the book, he has no idea what Carly is up against. But he is patient with her, and kind, and still sees past her socioeconomic status and the fact that his father is a racist. (Ugh, his father: great characterization, not-great human!) Their romance was super-cute in that it started out as a friendship, then progressed not-too-quickly, and I liked that. Respectful, even though he was a jokester. Thoughtful, even though he had some issues of his own that he had to work through.

I just enjoyed this one a great deal. I added the audiobook to this read so I could keep it going when I had to sit my book down to do real-life things, and the audiobook was a pretty great investment of time too.

I'm familiar with Author Anna Banks' writing from her Syrena Legacy/ fantasy/mermaids world — I always think that it's fun to experience an author in a new arena for the first time. I would love to see more contemporary from Anna Banks! I've loved her other books but by golly, I loved this one so much today. I'm sure it will be a hit on my shelves here at home. I recommend Joyride by Anna Banks to readers that enjoy young adult contemporary with romance and realistic fiction.

Audiobook Notes: The audiobook format of Joyride by Anna Banks is published by Blackstone Audio and is 8 hours and 41 minutes, Unabridged. It is narrated by Kyla Garcia and Andrew Eiden for the dual POV's. This is my first time hearing each of these narrators but I enjoyed them both! They were both believable voices for Carly and Arden, and I had no trouble at all getting completely lost in this audiobook while they were reading. I have to give an extra nod to Kyla Garcia for her reading of Carly's chapters especially, because there are certain places in the story where Carly's accent appears to be a little thicker and a few places where she says a word or two in Spanish — Kyla's reading was so great in these parts. These two did a great job bouncing off of one another in this story, they sounded age-appropriate, their speed was perfect, and they were just fun to listen to. I would wholeheartedly recommend this audiobook to listeners for a first read of Joyride or for re-reads.
********************************************************************************
Joyride will appeal to fans of:
Young Adult Contemporary with Realistic Fiction
Romance: No Triangle.
Great Family Relationships.
Issues: Immigration, Deportation
Joyride by Anna Banks
is currently available for purchase.
********************************************************************************
More by Anna Banks: