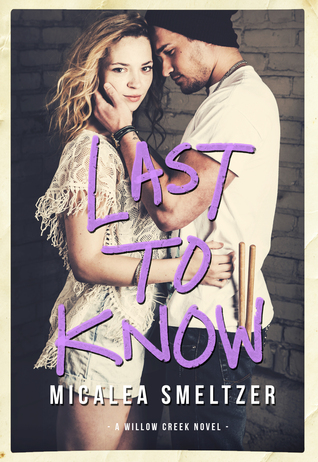 Last To Know by Micalea Smeltzer
Series: Willow Creek #1
Publish Date: February 7, 2015
Source: Bought (Currently FREE at both Amazon & B&N)
Find it here: Goodreads / Amazon / B&N

He was just a boy.
And I was just a girl.
But if that's all there was to the story it wouldn't be very interesting, would it?

Up and coming band Willow Creek is back in their hometown for the summer. For the drummer, Maddox Wade, this summer was meant for writing music and playing gigs.

Falling in love was not part of the plan.

One look at Emma Burke and those plans cease to matter.

Emma is quiet and guarded. She's still hurt from her father walking out two years ago. She doesn't want to trust Maddox, but with his dark hair, smoldering good looks, and infectious smile he's impossible to resist.

Together Maddox and Emma embark on an unforgettable summer of adventures and first love.
Everything is perfect…or so Emma thinks.

There are things she doesn't know, and when she finds out the truth it might shatter everything she's built with Maddox.

No one said love was easy, and for Maddox and Emma it just might be impossible. (excerpt from Goodreads)


Last To Know by Micalea Smeltzer
My Thoughts:
I one-clicked
Last To Know
by Micalea Smeltzer for my Kindle because this book happened to be free when I was browsing and sounded like a fun story – first love, summer love, adventures, music. Willow Creek's Drummer, Maddox Wade, runs into the lovely-and-introverted Emma Burke one day after performing a show. He is drawn to her because she is beautiful but also because she has no idea who he is. While the rest of the country seems to be head-over-heels crazy over Willow Creek's emerging success, Emma prefers to listen to classical music and read. Maddox loves that he can sit and talk to her and just
be himself
, and Emma finds that the attraction is mutual. The two strike up a sweet, slow relationship that I found enjoyable to read.
Maddox does not disclose that he is famous. As time passes, it becomes harder and harder to tell her because she has no idea who he is – she doesn't listen to Willow Creek or any radio-music for that matter. Maddox knows he needs to tell her, but he also knows that she loves him for who he is, not his fame.
Maddox promises Emma an adventurous summer. He plans fun things to do, he encourages her to try new things like zip-lining, etc. She has a blast spending time with him and finds herself slowly falling for him. He has some odd behaviors here and there, like the way he seems to wear his hat pulled down low over his eyes when when in public and the way he seems to sometimes want to say something, but backs out at the last minute – Emma thinks that he may be keeping a secret, but she chooses to trust him, thinking that if there is something that she needs to know he will tell her.


The relationship grows, the two fall in love, it is lovely. I love the things about Emma that are uniquely her: the way she just doesn't care about television and social media, the way she is bookish but not overly-so like some written characters, the way that she still has that youthful naivete that comes with being on the very line between young person and womanhood. I love that she is both confident and a little insecure, but not too much. And Maddox: I loved that he is still a young person too, and acts like it. He respects his parents, but still acts like a teenage boy – his banter and joking around are on point, I think. He is respectful to Emma, which is super-swoony to me. And he has weaknesses and vulnerabilities that he allows Emma and his close friends to see – I love this about male characters, particularly when they are strong characters. We all make mistakes.


So —


As readers, we know it is inevitable: the secret is going to come out – but how will it happen? How will Emma find out that her boyfriend is famous? How will she find out that YES INDEED he has been keeping a secret? And what are his reasons for that, exactly? Can she forgive him? Will they get their happily-ever-after?


Of course, I figured out before Emma did that Maddox was in the band Willow Creek. Of course, she was hurt by this secret. BUT! As with most of these stories involving the keeping-my-identity-a-secret-because-I'm-famous storyline, Maddox had a reason for keeping his secret — the intentions are there and good, but the execution just didn't go well. Often in stories like this, I can get frustrated when it is time to forgive-or-forget, but in this case I didn't. Why? Because the secondary cast that I had already become attached to stepped up to the plate and were great friends to both Maddox and Emma, and they gave great support and advice. I liked the secondary cast even more in the last pages of the book. I'm looking forward to reading more about them in the coming installments of this series.


Overall, Last To Know was a quick, fun read for me. I loved the sweet, summer romance and I loved that it involved these exact leading characters because I loved exactly how they were written. I've seen this book categorized as a young adult book and while I would agree, I think it is also safe to say that it isn't a young-young adult book. I'm excited to see what is up ahead in the next book, Never Too Late, which focuses on Mathias Wade (lead singer of Willow Creek + twin brother to Maddox) because his character seems to be almost the opposite of Maddox plus the backstory to his romance looks interesting! It's so fun that an impulse one-click for my Kindle has turned into a new series for me to enjoy – so excited that I decided to download Last To Know and give it a try.
********************************************************************************
Last To Know will appeal to fans of:
Young Adult/New Adult Contemporary Romance
Romance: Slowly Developing. No Triangle.
Music
Great Secondary Characters
Companion Series but this works as a Standalone!
Last To Know by Micalea Smeltzer
is currently available for purchase.
********************************************************************************
The Willow Creek Series:
It's always fun to one-click on a FREE book and find another
series to enjoy! Super excited that I took the chance on this one!