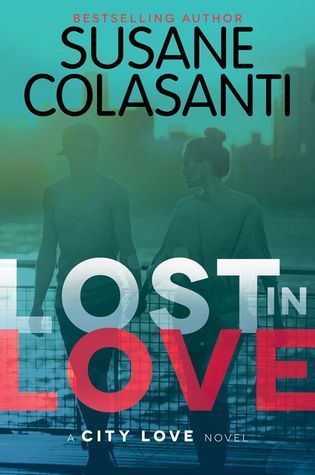 Lost In Love by Susane Colasanti
Series: City Love #2
Published by Katherine Tegen Books
Publish Date: May 3, 2016
Source: Publisher
Find It: Goodreads / Amazon

In this second book of the City Love trilogy by bestselling author Susane Colasanti, three girls share a Manhattan apartment the summer before college begins. Lost in Love captures the essence of summer love, self-discovery, and sisterhood, a perfect fit for fans of Sarah Dessen, Jenny Han, and Jennifer E. Smith.

Sadie was convinced that Austin was her soul mate, but after discovering his secret she wonders if she even knows him at all. Darcy was all about fun boy adventures with no strings attached . . . until her ex moves to New York City to win her back. Things are getting serious with Rosanna and her boyfriend, but will she be able to break free of her past and let him in? With no parents, no rules, and an entire city to explore, this is the summer that will change their lives forever.

Told from alternating points of view, Lost in Love weaves a story of first love, first heartbreak, and everything in between. (Goodreads)
Lost In Love by Susane Colasanti
My Thoughts:
After finishing
City Love
with its !!!! ending, I
couldn't wait
to dive into this book. I read it from start to finish, in one sitting.
********************************************************************************

To recap: the first book in the series took place over approximately two weeks college summer session in New York City. Sadie, Darcy, and Rosanna were adjusting to life in New York and LOVING it. Sadie made an intense connection with fellow intern Austin, Darcy was enjoying herself as 'Summer Fun Darcy' after a bad breakup back home in California, and socially-aware Rosanna started a relationship with the impossibly wealthy Donovan who really does like her despite her lack of money and social graces. The end of City Love stopped abruptly (cliffhanger!) with some big reveals that changed the course of the summer for these girls. Whew.



********************************************************************************


Lost In Love by Susane Colasanti picks up only a couple of days after the end of the first book and takes place over another few weeks during the same summer.

-Austin's massive secret has perilously threatened his relationship with Sadie, and Sadie is reeling from this.

-Darcy's summer of fun has been completely upended because her ex-boyfriend Logan secretly flew in from California to profess his regret over breaking up with her just as she was beginning to fall for Jude (which was totally not in her Summer Fun Darcy plans)

-Rosanna's plan to reinvent herself and shed the baggage from her past is proving difficult because her past has followed her to New York plus even though she has tried not to, she can't help but fall for the impossibly wealthy Donovan, even though wealth is something that she is morally opposed to

The girls all reacted so strongly to what was going on around them and to them that it kept me super-interested in the story as it unfolded. I rolled my eyes, I smiled, I gasped, and I shook my head at different places in the story and I enjoyed it all so much; all of this made the story better, I think. I FELT INVESTED in these things that were happening.

I couldn't put this book down. I wanted good things for these girls and when the ending came – BOOM, another shocker of an ending! I loved it, though. I'm so excited to see what happens with the next installment. I only wish I didn't have to wait so long for it!

Sadie, Darcy, and Rosanna have a great friendship. I love their loyalty. These girls love romance, but they aren't letting the boys come first.There is some stress happening in their individual lives, but these girls have resolved to be friends. There may be a moment or two when stress gives way to lashing out for a moment, but these girls are solid and I hope they remain loyal to one another and understanding of one another throughout this series. I have high hopes for them! I LOVE what this author has done with these girls so far in terms of friendships/roommates at this place in life. LOVE. When I was at this place in my life, I felt emotions that were all over the place (I still do). ALSO! The setting in this series is a character on its own. It's so hard not to hop a plane and just go there.

I recommend Lost In Love by Susane Colasanti for readers that enjoy summer reading, great reading about friendships, college, and summer romance.



********************************************************************************
Lost In Love will appeal to fans of:


Young Adult Contemporary with Romance
Alternating POV's
Setting: New York City
Strong Friendships
Lost In Love by Susane Colasanti
will be available for purchase on May 3, 2016.
********************************************************************************
I can't believe I have to wait a whole year
for the conclusion to this trilogy!
I NEED TO KNOW what will happen!