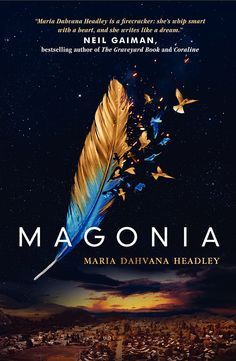 Magonia by Maria Dahvana Headley
Series: Magonia #1
Published by HarperCollins
Publish Date: April 28, 2015
Source: Book – Library, Audiobook – Library
Find It: Goodreads / Amazon

Aza Ray is drowning in thin air.

Since she was a baby, Aza has suffered from a mysterious lung disease that makes it ever harder for her to breathe, to speak—to live.

So when Aza catches a glimpse of a ship in the sky, her family chalks it up to a cruel side effect of her medication. But Aza doesn't think this is a hallucination. She can hear someone on the ship calling her name.

Only her best friend, Jason, listens. Jason, who's always been there. Jason, for whom she might have more-than-friendly feelings. But before Aza can consider that thrilling idea, something goes terribly wrong. Aza is lost to our world—and found, by another. Magonia.

Above the clouds, in a land of trading ships, Aza is not the weak and dying thing she was. In Magonia, she can breathe for the first time. Better, she has immense power—and as she navigates her new life, she discovers that war is coming. Magonia and Earth are on the cusp of a reckoning. And in Aza's hands lies the fate of the whole of humanity—including the boy who loves her. Where do her loyalties lie? (Goodreads)
Magonia by Maria Dahvana Headley

My Thoughts: I feel like if I would have known that this author often writes/works with China Mieville before I started this book, it would have helped me because I did not understand so much of it. (I'm familiar with China Mieville's work and how wonderfully unique it is, but Maria Dahvana Headley is a new-to-me author.) Magonia is an odd story but certainly unique and I have quite a bit of respect for an author that takes chances like this. I almost gave up more than once while I was reading, but I pushed through and I'm glad that I did.

Aza Ray has spent her life in and out of hospitals, unable to breathe the regular air that everyone else breathes with ease. One day, Aza sees a ship in the sky and hears voices calling out to her. No one seems to believe her, thinking she has been hallucinating or "side-effecting." Her best friend Jason believes her, though, because they have this really great connection that has been trending toward more-than-friends lately…and just when they're both about to take the leap and make it official, something really terrible happens.

Break-my-heart terrible.

So, remember that ship that Aza saw? It was definitely real. Aza ends up on it, in a place called Magonia, where ships sail the clouds and the skies. No longer the same Aza that she used to be, she now is an interesting and super-odd mixture of bird and human. In Magonia, Aza can breathe easily and has a little bird companion that lives inside of her lungs.

Yep, a bird lives inside of her lungs. I know, okay. I told you it is a little bit strange. Aza's bird-friend has a name and a fiesty little personality and when it sings with Aza, magical things happen. I'm serious, this is part of the story and part of the reason that Aza has a lot of power in the Magonian world. (I was pretty confused about this part of the story, actually.)

There is big drama in Magonia over things like food shortages, leadership, and loyalty – Aza gets pulled into all of it. While she is still trying to figure out exactly WHAT Magonia is and why it exists, she is also dealing with her own coming-of-age issues: try to get back to earth or stay in Magonia, which means family/difficulty breathing or an easier life but no family?
My interest in
Magonia
wavered throughout the course of the book. Initially I wasn't interested at all because Aza spent so much time talking about her ailment and it took up too many pages. The inclusion of the friends-to-romance plot made me perk up a bit, and then pretty soon after there was some dramatics that altered the entire book. From this point, my investment was always coupled with confusion.
There was cool and unique mythology with the bird-human Magonians and their community up in the sky, sure. But I had a hard time connecting with any of the characters. To me, this book's saving grace was Jason's point of view because it was
so needed
. Aza and Jason were separated for the large majority of the story and it was necessary to see what they were both simultaneously thinking and doing. Jason was quirky and a little different, and his chapters broke up the weirdness of the other parts of the story. I looked forward to his narration and wondered what he was doing when Aza was narrating.
I don't know, you guys. This one was so much a roller coaster for me. The things about it that I liked: I really liked them, and I'm curious about where the author will go with them. (I don't want to get spoilery here.) The things that I did not really care for or understand…eh, they felt like a chore. Aza is an interesting-enough character, almost as interesting as Jason, and I hope that these two are able to make it through without the inclusion of a love triangle in the future; their romance just didn't get enough page time, and I want to see these two with more time. They're sweet.
I recommend
Magonia
by Maria Dahvana Headley to readers that enjoy young adult fantasy that is infused with mythology and magic. Fans of birds may also enjoy this one. The audiobook is a good choice for this book. It is excellent and kept my attention, particularly with Jason's POV chapters.
Audiobook Notes
: The audiobook format of
Magonia
by Maria Dahvana Headley is published by Harper Audio and is 9 hours and 22 minutes, Unabridged. It is narrated by Therese Plummer and Michael Crouch, and both were excellent. In fact, I absolutely adored the male POV chapters, voiced by Michael Crouch, who is new to me. I would recommend this audiobook to readers of this book – in fact, I would go as far to suggest the audiobook to willing listeners want to read this book. I think Crouch's performance as Jason + Plummer's performance of Aza and/or her bird singing are fantastic features.
********************************************************************************
Magonia will appeal to fans of:
Young Adult Fantasy with Mythology
Romance: No triangle (at this time).
Alternating POV's
Magonia by Maria Dahvana Headley
is currently available for purchase.
********************************************************************************