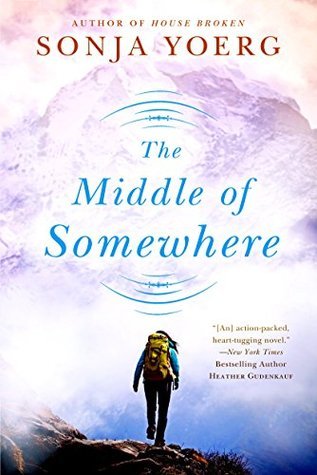 The Middle of Somewhere by Sonja Yoerg
Published by NAL
Publish Date: September 1, 2015
Source: Book – Publisher
Find it here: Goodreads / Amazon

A troubled, young widow hikes from Yosemite Valley deep into the wilderness on the John Muir Trail to elude her shameful past in this emotionally gripping story from the author of House Broken.

With her thirtieth birthday looming, Liz Kroft is heading for the hills—literally. Her emotional baggage weighs her down more than her backpack, but a three-week trek promises the solitude she craves—at least until her boyfriend, Dante, decides to tag along. His broad moral streak makes the prospect of confessing her sins more difficult, but as much as she fears his judgment, she fears losing him more. Maybe.

They set off together alone under blue skies, but it's not long before storms threaten and two strange brothers appear along the trail. Amid the jagged, towering peaks, Liz must decide whether to admit her mistakes and confront her fears, or face the trail, the brothers and her future alone. (Goodreads)
The Middle of Somewhere by Sonja Yoerg
My Thoughts: I was attracted to this book because I love backpacking books, books that have great scenery in them, books where someone takes off on some adventure looking for answers to whatever questions they have. I was also hoping that I would like it better than this book, which was really popular but crushed me for several reasons that aren't really important in the spirit of this review.

It reminds me much more of this book, which was amazing.

Even though I am mentioning the other two books, The Middle of Somewhere is a fiction book where the other two are nonfiction, so comparisons to the above-mentioned books are almost silly. Still, parts of this one did remind me of parts of the other stories. I can imagine that it would be hard to have adventure stories containing long hikes where women go off to find themselves without having some similarities.

A woman on an adventure? Yes! I want to read that story.
********************************************************************************

I could identify with the main character, Liz Kroft, in that YES SOMETIMES I WANT TO GET AWAY TOO. I want to take off on a hike and think and clear my mind and emerge on the other side of the trail a fresh person with a new perspective. Before the story even begins, Liz had made some decisions that she couldn't get out from under, and she needed a life overhaul. She carried some guilt, some shame, and too much weight for these things that happened before. She needed to make-right some things in her life, and she needed to start with herself. Spending time alone on this hike seemed the perfect idea, and I would like to high-five her for making this decision.

But —

What do you say when your boyfriend wants to join you on your life-changing solo hike in a big romantic gesture? And then when he makes the necessary preparations, including buying the equipment, etc? I mean, this happens in the beginning of the story! Liz didn't have the heart (or gumption?) to tell Dante that she really wants/needs to do this alone, and WHOA I CAN SEE TROUBLE UP AHEAD WITH THIS, can't you? I mean, if I personally want to be alone just for several hours and someone invites him or herself to tag along, I'm having a royal meltdown in my own real life —what would I do in Liz's shoes?

Goodness gracious.

To be fair, Dante thought he was doing something wonderful and romantic, and he was. He was SO SWEET. But Liz thought he was being intrusive, and she is entitled to her own feelings. BUT! She never talked to him about how she felt, which isn't really fair. In fact, much of the book was her inner dialogue about how she needed to talk to him about ___ or ___ or ___ , as well as her difficulty in doing so (understandably, because these were some big issues). The trail hike was supposed to be about helping her gain whatever courage she needed to say the things she needed to say. And to move beyond the things that had happened in the past.

She had plenty she needed to say, trust me.

It makes for a compelling read, where the romance is concerned – a true test of whether these two are meant to be. Can they make it? But there are other forces at play here. Liz is severely frightened of thunderstorms – a true, honest fear that cripples her. There are some mentally unstable people on the trail that are causing problems for regular hikers, and they keep popping up in the path of Liz and Dante. There is a celebrity on the trail, and can you imagine what kinds of issues that brings up? (You may think you can, but probably not!) This story is truly the test of a relationship, because it is also the test of the human spirit.

And in the middle of all of this, Liz experiences the growth she is looking for – but at what cost? She isn't expecting Dante to be there when she plans the trip, and she doesn't mean for several things to happen the way they that they do. Out on the trail, away from civilization and other people, Liz is forced to deal with everything she has run away from for years. It's interesting to watch her from the start of the book until the end of the book – I cannot that imagine many people finish a trial like that one the same way they began it.

I enjoyed The Middle of Somewhere tremendously. I did not love every event that happened in the story, but I was not supposed to. I loved the way some of the characters had to work together to overcome obstacles involving nature, the environment, or other people. I love the way Liz and Dante were forced to work together to get through their issues. I love that Liz was pushed to her limits because it was then that we saw what she was made of. I LOVE LOVE LOVE this setting and the descriptions provided because I have wanderlust like crazy, and I loved following this trail on the map as the story progressed.

I think other readers will enjoy this book too – different readers for different reasons. There are so many things in here that will appeal to so many different people. I recommend The Middle of Somewhere by Sonja Yoerg for readers that enjoy books about backpacking and nature, stories about adventure, stories about strong women, and readers that are interested in more books somewhat similar to this book or this book.


********************************************************************************
The Middle of Somewhere will appeal to fans of:
Adult Contemporary
Adventure
Romance: Some, no triangle.
Great Setting: John Muir Trail, California
The Middle of Somewhere by Sonja Yoerg
will be available for purchase September 1, 2015.
********************************************************************************
More by Sonja Yoerg:
The cover of House Broken is super cute!