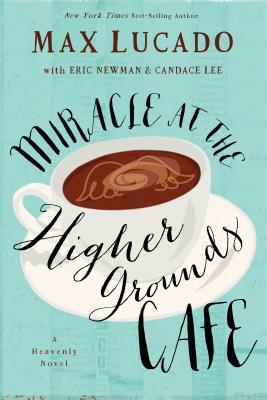 Miracle at the Higher Grounds Cafe by Max Lucado
Published by Thomas Nelson
Publish Date: February 1, 2015
Source: Book – Library, Audiobook – Purchased
Find it here: Goodreads / Amazon

What if you could ask God anything? What would you ask? And how would He answer?
Chelsea Chambers is on her own. After a public split from her NFL superstar husband, Chelsea takes a bold step out of the limelight and behind the counter of the Higher Grounds Cafe, an old-fashioned coffee shop in dire need of reinvention. But when her courage, expert planning, and out-of-this-world cupcakes fail to pay the bills, this newly single mom finds herself desperate for help. Better yet, a miracle.
Then a curious stranger lands at Chelsea s door, and with him, an even more curious string of events. Soon, customers are flocking to the Higher Grounds Cafe, and not just for the cupcakes and cappuccino. They ve come for the internet connection to the divine. Now the cafe has become the go-to place for people in search of answers to life s biggest questions.
When a catastrophe strikes and her ex comes calling, Chelsea begins to wonder if the whole universe is conspiring against her quest to make it on her own. After a shocking discovery opens her eyes to the unseen world around her, Chelsea finds the courage to ask God a question of her own. Heaven answers in a most unexpected way." (from Goodreads) .


Miracle at the Higher Grounds Cafe by Max Lucado
My Thoughts: Chelsea has taken over her family's Higher Grounds Cafe after separation from her famous athlete husband who has had an affair and lost her trust. Not long after taking over the business, Chelsea is informed that it comes with an $86,000 debt – if she isn't able to pay it, the IRS will seize the cafe. Chelsea has brought her two young children to live with her in the apartment over the coffee shop; they are having some adjustment issues while missing their father tremendously.

Unbeknownst to Chelsea, her guardian angel is watching from the Heaven and is sent down to help her. He comes in disguise as Manny, her new barista. Around the time of Manny's arrival, there is also an internet incident at the cafe. It seems that "The God Blog" can only be accessed by people when they are at the Higher Grounds Cafe. God himself supposedly runs The God Blog. People are allowed to ask only one question and they will receive an answer…from God. Of course people are skeptical, but they are also desperate for answers, so come in large numbers to ask their one question. While they're at the cafe, they buy coffee and cake.

Miracle at the Higher Grounds Cafe is a very sweet book. It is a simple and quick read. In truth, it is a little on the cheesy side at times but it is also super-heartwarming, and that is the thing that I liked most about it. (I think there are some very complex issues in here that are simplified so that this book is easy to read.) I bought this book because I've had my eye on it since its release – I have been drawn to the cover and I've never read a book by Mr. Lucado. I grabbed this one and added the audio. I listened while I worked around my house, in my yard, and also while I cooked. This is an easy story to listen to and to get lost in.

I wanted good things for Chelsea. She's a mother that is struggling to make the best decisions for her children and she is a new businesswoman trying to make the best decisions for her struggling business. Along with all of that, she isn't completely sure how to handle being newly single and all that goes along with it – her children miss their father, her husband says that he wants to come home, and she is in way over her head financially.

Manny's character not only provides great comedic relief but also guides Chelsea and her family. Watches over them. There are some supernatural things happening around the coffee shop and the greater San Antonio area, and Manny is in tune with what's happening. (He's also a huge fan of Star Wars.)

Manny is part of a great supporting cast. The rest of the supporting cast – including Chelsea's family and some of the locals – are a great support to Chelsea and her family. They make the story full and robust.

While Miracle at the Higher Grounds Cafe is a quick read, and fun…it's also thought-provoking. There are some spiritual themes present: spiritual warfare, forgiveness, and faith are some of the big ones. This isn't a heavy-handed book by any means at all – I think anyone would enjoy it – but I appreciated the messages that I was able to take away when I was finished. Since I have never read anything by this author before, I cannot provide a basis for comparison.

I would recommend Miracle at the Higher Grounds Cafe by Max Lucado to fans of inspirational fiction and fans of Max Lucado's other books.

Audiobook Notes: The audiobook format of Miracle at the Higher Grounds Cafe by Max Lucado is published by Thomas Nelson Publishers and is 5 hours and 39 minutes, Unabridged. It is narrated by Ben Holland, who is completely new to me (I can only find where he has voiced Max Lucado's work, but I may be incorrect about this). He has a voice that is pleasing to listen to and he made the book enjoyable except for the accents given to Manny and Sawyer, which were a little exaggerated and odd. I had a hard time taking them seriously at various times because of the way that they sounded. I realize that this is subjective and that other listeners may not feel the same way or even notice this. I would still recommend this audiobook for first-time listeners or rereads.



**********************************************************************
Miracle at the Higher Grounds Cafe will appeal to fans of:


Inspirational Fiction
Miracle at the Higher Grounds Cafe by Max Lucado
is currently available for purchase.
**********************************************************************