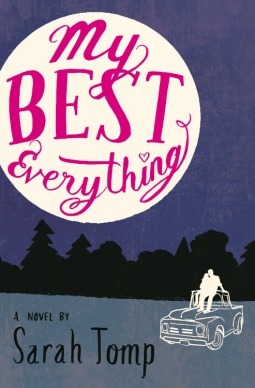 My Best Everything by Sarah Tomp
Published by Little, Brown Books for Young Readers
Publish Date: March, 2015
Source: Publisher
Find it here: Goodreads / Amazon / B&N



You say it was all meant to be. You and me. The way we met. Our secrets in the woods. Even the way it all exploded. It was simply a matter of fate.
Maybe if you were here to tell me again, to explain it one more time, then maybe I wouldn't feel so uncertain. But I'm going back to the beginning on my own. To see what happened and why.

Luisa "Lulu" Mendez has just finished her final year of high school in a small Virginia town, determined to move on and leave her job at the local junkyard behind. So when her father loses her college tuition money, Lulu needs a new ticket out.

Desperate for funds, she cooks up the (definitely illegal) plan to make and sell moonshine with her friends, Roni and Bucky. Quickly realizing they're out of their depth, Lulu turns to Mason: a local boy who's always seemed like a dead end. As Mason guides Lulu through the secret world of moonshine, it looks like her plan might actually work. But can she leave town before she loses everything – including her heart?
The summer walks the line between toxic and intoxicating.
My Best Everything
is Lulu's letter to Mason – though is it an apology, a good-bye, or a love letter?
(Goodreads)
My Best Everything by Sarah Tomp
My Thoughts: I was first smitten with the cover of My Best Everything by Sarah Tomp, then I fell in love with the Appalachian setting. The summary for this book is interesting, right? Since I've been in such a reading slump lately, I was excited to find that I was immediately pulled into this story. RIGHT AWAY, I was there, as Lulu is talking directly to Mason in the form of a letter. He words are filled with so much emotion, immediately I wondered what would be their story.
Lulu Mendez is a recent high school graduate, super excited about the prospect of leaving her sleepy small town and heading to San Diego and a new life at college. She plans for a summer filled with hanging out with her best friend, and then Lulu is G-O-N-E from Dale, Virginia. She can hardly wait. But this dream comes to a screeching halt when Lulu finds out from her Dad that she can't go to San Diego, no college this fall, the money just isn't there, sorry but you'll have to stay home. No, no, no, no, she thinks. No.
Lulu comes up with a great, super-easy plan to make good cash, quick money. Moonshine.
********************************************************************************
Okay, so YES, the story of young people making moonshine in the Appalachian countryside is appealing to me – especially when there is also the promise of desperation and love woven throughout. Lulu is so ready to leave home, so very ready, and this made me love her immediately. I remember feeling that way myself, so eager, high school and the days immediately after were just too long. Lulu's mother is a shut-in with a crippling anxiety that keeps her from leaving the house – this is so stressful to Lulu. Her travels almost constantly with his job, so he is never home, which means that it falls on Lulu to care for her mother. She has an un-glamorous job at a junkyard and she just wants to get away from small-town life because nobody ever becomes anything if they stay around there. The idea that Lulu would have to put aside college is not something that she is willing to entertain – I understand this, and so I connected with her because of it.
We meet Mason early in the book. Lulu is easily smitten by him, but I think her interest in his moonshine-making abilities is almost equal to her attraction to him, at least for a time. There is a mutual crush or attraction that turns into a really neat romance as these two grow more acquainted and make moonshine together. Mason helps Lulu with things, and Lulu helps Mason with things – they are good for one another. Mason is not the typical young adult love interest; he is a recovering alcoholic, his family's name is stained in the community, and he has a reputation from his younger days. But Mason isn't like that anymore, he isn't anything like people judge him to be. Lulu sees a side of him that nobody else does, and because of this we grow to as well as we read her thoughts to him in her letter. I loved getting to know him through her eyes and thoughts and heart. He's one of the best young adult male characters that I've read in a long time, a favorite.
There are other noteworthy characters: Roni and her boyfriend Bucky, for example. Roni is Lulu's best friend, with no plans to leave Dale, Virginia. No plans for college. Bucky does have plans for college and this has created a small strain in his relationship with Roni. Both agree that they could use some money, however, so they join in with Lulu and Mason to help with the moonshine-making. I love how things unfolded with Roni and Bucky and I have to admit that things took turns along the way that I didn't expect.
I love how things unfolded with all of the characters, actually. Beginning the story, I had a feeling that something was coming up, but I didn't really know that it would be. Why is Lulu writing to Mason in the first place? Also, I initially wondered if the story structure (Lulu speaking directly to Mason) would prevent connection with Mason, but it did not. If anything, I felt more of a connection with both characters, and this is probably because Lulu felt everything she was saying so passionately.
Lulu spoke her heart to Mason in these pages.
Do you know the books that are a pleasure to read because the author uses lovely language? This is one of them. Sarah Tomp wrote My Best Everything with such a lyrical language, but not too much so, and the story easily made such a great movie in my head. I recommend My Best Everything by Sarah Tomp to readers that enjoy young adult contemporary stories and contemporary romance. Readers that enjoy a unique story structure or premise may also enjoy giving this one a shot. I'll be rereading this one and I'm thinking it will be one of my favorites this year.
********************************************************************************
My Best Everything will appeal to fans of:
Romance: No triangle. Slowly Developing.
Great Setting: Western Virginia
My Best Everything by Sarah Tomp
will be available for purchase on March 3, 2015.
********************************************************************************