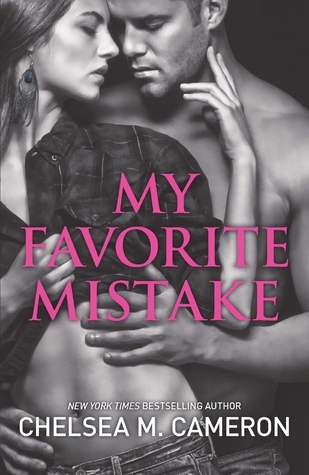 My Favorite Mistake by Chelsea M. Cameron
Series: My Favorite Mistake #1
Published by Harlequin HQN
Publish Date: August 27, 2013
Source: Book – Publisher, Audiobook – Bought
Find It: Goodreads / Amazon

Two secrets. One bet. Who will break first?

Taylor Caldwell can't decide if she wants to kiss her new college roommate or punch him.

On the one hand, Hunter Zaccadelli is a handsome blue-eyed bundle of charm. On the other, he's a tattooed, guitar-playing bad boy. Maybe that's why Taylor's afraid of falling in love with him, or anyone else. She doesn't want to get burned, so she needs him gone before it's too late.

Hunter himself has been burned before, but Taylor's sexy laugh and refusal to let him get away with anything make her irresistible. Determined not to be kicked out of her life without a fight, Hunter proposes a bet: if she can convince him she either truly loves or hates him, he'll leave the apartment;and leave her alone.

But when the man behind Taylor's fear of giving up her heart resurfaces, she has to decide: trust Hunter with her greatest secret, or do everything in her power to win that bet and drive him away forever. (Goodreads)
My Favorite Mistake by Chelsea M. Cameron

My Thoughts: My Favorite Mistake begins as female college student Taylor finds out that there has been a room assignment error and she is to be paired with a male roommate for the year in her campus housing. Within a few minutes of meeting Hunter, Taylor finds herself unimpressed and with [what she considers] reason to punch and kick him, so of course the two begin with a rocky start. What begins as a tense school year progresses to toleration and then to a relationship by the end of the story.

Because Hunter really needs a place to stay for school (and he is certainly entitled to the place he is assigned), he makes Taylor a deal: if and when she either loves him or hates him, he will leave. That simple.

The things I liked:

1. The deal makes for great tension and banter between Hunter and Taylor, particularly at the end of the night before they go to sleep.
2. I love Hunter.
3. I love how Hunter is honest about his attraction to Taylor, and I love that as his feelings progress and change, he continues to be honest with her.

The things that weren't my favorite:

1. Taylor: I had a tough time with her.

I think that Hunter is a great character. He is a little on the cocky side, but sometimes a little bit of cockiness is crushworthy and sexy. Hunter cooks and sings and plays his guitar to impress Taylor , and this is also swoony. He loves his family and is loyal to his friends. He is more sweet and swoon than cocky jerk, and I'm glad about that.

As much as I like Hunter: THAT is how much I dislike Taylor. She is so tough to love. I could never find a way to connect with her, at any part of the story. I felt like she began the story with a chip on her shoulder, she got away with a poor attitude and with throwing tantrums, and she treated Hunter far worse than she should have been allowed to. YES, she has character growth by the end of the story, but it felt like it took forever to come to fruition. I get that she has had some things happen to her and that I should have grace for her past, but this doesn't give her a free pass to be impolite and rude although unfortunately that is the impression I am left with after everything is done. Even the romantic tension she had with Hunter, even the witty banter, even the comedic relief – none of these things were quite enough to make me really love her as a character, which made me sad.

Still, I liked this story. The secondary cast was great. The ending was happy with good resolution to the plot. I had this one sitting on my Kindle for a while so it felt good to pick it up and read it.
Audiobook Notes:
The audiobook format of My Favorite Mistake
by Chelsea M. Cameron is published by Brilliance Audio and is 10 hours and 14 minutes, Unabridged. It is narrated by Kate Rudd, and
I do enjoy Kate's reading any time that I encounter it. I would encourage this audiobook for a first listen or a reread.
I've actually read this book twice. The first time I finished the book was about two months ago – I got busy and didn't take the time in the holiday/Christmas season to review and rate it. I just now listened to the audiobook and I definitely liked this book more the second time. The reason for this is: on the reread, I can see hints of Taylor's big secret here and there in her thoughts and speech, and it made her behavior toward Hunter more tolerable on a very small level.
********************************************************************************
My Favorite Mistake will appeal to fans of:


New Adult Contemporary Romance with Issues
Romance: No triangle.
Setting: College campus
Humor
My Favorite Mistake by Chelsea M. Cameron
is currently available for purchase.
********************************************************************************
More by Chelsea Cameron: