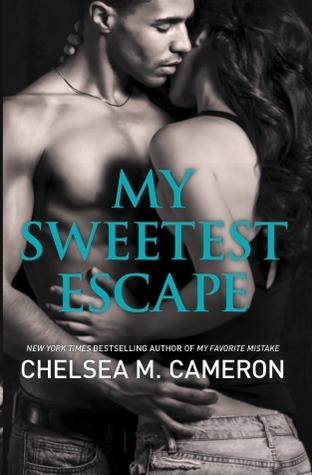 My Sweetest Escape by Chelsea M. Cameron
Series: My Favorite Mistake #2
Published by Harlequin HQN
Publish Date: January 28, 2014
Source: Book – Publisher, Audiobook – Bought
Find It: Goodreads / Amazon

The past will always find you.

Jos Archer was the girl with the perfect life; until the night it all came crashing down around her. Now, nine months later, she still hasn't begun to pick up the pieces. Even transferring to a new college and living under the watchful eye of her older sister, Renee, isn't enough to help her feel normal again.

And then she meets Dusty Sharp. For reasons Jos can't begin to fathom, the newly reformed campus bad boy seems determined to draw her out of her shell. And if she's not careful, his knowing green eyes and wicked smile will make her feel things she's no longer sure she deserves.

But even as Dusty coaxes Jos to open up about the past, he's hiding secrets of his own. Secrets about the night her old life fell apart. When the truth is finally revealed, will it bring them closer together;or tear them apart for good? (Goodreads)
My Sweetest Escape by Chelsea M. Cameron

My Thoughts: I recently read the first book in this series, My Favorite Mistake. It wasn't perfect, but I did like it and I was eager to continue with the sequel.



********************************************************************************


My Sweetest Escape begins as Jos Archer transfers colleges and moves in with her sister Renee and her roommates because of some previous party-hard/don't care behavior. Before the move, Jos was fairly well-behaved with very good grades, but something horrible happened almost a year ago and as a result, Jos has had a total change in her behavior. No one knows what happened and she isn't ready to give up her secret.

Jos has no idea how overbearing and overprotective her sister can be until she moves in with her, but she absolutely adores living in the new house. She loves her roommates, which are all of the characters from the previous book in this series. Not long after moving in, she meets a guy named Dusty who seems attracted to her right away and basically ignores it when she pushes him away. (I like Dusty!) Eventually she finds out that he is also hiding something from his past. If the two could learn to trust one another with their mutual secrets, they could lower their respective walls and let one another in.

The things I liked:

-I loved that the characters from My Favorite Mistake were all present and accounted for in this book. It's like they were all new and improved. Even Tayler and Hunter were better than ever. In fact, I didn't dislike Taylor at all which is a huge improvement from the first book (when she and I got off to a very slow start). Taylor ends up being a huge help to Jos in a few places in this story because she understands what it is like to carry a secret burden, and I love that she was open to talking Jos through some of her issues. I love that Taylor's character development extended further than the first installment in this series. I love that these characters were all still as humorous as before.

-I like Dusty! He's fun.

The things that weren't my favorite:

-I wish that it had not taken so long for the big reveal on the secrets Jos and Dusty were keeping. At almost-the-end of the book, I still didn't really know the reasons for Jos' transfer from her previous college, the reason her sister was far-too-overprotective, and the reason that she was so down on herself for whatever happened before she moved in with her sister. Sure, she had alluded to it a few times, and toward the end of the story there are a couple of hints, but I think that if the information had been given in bits and pieces throughout the story, I would have felt more invested in it when the big information finally did come.

-Speaking of overprotectiveness, the way Jos' sister Renee treated her was not okay. Renee didn't let her do anything without knowing what she was doing, where she was going, etc. Jos is an adult, period. A college student. I wish that Jos would have felt that she could stand up to her sister a little bit. I think that intentions were good, but it all led to Jos looking very insecure and weak, and her sister looking manipulative and bossy. It just felt awful to read their interactions, especially with how much I love good sibling relationships in stories.

Overall, I love these characters as a group of friends. But these two female leads (from both books in this series): I just haven't clicked with them at all. The banter between the whole cast has been humorous but at the same time, the drama/secrecy between the two couples of interest in this series has been bordering on a little much. I do love this author's work and look forward to more of her backlist.
Audiobook Notes:
The audiobook format of My Sweetest Escape
by Chelsea M. Cameron is published by Brilliance Audio and is 9 hours and 21 minutes, Unabridged. It is narrated by Kate Rudd. Since Kate is a reader that I do enjoy, I didn't hesitate to pick up this audio to accompany the book I have on my Kindle. Since this was an easy read, I enjoyed listening to this audiobook while I cooked and cleaned my house.
********************************************************************************
My Sweetest Escape will appeal to fans of:


New Adult Contemporary Romance with Issues
Romance: No triangle.
Setting: College campus
Humor
My Sweetest Escape by Chelsea M. Cameron
is currently available for purchase.
********************************************************************************