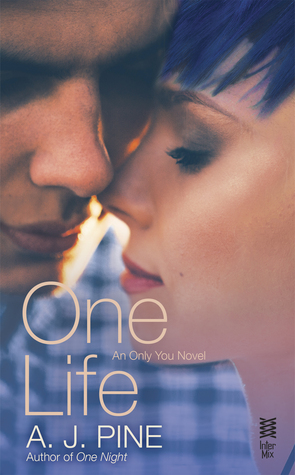 One Life by A.J. Pine
Series: Only You #2
Published by InterMix
Publish Date: October 20, 2015
Source: Publisher
Find It: Goodreads / Amazon

In the latest from the author of One Night, tragedy causes a young woman to struggle to keep her head above water, and the only one who can help her is the guy who's been in the friend zone for the past year…

Every time life throws Zoe Adler a curve ball, she changes her appearance. Freshmen year—after almost following in her mother's alcoholic footsteps—she said good-bye to her blonde, girl-next-door image and opted for jet black hair and piercings galore. After her brother Wyatt's death, she escapes to the city to teach a summer art program for kids. Her black hair goes blue, and she finds solace in the arms of a longtime friend, in his heart, and in his bed—but her guilt makes her unable to accept the love he wants to give.

Spock might be the guy to save Zoe. But when she learns the truth about his past, the edge she's teetered on since losing Wyatt drops out from under her. The girl who kept it together for everyone finally falls apart. Now Zoe must choose between drowning in guilt about Wyatt or asking for help. But even if she gets the help she needs, Spock may not be waiting for her when she's ready to let love in. (Goodreads)



My Thoughts: One Life is the story of Zoe and Spock (his real name is Zach), who are both present in One Night, the first book in this series. While this book is technically the second in this series, it could certainly be read as a standalone or out of order because I do not feel like anything is really spoiled for the first book at all.


So: Zoe's younger brother Wyatt has died and Zoe is having a super-difficult time dealing with her grief. As in, she's not dealing with it. At least, not in any real healthy way. Spock (she calls him Spock because he has the same name as her surviving brother and that's just too weird for her) is there to help her cope in the best ways possible at the time, but Zoe ends up sliding further and further into herself as the story progresses. Spock can see this happening and desperately wants to help her, but also recognizes that he is less and less equipped to deal with her issues because 1) of his own distant past and 2) her problem is way bigger than she is willing to admit.


Just like with the previous book in this series, I think Author A.J. Pine does a great job writing not only the "broken" character, but one that is able to disconnect herself really well from the people that love her. I did not find myself as frustrated with Zoe as I did with Jess in the previous story, but it was so hard to watch Zoe spiral downward and not be able to reach through this book and help her myself (not that I could have done anything for her, but y'all know what I mean). I love feeling emotional connections like this when I'm reading a story that has issues in it.


As far as Spock goes-I liked him so much, and again, this mirrored the way I felt about the previous book and the love interest there as well. I think Author A.J. Pine knows how to write an understanding, gentlemanly guy – Spock did his best to provide his very best support to his grieving girlfriend, but he also knew when he had to step back and let other people take the lead in helping her. I think that is hard sometimes, in romantic relationships-especially when we are young and in love. I think we want to be the saving-graces for the people that we love. But Spock knew when to back off, and this made me happy.


The romance is great in this book, partly because it started in the previous book as something very slow. I loved that it was an undefined, sort of awkward thing between the two of them, their romance. (mild spoiler)[[ And I love that when the two of them had to be apart for a chunk of time, they remained true to one another and didn't date other people or sleep around or even kiss anyone else. Their love was for one another only. LOVE LOVE LOVE THIS. ]] (end spoiler)


I also love that Jess and Adam from the previous book show up and are doing so well! LOVE that. They were like a bonus for me.


So, yes to the Only You Series . I love contemporary romances with issues that are done well and after reading two from this author, I'm sold on her approach to writing them. I'm happy to recommend One Life to readers that enjoy issues contemporaries, books with a broken character, books dealing with grief/addiction, and books with art/music in the story.



**********************************************************
One Life will appeal to fans of:


Contemporary Romance with Issues
Romance: No triangle.
Great Friendships
Art & Music
Issues: Grief, Addiction
is currently available for purchase.
**********************************************************
Loving these issues contemps from A.J. Pine.