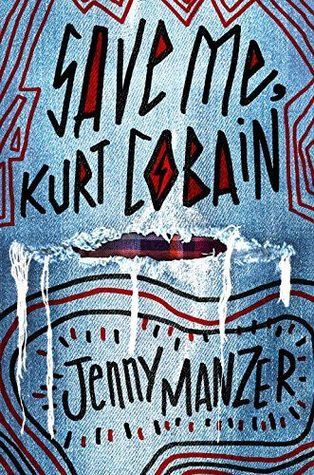 Save Me, Kurt Cobain by Jenny Manzer
Published by Delacorte Press
Publish Date: March 8, 2016
Source: Received from Lauren. Thank you!
Find It: Goodreads / Amazon

What if you discovered that Kurt Cobain is not only alive, but might be your real father?

Nico Cavan has been adrift since her mother vanished when she was four—maternal abandonment isn't exactly something you can just get over. Staying invisible at school is how she copes—that and listening to alt music and summoning spirits on the Ouija board with her best friend and co-conspirator in sarcasm, Obe. But when a chance discovery opens a window onto her mom's wild past, it sparks an idea in her brain that takes hold and won't let go.

On a ferry departing Seattle, Nico encounters a slight blond guy with piercing blue eyes wearing a hooded jacket. Something in her heart tells her that this feeling she has might actually be the truth, so she follows him to a remote cabin in the Pacific Northwest. When she is stranded there by a winter storm, fear and darkness collide, and the only one who can save Nico might just be herself. (Goodreads)
Save Me, Kurt Cobain by Jenny Manzer
My Thoughts
:
Nico Cavan's mother leaves the house one day when she is very young and never returns. There is no explanation, a body is never found, and there is no closure for Nico and her father. Nico finds a box of her mother's things in the attic, including some of her old CD's, and Nico finds that they have a similar taste in music – namely a shared love of the band Nirvana. When she digs deeper and finds a picture of her mother with Kurt Cobain, she begins to wonder if perhaps Kurt Cobain could have been her father.

One day when traveling from Victoria, BC to Seattle, Nico is convinced that she sees Kurt Cobain. Convinced that he isn't actually dead, that he's living nearby out of the public eye, Nico follows him and talks to him, hoping with all hope that he has some information on her mother's whereabouts.



********************************************************************************


I was really nervous about reading this book. As a big fan of Kurt Cobain and Nirvana, it is no small thing to write a story as suggestive as this one. But really, this book reads like part-warm fuzzy where the Nirvana nostalgia is concerned and part heart-tugging YA contemporary.

There is a certain point in this book when I wondered if Nico would actually find what she wanted and if the guy would end up being Kurt Cobain. I mean, I know the things that happened in real life, but there is a fair amount of suspension of disbelief required in this book for various things and I wondered how far it would go. Truly, I guessed at certain pieces of the puzzle until the last few pages, which made this a quick read for me.

I loved the Nirvana-aspect of the story as it was full of facts and song titles and lyrics. I love that I could visualize so much of what was written in here because I remember it all unfolding, I remember interviews and videos and concert footage on MTV. The chapters named for Nirvana's songs had me singing lyrics and when I wasn't reading, I found myself listening to their music and watching old videos (LOVE!). I think that the readers that pick this up that are also big fans of the band will love the nostalgia and will appreciate that the author is likely a huge fan too. It was my favorite part of this read.

I did enjoy reading this one. It isn't a perfect read; there is some repetition in here that nagged at me and a few plot inconsistencies. But I did feel for Nico and her awkwardness and that empty space that she felt because of her mother's disappearance. During the story and even after, I wanted good things for her, and I liked the way that the story resolved.
********************************************************************************
Save Me, Kurt Cobain will appeal to fans of:


Young Adult Contemporary with Issues
Romance: Very lite. No triangle.
Setting: Victoria, British Columbia & Seattle, Washington
Nirvana & Music
Issues: Grief
Save Me, Kurt Cobain by Jenny Manzer
is currently available for purchase.
********************************************************************************