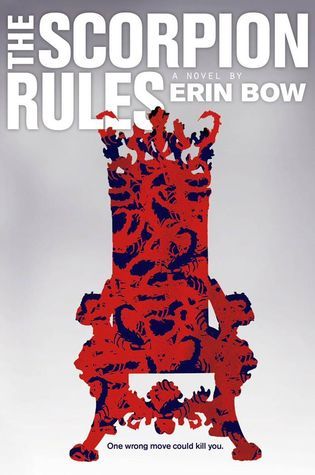 The Scorpion Rules by Erin Bow
Series: Prisoners of Peace #1
Published by Margaret K. McElderry Books
Publish Date: September 22, 2015
Source: Publisher
Find It: Goodreads / Amazon

A world battered by climate shift and war turns to an ancient method of keeping peace: the exchange of hostages. The Children of Peace – sons and daughters of kings and presidents and generals – are raised together in small, isolated schools called Preceptures. There, they learn history and political theory, and are taught to gracefully accept what may well be their fate: to die if their countries declare war.

Greta Gustafsen Stuart, Duchess of Halifax and Crown Princess of the Pan-Polar Confederation, is the pride of the North American Precepture. Learned and disciplined, Greta is proud of her role in keeping the global peace, even though, with her country controlling two-thirds of the world's most war-worthy resource — water — she has little chance of reaching adulthood alive.

Enter Elián Palnik, the Precepture's newest hostage and biggest problem. Greta's world begins to tilt the moment she sees Elián dragged into the school in chains. The Precepture's insidious surveillance, its small punishments and rewards, can make no dent in Elián, who is not interested in dignity and tradition, and doesn't even accept the right of the UN to keep hostages.

What will happen to Elián and Greta as their two nations inch closer to war? (Goodreads)

The Scorpion Rules by Erin Bow

My Thoughts: I WISH I HAD READ THIS BOOK ALONG WITH SOMEONE ELSE.


I needed to be able to discuss it with another person while I was reading. To me, The Scorpion Rules started out very strong and had some very cool things in it. But soon the momentum slowed for me. And the end was like WHAT?


Things I really liked:


1. I like that the ruthless leader Talis has been able to drastically change the way the world handles peace and war because he requires world leaders to send one of their kids to be held as hostage, aka Children of Peace. Basically if these world leaders participate in war, they forfeit the life of their child. This is crazy but also cool because things get interesting and tension builds in the story as political unrest increases between some of the countries. I loved the tension. I could feel it in the characters as they worried for their lives, as they wondered if their parents would send them to their deaths, as they desperately tried to keep appearances but were completely freaking out on the inside because they are young people facing death for no reason at all. This is good reading.


2. The place where these hostages are kept. It felt like a farm or camp of some sort where the hostages are educated while they grow their own food and raise animals. It almost felt back-in-time and I love when stories with future-settings have that feeling.


3. When Elian comes as a new hostage. He shakes things up because he does not transition smoothly to his new role as hostage and this causes an interesting ripple in the rest of the hostage population. Tension increases further because: for the world to have a new Child of Peace, something must be going on out in the world, right? Elian is by far my favorite character in the story.


Things I did not love:


1. The AI. I had the hardest time visualizing the artificial intelligence characters as being AI. The whole AI angle felt really strange in this story, like it didn't fit. I kept having to remind myself that this character and this one and that one were robots. Not only that, but there were tons of little AI creature-things scurrying around spying on the hostages and doing other things like shocking them when they misspoke or broke rules. Because the AI made up so much of this story, The Scorpion Rules was a so-so read for me rather than a really good one.


2. The romance. Sadly, I think that the romance in this first installment just took away from the overall plot. Greta has a female love interest and she is also romantically linked to Elian. It is no secret that I like Elian-I called him my favorite character in the story-but I didn't love Greta's romantic interest in either of them actually. Those scenes always seemed to pull me out of the plot and I never felt captivated by the romance. I found myself wishing the scenes with both love interests were over so I could get back to the rest of the story.


3. The ending. Without spoiling, I'll just say that the ending was really strange.


The Scorpion Rules is a good book, but I think that I would have enjoyed it much better if I understood a little more about things. Like the "why" behind the artificial intelligence – I still have questions about that very large portion of the plot. And the ending? I think that reading this book along with someone else would have helped me so much and would have been fun because it is very discussable (the romance, that ending!) but alas I read it alone, and it took so long.


The fact that the ending still has me very curious days after finishing is interesting – when I initially closed the book, I thought that I would probably not feel the need to continue with the series. Since then, though, I've wondered what will happen next with the characters. This particular ending raises more questions than it answers, I think. It isn't really a cliffhanger, but I personally might would have done better to wait and read with the second book on hand to start right away.


********************************************************************************
The Scorpion Rules will appeal to fans of:
Young Adult Dystopian with Sci-Fi
Romance: Love Triangle.
The Scorpion Rules by Erin Bow
is currently available for purchase.
********************************************************************************