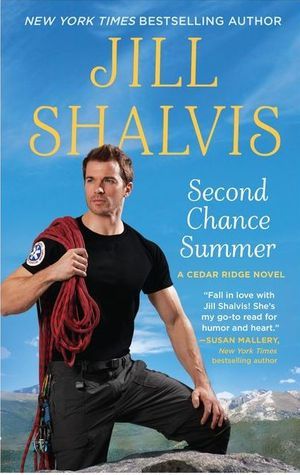 Second Chance Summer by Jill Shalvis
Series: Cedar Ridge #1
Published by Forever
Publish Date: June 30, 2015
Source: Publisher
Find It: Goodreads / Amazon

Cedar Ridge, Colorado, is famous for crisp mountain air, clear blue skies, and pine-scented breezes. And it's the last place Lily Danville wants to be. But she needs a job, and there's an opening at the hottest resort in her hometown. What has her concerned is the other hot property in Cedar Ridge: Aidan Kincaid-firefighter, rescue worker, and heartbreaker. She never could resist that devastating smile…

The Kincaid brothers are as rough and rugged as the Rocky Mountains they call home. Aidan has always done things his own way, by his own rules. And never has he regretted anything more than letting Lily walk out of his life ten years ago. If anyone has ever been in need of rescuing, she has. What she needs more than anything are long hikes, slow dances, and sizzling kisses. But that can only happen if he can get her to give Cedar Ridge-and this bad boy-a second chance… (Goodreads)


Second Chance Summer by Jill Shalvis

My Thoughts: YAY! I read my first Jill Shalvis book!

Second Chance Summer features Lily Danville and Aiden Kincaid. Lily is back in Cedar Ridge after being gone for about ten years. She doesn't want to come back to the place that holds grief and bad memories for her, but there are no places anywhere around that will hire her after what she did, and she desperately needs a job. The local resort has a temporary position and Lily sees no other option than taking it.


When Lily comes back into town, Aiden is quick to pick up her trail and try to keep her from leaving again. Lily makes it tough, because she really doesn't want to stay.

A few things that I loved:

1. The setting. Small town, loved. Mountains, loved. Either of these things usually make me see stars and hearts, but the combo had me in romance-reading heaven. There's just something about small town romances that seem to have better humor and secondary casts, from my experience, and this was no exception. Maybe I'm drawing off of my own experience because I grew up in (and again live in) a small town? I don't know, but I love the heck out of them.

2. Sibling relationships. I'll never get tired of brothers-stories and I always love siblings that love one another, even when they have come from wonky circumstances. Here we have the Kincaid Brothers (and a sister) living and working together, and sharing grievances with their father, who ran out on them years ago after having three separate families. These siblings love one another, are a close-knit bunch, and are fiercely loyal. Still, there is some dysfunction within their group, which I love too because it rings true to families that have dealt with emotional trauma like they have. I'm eager for more from the Kincaids.

3. Second chance romance. Lily left Cedar Ridge years ago, which devastated Aiden. She had her reasons for leaving, but he never really got over her. Now that she is back Aiden is determined not to lose her again. I love the chase, the stubborn back-and-forth. I love the way Aiden doesn't give up. This is not my very-favorite second chance romance model-this one is a little bit more complicated, but it still works!

4. Humor. I smiled so much while I was reading this book and also laughed out loud in several places. (A couple of times my husband asked me what was so funny. Love that!) Some of the secondary characters made for great comedy in this story, and I hope they remain in this series because I fell pretty hard for them easily. Also, the brothers were pretty hilarious with one another.


**************************************************************

I love stories where the male love interest is an outdoorsman – in this case, Aiden is works in fire/rescue while also helping run his family business. He is a little bit bossy, but not overly so, and he knows what he wants: Lily. He is super swoonworthy and I'm excited to read more of him in this series as the books are released.

Lily, though. She was tough. It took me a while to really feel her. She kept Cedar Ridge at such a distance that it was almost alienating to me. Lily is grieving the loss of her sister, though, so perhaps after this installment she will loosen up a little bit and be easier to love.

Outside of Lily, all of the other characters are really great. They are all charming and I want more of them in the future.

Second Chance Summer is a fantastic title for easy, fun, no-stress reading. I recommend it for readers that enjoy small-town romances with great sibling relationships and fun, colorful secondary casts. This was perfect for me to pick up after finishing a thriller. I'm excited to read more of Jill Shalvis' backlist. Seriously, I don't know why I have waited so long.
**********************************************************
Second Chance Summer will appeal to fans of:


Contemporary Romance
Romance: No Triangle.
Great Friendships
Great Setting: Small Town, Rocky Mountains
Sibling Relationships
Second Chance Summer by Jill Shalvis
is currently available for purchase.
Which series by Jill Shalvis is your favorite?


I need to get started on her backlist!