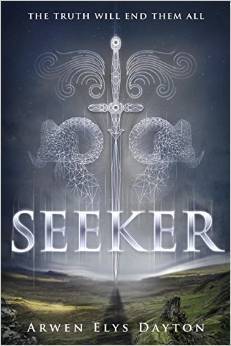 Seeker by Arwen Elys Dayton
Series: Seeker #1
Published by Delacorte Books for Young Readers
Publish Date: February 10, 2015
Source: Book – Publisher, Audiobook – Library
Find It: Goodreads / Amazon

The night Quin Kincaid takes her Oath, she will become what she has trained to be her entire life. She will become a Seeker. This is her legacy, and it is an honor.
As a Seeker, Quin will fight beside her two closest companions, Shinobu and John, to protect the weak and the wronged. Together they will stand for light in a shadowy world.
And she'll be with the boy she loves–who's also her best friend.
But the night Quin takes her Oath, everything changes.
Being a Seeker is not what she thought. Her family is not what she thought. Even the boy she loves is not who she thought.
And now it's too late to walk away.
(Goodreads)
Seeker by Arwen Elys Dayton
My Thoughts
:
This book started out SO STRONG and I was SO EXCITED because: fantasy, YAY! But then I'm not exactly sure what happened. As the story progressed, I began to be confused by the plot, the time setting, and some of the characterization.
Really confused
.
It made me sad.
I loved three of the four POV's – Quin, Shinobu, and John – but I never connected with the fourth at all – Maud. Maud is a Dread but I never figured out exactly what the Dreads are and how they are connected to the overall arc of the story. Every time Maud's chapters would come up, I felt
lost
. In the beginning, I would re-listen/re-read them, but as the story progressed, I lost interest in doing this and I would just listen once and hope to pick up information that I needed. I got most of the plot of the story from the other three POV's.
I LOVED the beginning of the story, the portion that started out in Scotland. The set-up was spectacular and I was fully invested – even in the love triangle. However, as the story moved from Scotland to the Hong Kong location closer to the middle of the book, things became a bit more blurry – I felt the scene transitions were not quite as smooth and I had a much harder time visualizing what was going on in my head.
This is everything to me when I read
, particularly with fantasy. At about halfway through the book, I started becoming more and more confused until I was picking out main-ideas-only-without-details by the end.
This makes me so sad
.
I had such high hopes for this one. Perhaps the plot will tighten up a bit by the time the second book is released. I hope, I hope. I cannot say for sure if I will be interested enough to pick it up by that time, to be honest. But maybe? The audiobook was great.
The thing is that I want to know MORE about John, Shinobu, and Quin. I want to know more about a Seeker – what is that exactly? I don't feel like I know because what I
thought
at the beginning of the book was incorrect (because I thought what Quin thought, and she was wrong). I never fully understood the purpose of the weapons and tools that the characters used and fought for, but these things were very important to the story. I never understood when in TIME this story is happening? It felt very old-world to me in the opening scenes…but then there were cellphones and other modern conveniences?
Oh, you guys
. I think I started out thinking things were one way about this book but they maybe weren't, and by doing this I started out a bit behind. Like I said earlier, this makes me feel sad because I love fantasy so much.
Anyway.
I recommend
Seeker
by Arwen Elys Dayton to fans of YA fantasy with romance and adventure.
Audiobook Notes
:
The audiobook format of S
eeker
by Arwen Elys Dayton is published by Listening Library and is 13 hours and 13 minutes, Unabridged. It is narrated by

K

atharine McEwan, who is
amazing and does a great job voicing these characters. The accent is brilliant and believable given the Scottish setting in part of the book, and her timing and pacing are perfect, especially with all of the action sequences. I would recommend the audiobook format for audio fans that are interested in checking out this book
.
********************************************************************************
Seeker will appeal to fans of:
Settings: Scotland, Hong Kong.
Alternating POV's
Seeker by Arwen Elys Dayton
is currently available for purchase.
********************************************************************************

I wanted to love this one so much more!


Have you guys ever been a little disappointed by
a book that you had high hopes for?


Now I need a pick-me-up.