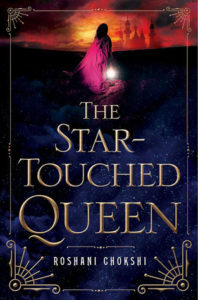 The Star-Touched Queen
by
Roshani Chokshi
Series:
The Star-Touched Queen #1
Published by
St. Martin's Griffin
on April 26, 2016
Pages:
342
Source:
the publisher
Buy from Amazon
|
Buy from Barnes & Noble
|
Buy from Book Depository
Goodreads
Fate and fortune. Power and passion. What does it take to be the queen of a kingdom when you're only seventeen?

Maya is cursed. With a horoscope that promises a marriage of death and destruction, she has earned only the scorn and fear of her father's kingdom. Content to follow more scholarly pursuits, her whole world is torn apart when her father, the Raja, arranges a wedding of political convenience to quell outside rebellions. Soon Maya becomes the queen of Akaran and wife of Amar. Neither roles are what she expected: As Akaran's queen, she finds her voice and power. As Amar's wife, she finds something else entirely: Compassion. Protection. Desire…

But Akaran has its own secrets—thousands of locked doors, gardens of glass, and a tree that bears memories instead of fruit. Soon, Maya suspects her life is in danger. Yet who, besides her husband, can she trust? With the fate of the human and Otherworldly realms hanging in the balance, Maya must unravel an ancient mystery that spans reincarnated lives to save those she loves the most…including herself.
I received this book for free from the publisher in exchange for an honest review. This does not affect my opinion of the book or the content of my review.
Why i read it:
I first read The Star-Touched Queen by Roshani Chokshi in 2016 around the time of publication but never got around to publishing a review for life reasons. Since the second book in the series would be published soon, I decided to revisit this book with a print + audiobook reread.
review:
I've read The Star-Touched Queen by Roshani Chokshi twice now and after two times, I still have mixed feelings.
On one hand, I absolutely love this story. I love the setting, the Otherworld, the Night Bazaar. I love this. I didn't care too much for Maya (more on that later) but I love Amar and Gauri. Stories of lives and love being intertwined in the way the Maya's is with Amar (no spoilers) – I love them. But the execution is what I had trouble with. I really had to work hard to push some things aside to get to the story, and I don't always love having have to work for the stories I'm reading. 
I can't deny that for much of the story, I felt like I was treading water. I felt like I almost knew what was going on. The lovely language that the author uses is abundant and that is nice, but when I'm not entirely sure of what is happening, it feels like I need to put the flowery prose aside to get to the root of the plot line. (Sometimes I had a hard time deciding if it was lovely language or purple prose.) I think the story could have been more tightly executed in terms of structure so that it would have made more sense all along the way – but then again, I'm the type of reader that needs the story to unfold along the way. This story requires the reader to trust the author while there is lush, descriptive writing, keep trusting, more descriptive writing, and then whoosh, everything unfolds all at once — then that happens all over again in the second part. 
Maya as a character: I wish I had liked her more. Truthfully, I didn't care for her quick dismissal of Amar after she left everything to follow him in the beginning of the book. Maya was so quick to become suspicious of Amar and even quicker to fall for the schemes of untrustworthy people that I just became tired of her. She redeems herself, sure, but it just isn't enough redemption for me. That being said, I love Amar and Gauri. Amar is the male lead in the book and is quite mysterious, but his mystery and secrecy is part of the story and not really a plot device/trope. Normally I don't care for secrets between love interests, but in this case, I found that part of the plotline thrilling and I found myself mentally urging Maya to trust Amar's secrecy (even on the second read!). He is a great character. Gauri is a secondary character, a younger sister to Maya, and the main character of the second book in this series. (I'm excited to read her story because I almost feel like she shows more character progression as a secondary character in this book than Maya does. Eep!)
I definitely liked the story enough to stick with the series. I'm eager to read Gauri's story and I absolutely want to listen to the audiobook while I'm reading.
Audiobook Notes:
I added The Star-Touched Queen audiobook to my print read, both times that I read, and I enjoyed the audio. Narrated by Priya Ayyar, the audiobook is 9 hours, 22 minutes, Unabridged/published by Macmillan Audio. I loved Priya's narration not only because she is such a believable Maya, but because it was also wonderful to hear Priya speak words like swayamvara so beautifully on the audiobook as well as the names of the characters and places used in the story, because there is no way that I would have read them all correctly had I just read the book in print. The lovely language used by the author really comes to life on the audiobook. 
Note: I purchased my audiobook on my own from Audible.