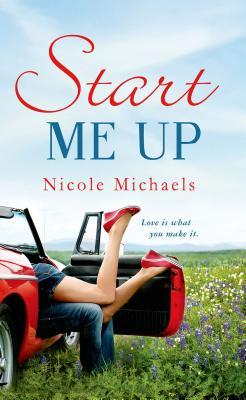 Start Me Up by Nicole Michaels
Series: Hearts and Crafts #1
Published by St. Martin's
Publish Date: March 3, 2015
Source: Publisher
Find It: Goodreads / Amazon

Why do Do-It-Yourself…

Single mom Anne Edmond can handle—and hand-make—just about anything. From table settings to party favors, floral arrangements to nursery décor, there is no project her creativity and a glue gun can't tackle. But dating? That's a whole 'nother story. Case in point: Mike Everett. He's a gorgeous mechanic and known car-whisperer, a man who can work with auto parts like nobody's business. And he has thrown a monkey wrench into Anne's carefully-crafted life…

When you can do it together?

One look at Anne is enough for Mike to know that she's no fixer-upper. She's perfect just the way she is—and the chemistry between them works like a charm. Mike's always been a no-strings kind of guy, but Anne's impressive self-reliance—and gorgeous exterior—gives him pause. This time, a fast joyride just doesn't seem like enough. But first he has to convince Anne that he means to take her all the way… (Goodreads)




Start Me Up by Nicole Michaels

My Thoughts: Start Me Up is the type of book you reach for when you want one of those feel-good stories, the kind that make you smile, the kind that you read and barely even get up from your comfy seat. I've read this one twice now and dang I just love it when a book is better after the first time.

If you've read Blame It On The Mistletoe by Nicole Michaels (you should!) then you're familiar with the crafty little set-up she has going here. Several friends own their own local businesses-three of them run a very successful lifestyle blog. This book features single mother Anne, a party planner that loves making life look more lovely. As the book opens, she is throwing a birthday party for her daughter when "Uncle Mike" brings his niece to the party. He doesn't plan to stay, honest, but when he sees the mom of the birthday girl, he just can't leave. Sparks fly so high, even though she hands him a pink cocktail…with a straw.

It's super cute, really.

Mike restores old cars. His business is successful and he is a man's man. He wonders if Anne is up for a relationship with someone like him – she's so ladylike! But she likes him too and they decide to give it a try and yay yay yay! I love it.

Sure, there are a few bits of excitement for the new couple. Before now, Mike dated around and the ladies in town are sad that he is wanting to settle down. A little bit of town drama, but nothing too angsty. In fact, I chuckled a bit.

I like that this relationship has plenty of awkward moments, because what relationship doesn't? I mean, I'm married and things get awkward sometimes. But Anne and Mike are pretty great at laughing about things and moving along with life…at least for the most part. Anne is nervous about her body…and about holding Mike back because she has a kid…things like that. It takes him a little while to move her beyond all of that and help her realize that he really does like her for who she is.

Anne's friends, the secondary cast, absolutely shine in this book. If you know anything about me at all, I'm a massive fan of great friendships and this series seems to be set up with them, even going back to Blame It On The Mistletoe. Anne's friends have a bakery/crafting/repurposing businesses, and I'm very excited to see what is in store for their installments in this series.

You guys, this is just a fun book. Very little stress and angst. It made me laugh. Easy to visualize. Easy to relate to these characters. Certainly re-readable. So, yeah, I like this one and will be carrying on with this series.


I recommend Start Me Up by Nicole Michaels for readers that enjoy contemporary romance companion series with swoony romance that is low on the stress-scale with great friendships.



**********************************************************
Start Me Up will appeal to fans of:
Contemporary Romance
Romance: No Triangle.
Great Friendships
Start Me Up by Nicole Michaels
is currently available for purchase.