Summer Days and Summer Nights: Twelve Love Stories
by
Stephanie Perkins
Series:
Standalone
Published by
St. Martin's Griffin
on May 17, 2016
Pages:
388
Source:
the publisher
Buy from Amazon
|
Buy from Barnes & Noble
|
Buy from Book Depository
Goodreads
Maybe it's the long, lazy days, or maybe it's the heat making everyone a little bit crazy. Whatever the reason, summer is the perfect time for love to bloom. Summer Days & Summer Nights: Twelve Love Stories, written by twelve bestselling young adult writers and edited by the international bestselling author Stephanie Perkins, will have you dreaming of sunset strolls by the lake. So set out your beach chair and grab your sunglasses. You have twelve reasons this summer to soak up the sun and fall in love.

Featuring stories by Leigh Bardugo, Francesca Lia Block, Libba Bray, Cassandra Clare, Brandy Colbert, Tim Federle, Lev Grossman, Nina LaCour, Stephanie Perkins, Veronica Roth, Jon Skovron, and Jennifer E. Smith.
I received this book for free from the publisher in exchange for an honest review. This does not affect my opinion of the book or the content of my review.
Review:
Before I read My True Love Gave To Me, also edited by Stephanie Perkins, I didn't really think I read enough short story collections/anthologies. Perkins' previous collaboration with various well-known YA authors made me feel sort of excited about the possibility of shorter story collections because there are often periods in my life that I don't have a chunk of time to set aside to read but I still want to. I love that there is another book like My True Love Gave To Me for instances like these. (I'm sure there are probably others out there that I haven't found yet, but these are the two that I know!)
Like the previous anthology, Summer Days and Summer Nights started out fairly strong and was fairly evenly distributed as far as diverse stories go – not only in terms of characters but types of stories. There truly is something in here for every reader, whether your favorite stories are contemporary, contemporary with issues, or fantasy.
One of the best things about reading a collective group of shorter stories is that almost always, I come across authors that I've read before AND I am exposed to new authors for the first time — WHICH I LOVE. For me, this particular reading experience introduced me to work by Brandy Colbert, Tim Federle, and Jon Skovron. This is a very diverse of authors and storytellers, both the ones that are new to me and the ones that are not, in terms of their stories. The stories and romances are just as varied as the authors are, and I love that.
Something fantastic about the first collection is that it included very real issues and characteristics, even though some of them were a little embarrassing for the characters: food allergies, trying to come to terms with low socioeconomic status, race issues. With this collection, there are new characteristics and issues PLUS PLUS PLUS one of the short stories is a continuation from the first anthology (shout out to Stephanie Perkins for this!). LOVED. Love love love that.
I liked several of them, but I had two absolute favorites among this group:
Stephanie Perkins' IN NINETY MINUTES, TURN NORTH pulled at my heart, not only because it is set in my own home of North Carolina, but because I love that she continued the story that she began in the first collection. More development for these characters and a broader setting made me *heart* this story as hard as I possibly could.
Jennifer E. Smith's A THOUSAND WAYS THIS COULD ALL GO WRONG was a true winner. Can we get this story in a full-length novel, please? Smith gives us a girl with a mad crush on a very interesting boy, and he tells her a secret that could make or break their entire relationship before it ever gets going. Good. grief. I really loved this one, please make it a full-length story. (Now I'm just begging and that's never attractive.)
Special nods to the contributions from Leigh Bardugo and Veronica Roth! I loved their shorts also.
Summer Days and Summer Nights is just a unique and fun and neat group of stories pulled together by Stephanie Perkins, again, for the second time. I'm beginning to see a trend with these collections that are edited by Ms. Perkins and I'm fairly certain that if I keep seeing more like this, I'll probably always pick them up and continue to reread them.
I read this one slowly, a story at a time, and I think that's the best way to go about this collection and the one that was published before this one. I believe that they're most deliciously savored that way.
I recommend 
Summer Days and Summer Nights
 to readers that love short story collections, readers that find themselves having to cram reading into small breaks of time, readers that love summer-y stories, and readers that are looking to find new YA authors to love. Just like with the previous
My True Love Gave To Me
collection during the holiday season, I absolutely see myself rereading this one next year and in the years to come as the seasons approach spring and summer.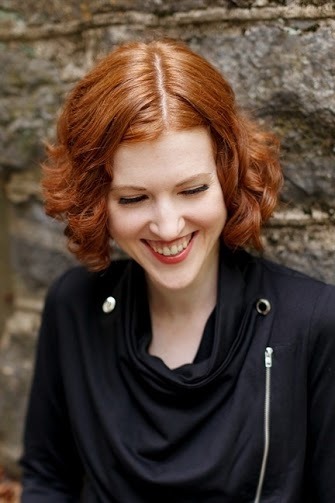 Stephanie Perkins has always worked with books—first as a bookseller, then as a librarian, and now as a novelist. She's the author of the international bestsellers Anna and the French Kiss and Lola and the Boy Next Door, as well as Isla and the Happily Ever After. My True Love Gave to Me: Twelve Holiday Stories is her first anthology. Stephanie and her husband live in the mountains of North Carolina.