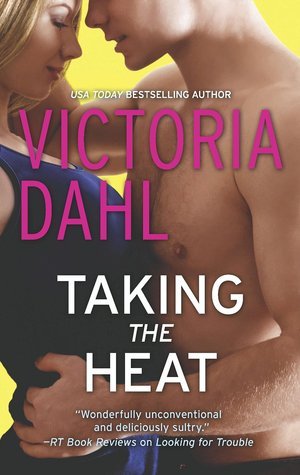 Taking The Heat by Victoria Dahl
Series: Jackson: Girls' Night Out #3
Published by Harlequin
Publish Date: July 28, 2015
Source: Book – Publisher, Audiobook – Bought
Find it here: Goodreads / Amazon

Passion this hot can't be faked…

All revved up for bright lights and steamy nights, writer Veronica Chandler chased her dreams to New York City. When she hit a dead end, reality sent her back home to Jackson Hole, Wyoming. Saving her pride and her new gig—writing a relationship advice column!—requires some faking. No one can know the truth about her big-city flop or her nonexistent sex life. But the town's irresistibly rugged librarian is determined to figure her out… and give her hands-on lessons in every wicked thing she wants to know.

Gabe MacKenzie's heart might be in Wyoming, but secretly his future's tied up in his family's Manhattan legacy. Getting down and dirty with Veronica is supposed to give him a few memorable nights—not complicate his plans. But the thing about heat this scorching is there's just no going back… and it might be too hot for either of them to take. (Goodreads)



Taking The Heat by Victoria Dahl
My Thoughts
:
Veronica's relationship advice bit, Dear Veronica, is growing more successful, which is great. She should be happy about this, and she kind of
is
, but she's also a little bit freaked out that someone will find out that she has been lying – she doesn't really know all that much about relationships. People just think that she does because she lived in New York City for a while. Truth is, her time in New York wasn't all that great, she hated it, and that's why she came home. Faking her way through Dear Veronica is exhausting. And it could be embarrassing if anyone finds out.

Gabe is the new librarian in town. He only signed a one-year contract with the library, planning to live it up in the mountains while he can, before he has to head back to New York City to take over his part of his family's business.

Gabe meets Veronica while out one night. She doesn't make the best first impression on him, but she quickly grows on him. She eventually shares her secrets with Gabe, who decides that he can help her. Gabe doesn't count on falling for her in the process and having to decide what to do about working with his family in New York (Veronica hates it there) or staying in Wyoming where Veronica is happy.


********************************************************************************

You guys know that I love Victoria Dahl because of her take-charge, empowered, independent-women leading characters, right?
Veronica is not really one of these women, which makes
Taking The Heat
a little bit different than the other books in this series. At first, I thought that maybe I didn't like the book because I missed that strong-woman aspect, but Veronica began to grow on me in the second half of the book. After I thought about her for a little bit, I realized that I liked her (and the story) more than I originally thought. Veronica's insecurities over her "relationship" secrets did not define her, and she didn't let herself get too dragged down by these things. This is important because she had to make a decision to make some changes to herself, her career, etc and then actually DO them. It took courage to trust Gabe enough to tell him her deepest and darkest
things
, and then to let him help her out like he did. (It probably would have been much easier to just keep lying.)
(Also I'm not sure I could have done what she did. I'm not that great at faking things. I wouldn't be able to keep the secrets long enough.)
Veronica's character is not super strong, but she isn't weak either. She has just had different life experiences than the other women in her circle of friends.
Gabe's character is also a little different than the other guys in this series. Yes, he's outdoorsy and rugged like the others, but he doesn't have a "manly" job like the rest of them do. Also, Gabe is sensitive. Gabe felt very
nerdy-is-sexy
because of how he is written and I really liked that.
Veronica and Gabe go together well. They made me laugh, which is very true to a Victoria Dahl story. I think that the comic relief is particularly great in this book because
things
could have gotten a little awkward with certain parts of the story. Their ease with one another made things much better.
As usual, I love the setting. And I love the cameos from the secondary friends. I love how their romance grew and how they only had eyes for one another. I ended up loving this book and will likely reread/relisten to it even though it isn't my favorite from the series.
I recommend
Taking The Heat
by Victoria Dahl to readers that enjoy adult contemporary romance with great chemistry in the romance and some humor.

Audiobook Notes: The audiobook format of Taking The Heat by Victoria Dahl is published by RecordedBooks and is 11 hours and 8 minutes, Unabridged. It is narrated by Celeste Ciulla, who narrated the other books in this series. I've enjoyed listening to this series on audiobook and I'm glad that I bought these audios so I can re-listen. I plan to. They aren't my very favorite audiobooks, but I would certainly recommend them to first readers or for rereads.
********************************************************************************
Taking The Heat will appeal to fans of:
Adult Contemporary Romance
Romance: No triangle.
Great Setting: Jackson, Wyoming
Strong female characters
Great friendships
Taking The Heat by Victoria Dahl
is currently available for purchase.
********************************************************************************
The Jackson: Girls' Night Out Series:
Taking The Heat wasn't my favorite from this series but I still liked it!
I want more from Victoria Dahl!