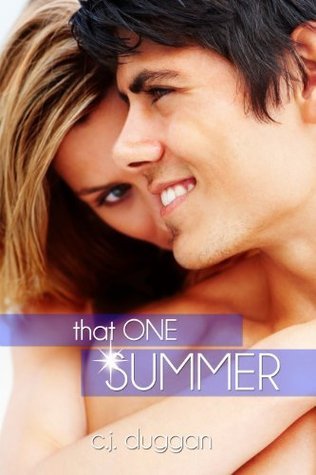 That One Summer by C.J. Duggan
Series: Summer #3
Publish Date: December 14, 2013
Source: Purchased
Find It: Goodreads / Amazon

Loving Chris Henderson would be wrong. Diabolically disastrous. I mean, what is there about him to love? He's moody, bossy, brooding, a control freak, and that's on a good day … but there was one achingly obvious fact that haunted my every thought, every minute of every day …

He sure could kiss.

As the countdown to the new millennium begins, there is one thing everyone agrees on: no one wants to be in Onslow for New Year's Eve.

So that can only mean one thing: road trip!

No longer the mousey, invisible, shy girl from years ago, Tammy Maskala is finally making up for all those lost summers. A new year with new friends, which astoundingly includes the bossy boy behind the bar, Chris Henderson.

She likes her new friends (at least most of them), so why does she secretly feel so out of place?

After chickening out on the trip, a last-minute change of heart sees Tammy racing to the Onslow Hotel, fearing she's missed her chance for a ride. The last thing she expected to meet was a less-than-happy Onslow Boy leaning against his black panel van.

Now the countdown begins to reach the others at Point Shank before the party is over and the new year has begun. Alone in a car with only the infuriating Chris Henderson, Tammy can't help but feel this is a disastrous start to what could have been a great adventure. But when the awkward road trip takes an unexpected turn, Tammy soon discovers that the way her traitorous heart feels about Chris is the biggest disaster of all.

Fogged up windows, moonlight swimming, bad karaoke and unearthed secrets; after this one summer nothing will ever be the same again. (Goodreads)
That One Summer by C.J. Duggan
My Thoughts:
Good gracious, I love this series. I practically inhaled this book. After recently loving The Boys of Summer and then An Endless Summer, I'm convinced that Author C.J. Duggan is one of the places to go for Aussie NA romance, particularly of the "summer" variety.
That One Summer follows the same group of Australian friends as the previous two installments. It takes place in 1999, just as New Year's Eve is approaching, as the Onslow Boys and their respective girlfriends and friends-that-are-girls are making plans for how they want to ring in the new millennium. They decide that they want to take a long road trip, complete with camping along with way and fireworks as the clock strikes midnight. Plans are made, bags are packed, and…Tammy is sort-of left behind. It's no big deal, really, she can catch a ride with Chris, who also seems to be leaving late for some reason.
She's less-than-thrilled. Or maybe she's actually really thrilled? Tammy has a crush on Chris but gosh he is super-moody and a bit on the bossy side. And he hardly ever smiles. But she doesn't have much of a choice: if she wants to catch up to her friends and ring in the new year, this is the only way to get there.
ROAD TRIP!
********************************************************************************


This book begins with not my favorite characters but I warm up to them easily. And it isn't long into the story before I am swooning hard at Chris' efforts at making Tammy feel comfortable and welcome and just, better. Wow, there's a whole lot under the serious face that we've seen Chris wear for the past two books! I kind of love it! And the slow-romance road-trip adventure that these two go on? LOVE, LOVE. I'm not convinced that this is my favorite of the three books in this series so far, but there are BY FAR some of my absolute favorite scenes.


Tammy Maskala begins the story feeling somewhat insecure about her place within the group. Her best friend Amy is far more outgoing than Tammy, and even while Amy always includes Tammy in everything, Tammy mentions more than once that she feels like an outsider. Tammy's actions support her feelings of insecurity, which initially made it hard for me to warm up to her, which made me a little nervous because I've loved this series so much. HOWEVER — Thankfully, Tammy was able to find her place within the group as the story progressed, thankfully. This is helped along more by Chris than anyone else, I think, which is interesting because it caught Tammy by surprise.


Chris Henderson is one of the more responsible of the group. He has so far in the series seemed to me to be one of the older ones (or at least older-acting); perhaps this is because he has a steady, respectable job. Chris comes across as sort-of straight-laced, but this is really mostly a front – he actually has a little bit of a wild streak to him that is revealed throughout the story. I think Chris won both my heart and Tammy's heart in his actions – even with his supposed wild streak, he has a quiet demeanor and is trustworthy. He is respectful, patient, kind. He is thoughtful, which went a long way with Tammy. I don't think there is one big thought about him that stands out – I think he is a quiet, total-package kind of love interest, and I think that's what I liked so much about him.


It was pretty hilarious that Tammy and Chris are stuck riding together for so long, considering their personalities. While they're both different, they're also both different from the rest of the group, and this gives them something in common. And they are both crushing pretty hard on one another but are too quiet to say anything to one another.


This is the first time that this series that has taken the story away from the Onslow Hotel as the setting. I love the road trip theme. I loved reading about the Australian places along the route. I also loved the camping scenes because I tend to love these as a rule. I ADORE that these characters are recurring and so well-developed; I feel like I know them and want to be friends with them in my own real life.


Oh, interesting! There was one little kind-of-mystery that was in the story, and this had to do with Toby/Tess, who are a couple and were the focus of the first book. It kept me guessing and feeling things. I enjoyed seeing how this particular issue was resolved within the group. I love the friendship dynamic here; these guys and gals genuinely love one another as friends and they want the best for each other. When one is stressed or hurting, they all feel it. And they all want to help. These are characters that I'm truly invested in and I love the way they interact and have healthy relationships.


And I love this romance, of course. I have enjoyed the romances in this series so far – this author has done them so well. They develop slowly and function in a healthy way, I think, and there are no triangles thus far.


I think that this series is full of romances that are believable, relationships that are healthy/almost enviable, and adventures that are fun. That One Summer is a great summer read because of the road trip and also because now, as the third book in this series, we've been watching these characters develop into people and friends for almost the entire 1990's. They've become more and more enjoyable as a group and I'm so glad I bought these books for my Kindle because I feel like these will easily be summer rereads for me in the future.


ALSO, I'm having a fit for an Adam/Ellie connection – ready to get my hands on that book!


I recommend That One Summer by C.J. Duggan and the entire Summer Series for fans of new adult contemporary, summer romances, Aussie authors, and road trips.
********************************************************************************
That One Summer will appeal to fans of:
New Adult Contemporary
Romance: Slowly developing. No triangle.
Great friendships.
Australian author.
Australian setting.
Summer books.
That One Summer by C.J. Duggan
is currently available for purchase.
********************************************************************************