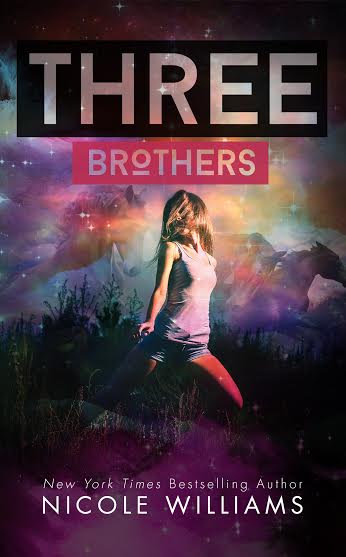 Three Brothers by Nicole Williams
Publish Date: September 16, 2013
Source: Author for Review – Thank you!
Find it here: Goodreads / Amazon


I grew up with three brothers. They weren't tied to me by blood, but our connection went beyond genetics or bearing the same last name. Our connection was forged the summer I turned thirteen, the summer my mom ended her life and left me in the custody of John Armstrong, a man I'd never met. Packing all I owned in a couple of boxes, I left the familiarity of the big city and headed west to Red Mountain Ranch, set in a lonely valley outside of Jackson Hole.

Nothing was as it seemed at Red Mountain—it didn't take long for me to figure that out. John was kind to me but distant, as if he was afraid to let anyone get too close. His three teenage sons had their own devices for keeping love as far away as they could. The eldest distracted himself with cheap relationships that had a shelf-life of one night. The middle son threw himself into the rigor of running a ranch, and the third wielded cruelty and mind-games in his quest to keep people from getting close.

Time has gone by, and I've spent those years trying to forget the brother I'd fallen for—the biggest mistake of my life.

Finally, I've moved on. Finally, I'm back. But what I didn't realize was that running away from the wrong brother meant I'd also run away from the right one. The one who'd been there for me all along, waiting in his brother's shadow for the day I either would or could move on.

But a decade is a long time to wait. Has the brother I should have chosen all of those years ago moved on too? Am I about to discover that my biggest mistake wasn't falling in love with the wrong brother, but failing to return the love of the right one sooner?

Does unrequited love have an expiration date?

I'm about to find out.
Author's Note: This book is a "sweet" romance that isn't overly sexy. Fans of Lost & Found will be interested in Three Brothers.
Three Brothers by Nicole Williams


My Thoughts: I eagerly began Three Brothers by Nicole Williams because I'm a HUGE, MASSIVE fan of this author's Lost & Found Series. Her Author's Note in the summary above states that fans of the previous series may be interested in this new standalone novel. I loved that I found some similar-but-not-the-same things in the story, so I can absolutely see where that comparison is made. AND I feel like the author snuck this new release up on us, which was really exciting for me! I couldn't wait to get my hands on it. I'm such a huge fan and her books are instant-read for me (I still have some backlist titles to get to.)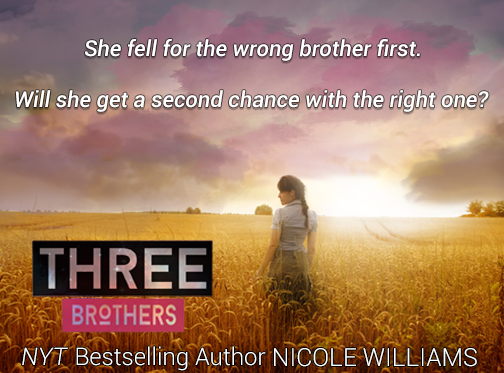 Scout has grown up with three brothers but they're not exactly her brothers. She came to live on their ranch with them, under the care of their father, after her mother died years ago. After having her heart broken pretty severely by one of these brothers, she left and never looked back. Only after she received a call that the man that took her in, John Armstrong, was dying — that's when she finally took a deep breath and made her way back out to the ranch.


Three Brothers – Chase, Chance, and Conn. Chase was the "big brother" type, the boy-next-door. Chance was Scout's best friend. And Conn – he's the one that broke her heart. She thought he was the one she was in love with, she thought he felt the same. This younger brother had held her heart so strongly she barely knew which way was up or down. When she caught him doing something that devastated her, she FLAT OUT LEFT, like that same night, and never gave a second thought to how much her leaving would affect the rest of the family. After all, she'd been living there for several years and they'd all grown to love her like family. PLUS one of the other brothers had loved her from the very beginning but had never said a word, never given a clue, she had never ever known.


Scout had her heart broken, but she'd broken a few hearts in her wake. But now she's back and things are NOT the same anymore.

One brother has since gotten married and recently lost his wife to a tragic accident – the family "curse." He's so deep in a depression that Scout can barely stand seeing him. One brother is battling the demons of alcoholism but for WHAT? Scout has a hard time reconciling sadness over seeing him like this and past feelings she had for him. And then there's Chance, her best friend. Things slip back into an easy routine with him and thankfully – he makes Scout wish she would have never left, he makes her wish she had a life on the mountain, among the horses and lifestock, riding in the wind all day long. With Chance, she can imagine living the life of a rancher because being beside of him makes everything fun, even the mundane tasks. He's still the best friend she ever had — but Chance can't help but to see this woman that he cannot help but to love with everything that he has, this woman that he thought he had lost forever, this woman that he doesn't want to lose again.


For Chance, this could be a second chance at romance.



*******************************************************************
Oh, friends, Nicole Williams writes these cowboy romances SO WELL. Three Brothers is a sweet romance – there is this wonderful slow and sweet revealing of the love that Chance has for Scout in these pages, and Scout admits and feels her love for him slowly too. BUT! when they finally admit it, the chemistry is SO VERY THERE, and it is done in such a way that isn't too steamy or sexy in this particular story. It really works for this book! But their love story has some interesting factors working alongside it or maybe against it that need addressing:
There is an Armstrong family "curse" that prematurely takes all of the women any of the Armstrong men ever love. Chase firmly believes this is what happened to his wife so early in their marriage, and this is what the rest of the older men, including John, believe happened to the mothers and older women. Chance is TERRIFIED that if he admits his feelings and allows this relationship to happen, something awful will happen to the woman that he loves. Is he willing to risk her life to have a relationship with her? And is she?
Scout has just finished college, veterinary school! It would be PERFECT for her to come to work in a ranch like Red Mountain that needs a full-time person like her, but is she willing to put her heart on the line with this family again? I mean, Conn has a connection to that farm. Is the pain of the past worth the risk of happiness now?

There's a big plot twist or two that comes close to the end of the story that, in my opinion, kind of made things a little dramatic and had my heart beating a bit faster than the previous the pace of the story thus far. I was really nervous and I was scared for a while. And then WHOA.
The plot twists at the end admittedly left me with a couple of heartbroken feelings, but I loved that Three Brothers ultimately had a happy ending with hope for the family and the future of the ranch. This is what I expect from the cowboy romances from Author Nicole Williams, and she delivered.
Also something that I can count on from Author Nicole Williams is a wonderful setting for these cowboys and ranches — in this case, she has her story set outside of Jackson Hole, Wyoming and I LOVED IT. The scenes that have Scout riding her horse through the fields and pastures, where she feels the wind in her hair and takes in all of the colors and scenes all around her — I LOVE THESE SO MUCH. I absolutely adored this about the Lost & Found Series, and I think this is one of the bigger comparison between that series and this book. I recommend Three Brothers by Nicole Williams to readers that enjoy contemporary romance stories with great settings and sibling relationships. This author is auto-read for me – when I see her name on a book, I get VERY excited because she writes books that I just ENJOY. I have a long way to go to get through the books that I haven't read by her yet, but MAN the journey through them is so exciting to me.
*******************************************************************
Three Brothers will appeal to fans of:

Contemporary Romance
Romance: Slowly-Developing. No triangle. Sweet.
Setting: A ranch near Jackson Hole, Wyoming
Sibling Relationship
Plot twist
Standalone
Three Brothers
by Nicole Williams
is currently available for purchase.
*******************************************************************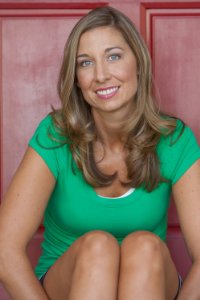 I'm the New York Times and USATODAY bestselling author of the CRASH series (HarperTeen, S&S UK), LOST & FOUND series, UP IN FLAMES (S&S UK), The EDEN TRILOGY, and a handful of others. I write stories about everyday kinds of people who find themselves in extraordinary kinds of situations. I tell love stories with happy endings because I believe in making the world a better place, and that's one tiny way I can make it so. I'm one of those people who still believe in true love and soul mates, and would rather keep my head in the clouds any day over having my feet firmly on the ground.
*******************************************************************