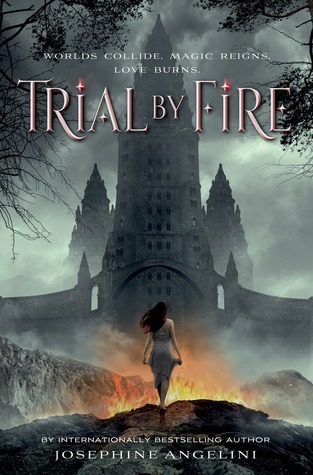 Trial By Fire by Josephine Angelini
Series: The Worldwalker Trilogy #1
Published by Feiwel & Friends
Publish Date: September 2, 2014
Source: Book – Publisher, Audiobook – Library
Find It: Goodreads / Amazon

This world is trying to kill Lily Proctor. Her life-threatening allergies keep her from enjoying experiences that others in her hometown of Salem take for granted, which is why she is determined to enjoy her first high school party with her best friend and longtime crush, Tristan. But after a humiliating incident in front of half her graduating class, Lily wishes she could just disappear.

Suddenly, Lily is in a different Salem—one overrun with horrifying creatures and ruled by powerful women called Crucibles. Strongest and cruelest of them all is Lillian . . . Lily's other self in this alternate universe.
What makes Lily weak at home is what makes her extraordinary in New Salem. In this confusing world, Lily is torn between responsibilities she can't hope to shoulder alone and a love she never expected. (Goodreads)
Trial By Fire by Josephine Angelini
My Thoughts

: I get so excited when I find a book that surprises me like

Trial By Fire by Josephine Angelini. This is a book that mixed very clever lore, really cool world-building, a new-to-me author (with a backlist, yesss), plus the story managed to have a contemporary feel to it even though it is very clearly a fantasy/paranormal story. I took my time with this one, I read and reread parts, I read it slowly because there is a lot of NEAT-O in here. I found myself having to be careful because I had so many thoughts, I kept sending messages to a friend but we weren't buddy-reading this one, so I was like DON'T ANNOY FRIEND WITH TOO MANY MESSAGES because sometimes I can do that if I'm not careful. I digress.
********************************************************************************
Trial By Fire by Josephine Angelini is a very cool take on alternate universes because the two worlds are so very different. Main character Lily Procter is very sickly in the first world we are introduced to, a contemporary version of Salem, Massachusetts. She is allergic to pretty much everything and she also doesn't seem to be having very much luck with the boy that she is interested in romantically, Tristan. In a moment of sickness mixed with humiliation at a party, Lily starts hearing a voice in her head: You are sick in this world…Come to me and be the most powerful person in the world. Lily ends up in an alternate version of Salem where some things are completely new to her and other things are recognizable, but different. In this alternate version of Salem, there is another version of Lily (her name is Lillian). Lillian isn't very nice at all.
Things I Loved:
1. Lily. I loved that the highly-allergic-to-many-things Lily in the regular world was really powerful in the alternate world, and we find out the possibly why's for her allergies. She spends a fair amount of time weak in the alternate world too, but only because she is spending time and energy learning her skills in order do great things with them. Despite an apparent weakness, Lily is a strong character and super smart. This girl loves science and speaks science-talk regularly. Plus she has a heart for people and for the environment.


2. World. This is seriously some of the most cool world-building that I've read in a while. It's layered and intricate but also easy to visualize, this really works for me. There is something that is very cool about the Salem, Massachusetts area, so rich with American history, even though it was a dark time in our history – I love the way the history and witch lore is placed into the world (and dropped into the story) so seamlessly. There are castles and forests and stones and strange animals and beasts called Woven. There are odd governing practices and things that make the world seem advances but also things that make the world seem behind contemporary times. In my head, it alternate-Salem looks very cool and the book cover helps with this imagery. (I hope the publishers do not change it!)


3. Secondary characters. Many of the characters in this book appear in both versions of Salem, and they're very different in each version, with different roles in Lily's life. I love this. I particularly love some of the characters that show up in the alternate-Salem. So far, I like the alternate-Salem characters better than their real-Salem counterparts, but to be fair we do spend more time in the alternate universe. I'm eager to see how things will play out with both sets of characters and both worlds.
Reasons I Feel Like I Need/Want To Re-Read:
1. Romance. I do not think I have a really good grasp on the romance aspect of the story – I'm not sure why this is, but it may be because there some past relationships that seem slightly blurry to me. Even so, there is plenty of tension between the main love interests in the alternate Salem, and I loved it. I just want to be clear about how the romance really is before I tackle the next portion of the series. The romance is part of the story that I discussed with a friend, and I think we both had some mixed/confused thoughts about it at varying parts in the book. Definitely worth revisiting…but I'm thinking I like where it is headed.


2. Lillian. Lillian is also someone I need to re-investigate – she's the version of Lily in the alternate Salem, and she's actually the person that brings Lily over into the other world. I had a certain set of feelings for Lillian in the first part of the book, but my feelings waffled for her throughout the story, kind of like a little roller coaster. By the end, I'm not really sure how I'm feeling about her. I think it is normal to not really know how we feel about characters yet at resting points during a series, but it's my confusing feelings in the middle of the story that have me wanting to re-acquaint myself with her. I don't like her and I also like her, I feel like she is villainous and I also feel like she is misunderstood.


3. The Ending. The last half to maybe one-third of the book was pretty action-packed, and I feel like it built, built, built until the last few pages were just action action action that moved really quickly. I think sometimes when I read books that are fast-moving toward the end, I sometimes move too quickly over details when I could do a better job of absorbing the story. To set myself up for the second installment, I want to reread the book, particularly the last chunk of it. I do remember what happened, but I'm a little blurry on the details leading up to it and why.


Trial By Fire by Josephine Angelini was just so much fun. I really, really liked it and am eager about the follow-up, Fire Walker, out Fall 2015. As a person that doesn't always pick up "witch" books, I found myself really excited about this one, I'm so glad that I took my time with it. There is so much science and history in this story, and I loved this new world. To me, it is so worth a reread before the next book in the series comes out in a few months and I'm hopeful that I can make that happen. I recommend Trial By Fire by Josephine Angelini to readers that enjoy young adult fantasy and paranormal stories involving witches, fantastic world-building, and alternate universes.
********************************************************************************
Trial By Fire will appeal to fans of:
Young Adult Fantasy/Paranormal
Witches
Alternate Universes
Great World-Building
Trial By Fire by Josephine Angelini
is currently available for purchase.
********************************************************************************
Audiobook Notes:
The audiobook format of Trial By Fire by Josephine Angelini
is published by Macmillan Audio
and is 12 hours and 23 minutes, Unabridged. It is narrated by Emma Galvin, who just may be my favorite female narrator. It was a no-brainer that I would pick up this audiobook as soon as I saw it and it was a great decision. Emma does a great job voicing Lily, with the emotions Lily feels and portraying the complexities between Lily-in-the-real-world and Lily-in-the-alternate-world. Even though I recognize this narrator's voice easily, I felt like I was actually listening to Lily Proctor, and I think that is important – I totally got lost in the story. Great audiobook, great choice for a narrator. I would recommend this audiobook for first reads or rereads. I sincerely hope that the publishing team brings back this narrator for the remainder of the series.
Have you read Trial By Fire by Josephine Angelini yet?
What did you think? Do you plan to read it?
HOW ABOUT THAT ENDING?