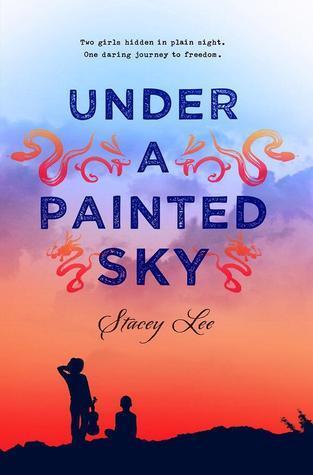 Under A Painted Sky by Stacey Lee
Published by Putnam Juvenile
Publish Date: March 17, 2015
Source: Book – Library, Audiobook – Bought
Find It: Goodreads / Amazon

Missouri, 1849: Samantha dreams of moving back to New York to be a professional musician—not an easy thing if you're a girl, and harder still if you're Chinese. But a tragic accident dashes any hopes of fulfilling her dream, and instead, leaves her fearing for her life. With the help of a runaway slave named Annamae, Samantha flees town for the unknown frontier. But life on the Oregon Trail is unsafe for two girls, so they disguise themselves as Sammy and Andy, two boys headed for the California gold rush. Sammy and Andy forge a powerful bond as they each search for a link to their past, and struggle to avoid any unwanted attention. But when they cross paths with a band of cowboys, the light-hearted troupe turn out to be unexpected allies. With the law closing in on them and new setbacks coming each day, the girls quickly learn that there are not many places to hide on the open trail
.
(excerpt from Goodreads
)
Under A Painted Sky by Stacey Lee
My Thoughts: I just finished a reread of Under A Painted Sky by Stacey Lee and I loved that while I read the same story twice , I essentially read a different story both times.

The first time I read Under A Painted Sky I was so excited to read a book about THE OREGON TRAIL! THE OREGON TRAIL! that that is what I picked up on mostly: the setting, the trail + the amazing friendship between Andy and Sammy. Andy and Sammy are two females that disguise themselves as cowBOYS to escape a really awful situation back in Missouri. They head west, meet up with other cowboys, and have to continue faking as boys in order to survive on the plains, risking everything for their freedom. I thought it was exciting and brilliant and lovely, and really just one of the best books that I read in 2015.

BUT!

When I read (listened to) this book as a reread, I was able to dig much deeper into the story and I heard more. This often happens, and is why I love rereading via audio so much. In a story like this one – where there is so much at stake, so much emotion involved – it just makes the story leap even higher off of the pages and land even deeper into my heart.

What I read/heard this time:

– Samantha's grief at losing her father very early in the story never lessens, not once. She speaks to her father throughout the book, but it is heartbreaking. She feels responsible for his death. She feels guilt over so many things. She does not want to continue without him. She honors him with her words. The appreciation she has for Annamae.

– Annamae's fear at being a runaway slave. The stories of her faith, confidently spoken. The encouragement she gives Sam. The hope she has at finding her brothers, cruelly taken from her as slaves. The appreciation she has for being free, even on the run.

– The emotion in the backstories of Cay, West, and Peety. They are more than strong cowboys. They all have their own issues.

– The onions. The onions. The onions.

There is more, and this is not the first time a reread has meant a lot to me. THIS is a good book to have on your reread-radar if you like indulging in books once again. When I had hard time collecting my thoughts on why I loved this book so much the first time I finished it, I knew I would need to read it again, and now everything is so much more clear.

Ultimately my favorite thing about Under A Painted Sky is the incredible friendship that Samantha and Annamae created under an intense and stressful circumstance. I think that theirs is the type that lasts a lifetime because it is true and already tested. I love reading relationships like this. I love the setting. I love the super strong women. I love everything about this book.


Audiobook Notes: The audiobook format of Under A Painted Sky by Stacey Lee is published by Tantor Audio and is 10 hours and 11 minutes, Unabridged. It is narrated by Emily Woo Zeller who is so, so great at the emotion that Samantha's character brings forth in this story; she also reads a brilliant Annamae. Emily is great at voicing the accents in this story. She is new to me with this book but I have noticed that she reads several of the books on my wishlist. I would (and have) highly recommended this audiobook for first reads and rereads.



********************************************************************************
Under A Painted Sky will appeal to fans of:


Young Adult Historical Fiction
Strong female protagonists
Great friendships/relationships
Great Setting: The Oregon Trail
Under A Painted Sky by Stacey Lee
is currently available for purchase.
********************************************************************************
Check out these titles by Stacey Lee: