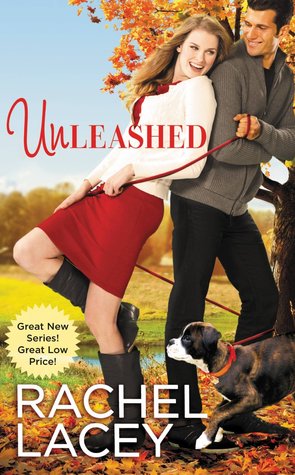 Unleashed by Rachel Lacey
Series: Love to the Rescue #1
Published by Forever
Publish Date: October 28, 2014
Source: Bought
Find it here: Goodreads / Amazon / B&N


What happens when you find the right one at the wrong time?
Cara Medlen has a serious case of animal attraction. And it's not because of all the foster dogs she's rescued. She's got it bad for her incredibly sexy neighbor. Her one rule: Don't get attached. It's served her well with the dogs she's given to good homes and the children she's nannied. Yet the temptation of Matt's sexy smile might just convince her that some rules are made to be broken.
Matt Dumont doesn't need his skills as a private investigator to detect disaster on the horizon. Cara is everything he thought he'd never find-gorgeous, funny, and caring. But there's no way he can start a relationship just as he's about to move to another state. Talk about bad timing. As their attraction sizzles too hot to deny, they'll have to make a decision: forget the consequences and let loose, or forget each other and let go…
(Goodreads)
Unleashed by Rachel Lacey
My Thoughts: Cara Medlen is a cancer survivor with no plans to live life to the fullest until she's safely 10-years cancer-free. Despite being wildly talented and in love with photography, she postponed her dream of being a full-time photographer and instead took a nannying job. She has also pushed aside romantic attachment with basically anyone for fear of breaking her own or another heart if the cancer were to come back. Cara's plans get shaken and stirred when she gets tangled up with her next door neighbor, Matt Dumont. They meet when Matt comes to her door, curious about the relationship she keeps with her dogs.
Cara is passionate about rescuing dogs. She fosters dogs at her townhome, helping to rehabilitate and reintegrate them into society after abandonment, mistreatment, bouts of illness, etc – then Cara sends them to permanent homes. By fostering instead of adopting these dogs, Cara is able to give and feel love, yet prevent becoming attached — this totally fits with her 10-year plan PLUS it helps to fills the void of not having a romantic relationship. Cara is incredibly offended and downright angry when Matt assumes that she is pushing her dogs to fight and when he mentions their unhealthy state and unkempt appearance! She promptly and with a FIERY attitude tells him about how she fosters the dogs…they ALL have an adjustment period when they first arrive, duh! and mind your own business…and then Matt pretty much shuts up because he realizes he was wrong to assume. BUT! OH NOW HE HAS A MASSIVE CRUSH ON THE LADY NEXT DOOR!
After living next door to one another for something like a year already, both Cara and Matt had seen each other coming and going. They'd just never spoken. This couldn't be a worse time to develop a crush, really: Matt is moving out of state in just a few days! But now MY GOODNESS how he wants to stick around just a little longer…and then soon he's thinking of how he can pull Cara into his life, even if he does end up moving. Is that possible? Would she come with him?
Matt doesn't know, see, because CARA HASN'T GIVEN HIM ALL OF THE INFORMATION ABOUT HER 10-YEAR RULE! She needs to talk to him, right? Of course. But Matt hasn't given up all of his backstory either – WE know why he's moving so quickly and WE know why he acts so much like he does, but Cara doesn't. These two are quite the pair and they have a tiny little hill to climb before they settle into their routine of happy-ever-after. Sure, they love spending time together, but it's almost like these two do not want to admit that they're falling for one another, like they're irritated with themselves for even letting it happen. They make me laugh (and want to squish them together).
Is there a happy ever after? YES, there is. It's great.
***********************************************************************
I enjoyed the heck out of Unleashed by Rachel Lacey. I never considered that I would love a book that features dogs or pets so much, but I did! I fell hard for these animals and I understand a little more now why fictional Cara (and real life people) have the desire to help them like they do – as a person with no pets, I'd never given any thought to this. But this story isn't only about dogs – they're just part of what bring Cara and Matt together.
Cara and Matt are quite the pair. Cara is so affected by her bout with cancer. Because of what she went through, she doesn't leap into anything. She seems to overanalyze everything. She is almost reserved in how she lives. Now, I can't speak to what that must feel like because I've not walked that path, but it seemed like it made Cara hold life at arm's length for much of the book – which is odd because even though she kept me at a distance, I still felt like I got to know her as a character. She has trouble connecting with LIFE, so she doesn't connect with many things or people at all…except one or two friends and her dogs. I GOT THIS. Until her handsome neighbor came over and just frazzled her to pieces! She didn't mean to fall for him – she tried so hard not to – but Matt really got under her skin, and I think this was SO GREAT for Cara because it changed her life. She began to live and be happy and it was so wonderful to read.
Matt is a private investigator with a few trust issues that come from a real thing in his past. His tendency to be inquisitive is how he ends up at Cara's door in the first place. He isn't really snooping, he isn't really nosy. He has a reason for asking questions and being protective. He's smart, he thinks and acts quickly when crazy situations arise (and they do!), and he's an all around nice guy. Total gentleman. Matt IS leaving the neighborhood, and quickly, but he has a very valid reason for this – he doesn't really tell Cara WHY right away. This of course almost backfires on him, but quick-thinking Matt is smart and works everything out for the good. And romantic, yes. What a guy!
Unleashed was an impulse buy for me because I found the author through her interaction on Twitter with some other authors that I love. AND starting this book was such a treat for me because within a few paragraphs, I discovered that the setting is RIGHT HERE, RIGHT HERE where I am! Well, almost right here where I am. (It's always fun to read a book that is set in a familiar place.) Cara's neighbors are not hip to the fact that she fosters dogs. In fact, the homeowner's association takes action against her, and this is a big portion of the plot that drives the story. EVEN BETTER than the setting are the underlying messages to the story: Live to the fullest. Love to the fullest. Make the most of your time on this earth. I think Matt helped Cara realize that her 10-year plan had worked for her for a while, but maybe it was time to ditch it so she could let her happy-ever-after in.
I had the BEST time reading Unleashed by Rachel Lacey, and it's only days until the second book in this series is released. I highly recommend this book to readers that enjoy fun contemporary romances with happy endings, and readers that are dog-lovers.
***********************************************************************
Unleashed will appeal to fans of:
Adult Contemporary Romance
Romance: No triangle. Slow-burn.
Great setting: North Carolina
Dog-lovers will love this one!
Unleashed by Rachel Lacey
is currently available for purchase.
***********************************************************************
Love to the Rescue Series: