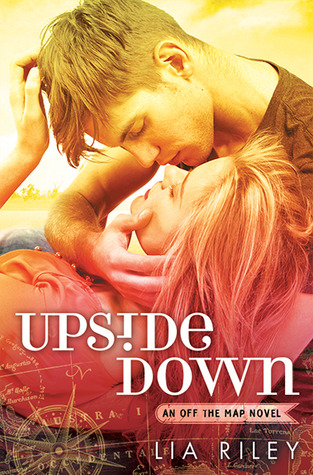 Upside Down by Lia Riley
Series: Off The Map #1
Published by Forever
Publish Date: August 5, 2014
Source: Publisher, Audiobook – Bought
Find it here: Goodreads / Amazon

If You Never Get Lost, You'll Never Be Found

Twenty-one-year-old Natalia Stolfi is saying goodbye to painful memories—and turning her life upside down with a trip to the land down under. For the next six months, she'll pretend to be a carefree exchange student. Everything is going to plan until she meets a surly surfer with hypnotic green eyes, and the troubling ability to see straight through her act.

Bran Lockhart is having the worst year on record. After the girl of his dreams turned into a nightmare, he slunk back to Melbourne to piece his life together. Yet no amount of disappointment could blind him to the pretty California girl who gets past all his defenses. He's never wanted anyone the way he wants Talia. A single semester abroad won't cover something this serious. But when Bran gets a stark reminder of why he stopped believing in love, he and Talia must decide if what they have is once-in-a-lifetime . . . or if there's a plane to California with her name on it. (Goodreads)



Upside Down by Lia Riley
My Thoughts:
It's always such an A+ moment when a book ends up being more than I expect it to be. That's exactly what happened here with
Upside Down
by Lia Riley. Sure I expected to like it (I already love the cover) but I didn't expect to love the emotional components that it included quite so much: both main characters had some pre-existing grief issues. The story was not too heavy, but the issues were still there.
So Talia not only has a pretty intense case of OCD, but she is grieving the loss of her sister and some guilt over her death. Instead of mourning their loss together, her family has pretty much grown apart since they lost Pippa. Talia's parents, especially her mother, cannot help her through her grief/loss because of their own issues – Talia just feels the need to get away, hence the study-abroad in Australia. Arriving in the new place is like lifting a weight off of her shoulders. New place, new people, new life.
And she meets Bran. And there is an instant spark. And they are attracted to one another, and they begin to spend time together. He is smart, outdoorsy, and Australian, and Talia likes that! (He likes a lot of the same things about Talia!) They like one another, like
really
like one another. It seems like it should be an easy relationship to build, but there is something holding them back from fully-committing – Bran always seems to be just within grasp, but not quite. Talia has her issues that we begin to learn about early in the story, but what is Bran's deal? Well, we learn his backstory slowly, in bits and pieces, and it is emotional and interesting. (
Does it make me weird to say that I liked that? Maybe. I don't know. I hope not.
)
I like Bran. A lot. He seems very real, I think. Like a nice guy. He has thoughts and actions that are both respectful and seem very much on par with what I consider true-to-life, which made me chuckle quite a bit; I love this about this book. The thing about Bran is that he has a hard time opening up to Talia because of the difficult and sensitive nature of what happened to him, and essentially ends up almost losing her, which is heartbreaking. And unfortunate and stressful at a certain point in the story, like
very stressful
. There is some stubbornness and some assumptive behavior for a very short time, and I held my breath, but then
okay okay, exhale
.
And Talia's mother – awful. She has her own drama in her life (grief, remember?), but UGH. Bran has an uncle that is so great. And there is one random secondary character that Talia meets while out on a run, a professor – I liked him a lot. Perhaps he may be in future installments? I'm not sure, but that would be okay with me.
So, yeah, this one was fun to read. I'm excited to continue with it. So many of the series that I'm currently reading are companion series, where each book features a different couple – I'm interested in following Talia and Bran for a few books to see how they'll cope with being two young people living on two different continents – will one of them move? Will they try a long-distance relationship? Will they help one another cope with their issues from the past? I'M HOPING FOR THE BEST FOR THESE TWO, I really am.
A sidenote – this story has alternating points-of-view. Both Talia and Bran tell the story, but Talia has way more chapters than Bran does. I want to hear more from him! I like to hear his thoughts. (He made me laugh!) I'm hoping for more in the way of his point in view in future installments. Crossing my fingers!
I recommend
Upside Down
by Lia Riley to readers that enjoy New Adult Contemporary Romance and an Australian setting.

Audiobook Notes: The audiobook format of Upside Down by Lia Riley is published by Hachette Audio and is 8 hours and 39 minutes, Unabridged. It is narrated by Brittany Uomoleale and Tim Wright. Both of these voice actors do a great job with this dual-POV story. Both readers have nice, clear voices and complement one another well – and Bran's chapters and accent! Love it. I'm looking forward to continuing this series by supplementing my print reads with these audiobooks. I recommend these audiobooks for first-time readers or those that want to reread.



********************************************************************************
Upside Down will appeal to fans of:
New Adult Contemporary Romance
Romance: No triangle.
Great Setting: Australia
Issues: OCD
Alternating POV's
Upside Down by Lia Riley
is currently available for purchase.
********************************************************************************
The Off The Map Series:
I'm excited to continue with this series!
I want to see what happens with Talia and Bran.