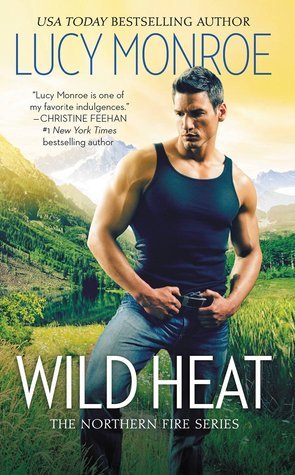 Wild Heat by Lucy Monroe
Series: Northern Fire #1
Published by Forever
Publish Date: April 28, 2015
Source: Publisher
Find it here: Goodreads / Amazon


Sometimes old flames are the hottest of all . . .

In the quaint little town of Cailkirn, Alaska, it's impossible to keep a secret, especially one as juicy as the unexpected return of Kitty Grant. Tack MacKinnon remembers her wild red curls and even wilder spirit—and still feels the sting from when she shattered his heart in college. But there's a pain in Kitty's gorgeous eyes that guts him to the core, and Tack is determined to do whatever it takes to see the woman he still loves smile again—even if it means taking on her demons as his own.
After fleeing an abusive ex-husband, Kitty decides that the best way to heal her broken heart is to come back home. But she gets a whole new shock when she sees how undeniably sexy Tack has become. More handsome, more muscular, more charming—more
everything
—he's impossible to resist. Before she knows it, they're reigniting sparks that could set the whole state of Alaska on fire. Yet trust doesn't come easy to Kitty anymore, and as things heat up between her and Tack, she can't help but wonder if one of them is going to get burned . . .
(Goodreads)
My Thoughts
:
Wild Heat
is the first book that I've read by Author Lucy Monroe. This is the first book in her new
Northern Fire Series
. I was drawn to this book by the small-town setting and the second-chance romance because I just LOVE these things when I'm reading romance stories.
In the opening scenes, we meet Caitlin who is moving back home to Alaska after leaving an abusive marriage. She is basically coming back almost-reluctantly, almost with her tail-between-her-legs, after having been gone for about eight years. Once back in town, of course Caitlin runs into old friend/flame Tack right away.
Tack played a huge role in her life years before – he loved her. But when she got married, she left him behind 100% and completely broke his heart. Now she's back and she's still beautiful. But she's super skinny and Tack would like to do some damage to the ex-husband that hurt her. Instead, he turns his focus to helping her get back on her feet.
Caitlin ends up with a job working in Tack's office and
wouldn't you know
that as the two spend more and more time together: WHOOP, there's the attraction and BOOM, the feelings follow.
********************************************************************************

Things I Liked:

I loved the small-town setting of Cailkirn, Alaska – this is a town that relies on tourism with their wilderness and cruise businesses. Even with the influx of people in and out of town, there remains a small-town feel to it because the core group is close-knit (at least, so says the characters). I loved the nature part of the town the best, and it is very present in the book because of Tack's job/business – he leads trails and expeditions for travelers, and there are some scenes that occur out in the wild that feel very woodsy and cool.

I love the secondary characters. My favorites are the people we meet in the first scene with Caitlin: Savannah and her son Joey. They are arriving to town for the first time to meet Nik, Savannah's husband-by-proxy . (This is something I'm kind of dying to read about in the third book. I don't recall reading a proxy marriage romance in a contemporary setting yet.) These characters show up quite a bit in the story and I loved all of their scenes – they are a little awkward as they try to learn each other. I think there is potential for a great story with this couple in the third book. I also loved Caitlin's family and Tack's family, very present on the pages.

But there was also this:

Caitlin is actually a recovering anorexic. Tack, being super-protective, wants to make sure she eats like she should, because she hardly eats at all. He notices that she skips some meals and when she does eat, she always divides her food in half and leaves a good portion on the plate. So Tack comes up with a trade: when Caitlin eats, she gets sex. Or kisses. Or touches. You get the picture.

This seems like it may not be satisfying to him, but it is because he gets to feel better about her caloric intake (he's totally paying attention to what he is feeding her) plus, you know, the physical part of it all.
To be honest, I haven't read anything like this in a romance story before. I suppose, when I think about it, it isn't all that different from other issues-stories, but it felt a little weird. Or maybe it was just their words and phrases. At any rate, this is in there. I didn't realize that using sex to help out with eating disorders was a thing, but it is in this book.

The romance in this story: No triangle. Fans of steamy romance scenes will like this one. Caitlin and Tack definitely have the hots for one another, but it does take them the entire course of the book to work out the emotion behind their attraction and to decide what they're going to do with these feelings.

Ultimately, Wild Heat is a bit different than what I was expecting when I picked it up, but there are things in there that I liked and I'm looking forward to seeing what happens with these secondary characters. I stuck with this book for the same reasons that I picked it up to begin with + I'm EXTREMELY interested in this proxy-marriage secondary couple.

I recommend Wild Heat by Lucy Monroe for fans of steamy adult contemporary romance and fans of second-chance romance.
********************************************************************************
Wild Heat will appeal to fans of:
Adult Contemporary Romance
Romance: No triangle. Second-chance romance.
Wild Heat by Lucy Monroe
is currently available for purchase.
********************************************************************************
The Proxy Marriage was one of my favorite parts of this story.
I'm ready for the book featuring this couple!