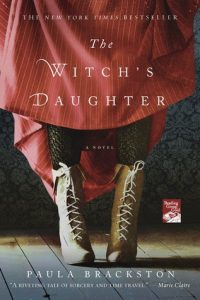 The Witch's Daughter
by
Paula Brackston
Series:
The Witch's Daughter #1
,
Shadow Chronicles #1
Published by
Thomas Dunne Books
on January 31, 2012
Pages:
387
Source:
Purchased
Narrator:
Marisa Calin
Length:
13 hours, 26 minutes
Buy from Amazon
|
Buy from Barnes & Noble
|
Buy from Book Depository
|
Buy on Audible
Goodreads
An enthralling tale of modern witch Bess Hawksmith, a fiercely independent woman desperate to escape her cursed history who must confront the evil which has haunted her for centuries

My name is Elizabeth Anne Hawksmith, and my age is three hundred and eighty-four years. If you will listen, I will tell you a tale of witches. A tale of magic and love and loss. A story of how simple ignorance breeds fear, and how deadly that fear can be. Let me tell you what it means to be a witch.

In the spring of 1628, the Witchfinder of Wessex finds himself a true Witch. As Bess Hawksmith watches her mother swing from the Hanging Tree she knows that only one man can save her from the same fate: the Warlock Gideon Masters. Secluded at his cottage, Gideon instructs Bess, awakening formidable powers she didn't know she had. She couldn't have foreseen that even now, centuries later, he would be hunting her across time, determined to claim payment for saving her life.

In present-day England, Elizabeth has built a quiet life. She has spent the centuries in solitude, moving from place to place, surviving plagues, wars, and the heartbreak that comes with immortality. Her loneliness comes to an abrupt end when she is befriended by a teenage girl called Tegan. Against her better judgment, Elizabeth opens her heart to Tegan and begins teaching her the ways of the Hedge Witch. But will she be able to stand against Gideon—who will stop at nothing to reclaim her soul—in order to protect the girl who has become the daughter she never had?
Review:
In 2007, Elizabeth Hawksmith befriends local teen Tegan and begins to tell her a tale of witches and what it means to be a witch, which ignites a passion in Tegan for magical things. Elizabeth agrees to teach her in the ways of the hedge witch. As they spend more time together, Elizabeth grows fond of Tegan and feels protective over her; they become friends. As Elizabeth's stories unfold for Tegan, we the readers are also given Elizabeth's backstory: we find out that she is actually Bess, the daughter of a Wessex farmer, and that she has been on the run for centuries.
Tegan doesn't yet realize that Elizabeth is Bess, but we do.
In the 1600's, most of Bess' family was lost to the plague that swept through the area. She and her mother were the only survivors, and her mother was accused, tried, and hanged for witchcraft. Her mother made her promise to go to Gideon, a warlock living nearby, for protection. In doing so, Bess didn't realize that his protection required her to become a witch, and she was unhappy about the requirement of adoption of dark magic. Eventually the townspeople came looking for Bess for witchcraft for her association with both her mother and with Gideon, so she fled for her life, successfully. This upset Gideon greatly because he felt like Bess belonged to him since she was under his protection per his agreement with her mother before she was hanged, and accordingly, he has been tracking and following her through place and time, trying to get her back.
Elizabeth tells Tegan stories of "Bess" in Wessex in the 1600's, in London in the late 1800's, and in Flanders in the early 1900's. She wanted Tegan to know not only the history and uses for magic, but she wants her to know about Gideon because he is likely to show up at any time, causing Elizabeth to have to flee again. She must always be ready.
I absolutely loved Elizabeth/Bess and I loved that she wanted to use her power for good instead of evil. I loved that she had a protective nature about her. I love how much she loved the earth and nature. At the beginning of the story, she is 384 years old, so she is full of wisdom and things she has learned over the years. She is calm and attentive and I just adored her. She is also a little on the lonely side, never being able to settle into a romantic relationship or friendships because of the constant threat of having to run at a moment's notice if Gideon makes an appearance. I think this made me feel more deeply for her. The author developed her so well and made her so likable. I'm not sure that I connected as well with the other characters – certainly not with Gideon, who is completely and utterly creepy.
The Witch's Daughter is told in alternating time periods, which worked really well for this story and made it quite fun for me as a lover of history. Beginning in 2007, Elizabeth tells Tegan stories of times past, which is how we learn the story of Bess (Elizabeth and Bess are the same person). I never had any trouble keeping up with this at all – whether I was reading in print or audiobook, because I did actually read with both. I feel like these time-period transitions moved well. I loved the different periods of history chosen throughout the story. The Plague in Europe, Jack the Ripper, and World War I were interesting from Bess' point of view because she placed herself right in the middle of everything, hoping to be able to help. These were dark times in history, sure, but they were perfect chances for Bess to show that she uses her power for good or perhaps to show that she did not choose to use dark power when she had the chance to.
Ultimately, this was a fun story that I really flew through and I'm excited to continue with the second book. When I started this book, I was not sure how I would feel about the story as I do not often read books with dark magic or witches in them. I was drawn to this one because of the use of historical fiction in the story and also because of the super-charming cover. The Witch's Daughter is a little dark, especially the scenes involving Gideon. (In fact, there is one scene in particular that made me reconsider whether or not I wanted to continue with the book, but I proceeded and ended up enjoying the overall story.)
I think fans of witch stories or books containing magic will enjoy this one, and also people that enjoy historical fiction. By the time I got to the end of the book, I was really invested in how everything would turn out, so I'm eager to start The Return of the Witch to see what happens next.
Audiobook Notes:
The audiobook format of The Witch's Daughter by Paula Brackston is published by Macmillan Audio and is 13 hours and 26 minutes, Unabridged. It is narrated by Marisa Calin, who has such a neat accent for this role! I love the way she read Elizabeth/Bess. She sounded so calm and inviting, which is exactly how I imagined Elizabeth/Bess to be. I would excitedly recommend this audiobook as a first listen or reread – it is excellent!
Sidenote:
The entire time I was listening (I alternated between listening and reading the print copy), I was hoping that this same narrator would read the second book in this series and I just grabbed it this morning because she does! I'm so excited.