The Wrong Side of Right by Jenn Marie Thorne
Published by Dial
Publish Date: March 17, 2015
Source: Publisher
Find it here: Goodreads / Amazon

Kate Quinn's mom died last year, leaving Kate parentless and reeling. So when the unexpected shows up in her living room, Kate must confront another reality she never thought possible—or thought of at all. Kate does have a father. He's a powerful politician. And he's running for U.S. President. Suddenly, Kate's moving in with a family she never knew she had, joining a campaign in support of a man she hardly knows, and falling for a rebellious boy who may not have the purest motives. This is Kate's new life. But who is Kate? When what she truly believes flies in the face of the campaign's talking points, she must decide. Does she turn to the family she barely knows, the boy she knows but doesn't necessarily trust, or face a third, even scarier option?

Set against a backdrop of politics, family, and first love, this is a story of personal responsibility, complicated romance, and trying to discover who you are even as everyone tells you who you should be. (Goodreads)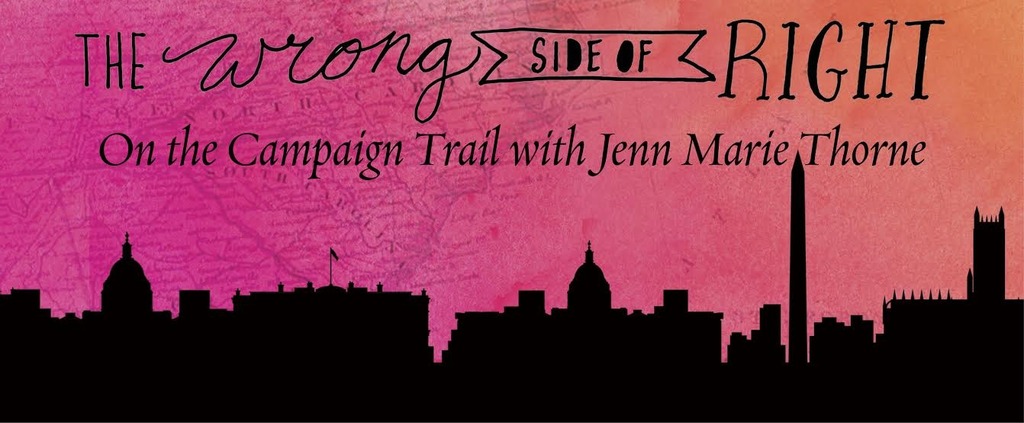 My Thoughts: I just LOVED The Wrong Side of Right by Jenn Marie Thorne. This is one of those really wonderful coming-of-age stories with a great leading character that felt like a hug and a breath of fresh air to me.
So in a nutshell, high-schooler Kate Quinn finds out that she is the daughter of Senator Mark Cooper. It's crazy the way she finds out – cars camped out at her house, the Senator sitting in her living room along with his staff, no warning whatsoever. Kate has basically no time to process this information. She's lived her entire life without knowing her father and suddenly here he is, and he's running for President of the United States.
Kate is asked to join the Cooper family at their home and to campaign with them. She moves in with her father, Mark, his wife Meg, and younger twin siblings Gabe and Gracie. Kate is to be part of the Senator's campaign which means…she has no idea really (until she gets there). Is this a way for Kate to get to know her father? Or is it a way for him to use her squeaky-clean, All-American charm to boost his political ratings? or…is he doing damage control? After all, Kate was conceived out of wedlock, while the Senator was married.
Kate has to figure out her place in her new family and in the campaign. She has to navigate the tricky waters of fitting into a new type of society…while also being the daughter of the "other woman" and also being in the public eye. Kate is such a normal girl, and so likable, and I loved the way she handled everything. Everything.
********************************************************************************
I'm having the BEST time reading great books this year – I have to say that The Wrong Side of Right by Jenn Marie Thorne is one of my favorite YA contemporaries so far. Is it because of this story and the fact that I haven't read one exactly like it yet? Maybe, sure! Probably. But I think it mostly has to do with Kate Quinn herself. She is one fantastic leading character. She's so REAL, and I love her.
Kate is thrust into a life that is completely foreign to her, absolutely crazy when compared to the life she left behind. Suddenly she is being scrutinized 24/7. Everything she is doing and saying is discussed on television and in the written media. Kate's clothes are picked out for her, and while the fashion choices are nothing like she would choose, the magazines comment on her great style. WHO IS THIS KATE? HOW DOES THIS LIFE HAPPEN? This is Whiteboard Kate, the one that is strategically discussed and fussed-over and coached. Whiteboard Kate is great, though, because in her "old life" she was a very smart girl, never really got into any trouble…she makes the campaign look great! Kate goes along with everything, taking it all in, halfway enamored with the political machine/halfway learning her new family, asking questions…when she realizes that she isn't supposed to say anything at all – she isn't supposed to be answering questions, no comments that aren't agreed upon. No veering from the script! WELL WELL, one day at a press conference, Kate grabs the microphone, answers a question, and it makes America crazy – in a good way. America loves Kate. They want more of her, of her honesty. She's All-American Kate, and she's in high demand.
This is where Kate has to figure out the thin line between the Kate that she really is and the Kate that the campaign needs her to be. STILL while developing relationships with her new family.
I cannot imagine the absolute pressure that comes along with meeting a father for the first time while in high school – let alone a high-profile father, without any warning at all, under the watchful eye of the entire world, because a famous newspaper leaked a story that he has a "love child." Kate takes it in stride, as best as she can, but the thing about her is that she is honest with herself when there are things and parts that she doesn't like. She doesn't always speak up immediately – Kate is pretty good about weighing the consequences of speaking rashly and acting impulsively (even though she does make some pretty big mistakes along the way, just like every other teenager in the entire world). Sometimes Kate could probably speak up a little more, a little quicker, but that would make Kate a perfect person and that isn't who she is – she is a normal teenager that has been thrown into a near-impossible situation. SO SO because she is exactly the way she is, I LOVE HER. She absolutely screams 'THIS IS ONE TYPE OF REAL LIFE TEEN GIRL' to me, and I think she was written brilliantly.
Kate's relationship with her younger brother and sister is one of the best parts of the book for me. I love sibling relationships, and I love the careful way older sister Kate navigates the strange waters of little kids. She is patient and kind with them, she is not impatient when it takes them a little while to warm up to her, and for this I liked her even more. Honestly, I was surprised when Kate and her stepmother seemed to forge such an easy bond early in the book, but I love that when the two talk throughout the book about how they truly have felt about this difficult relationship-building process, they reveal honest and transparent things to each other. It felt authentic, their feelings, and I love that they are able to find ways to relate to one another and be family despite the odd and unusual circumstances of Kate's arrival into the home. This is a very real thing, the stepmother-stepdaughter relationship-building process – I mean THAT IS REAL LIFE, every day! Excellently written, and I love that the two are honest with one another and there is still a bond forged without damage and hurt, and I love that this family moves ahead with forward progress even with the outside stressor of a political campaign. Amazing to read, I just loved it. The relationship that Kate builds with her father, the Senator, is the toughest for her – he's awfully busy – but it is rewarding to read about Kate's thoughts and wishes, and the way everything unfolds felt really wonderful to me.
Romance? There is a romance, yes. I loved it. It is subtle but also very loud, very present in the book. I think that because this story is more than just a YA contemporary romance, this part of the plot is not at the forefront of the story. Is it selfish of me to say that I almost wish that it was? I mean that in such a positive way – I loved this guy, the love interest. He had such a super-fun personality throughout the entire story, and I loved the parts of Kate's personality that he brought out. I love that in this story, there is no triangle because I love these two finding their way together through such a wonky type of life for a high-schooler. I love how the book ended, where these two are at that point. Very nicely done.
I can't say enough great things about The Wrong Side of Right by Jenn Marie Thorne. I really can't. I enjoyed the heck out of this one and recommend it to everyone! I ended up reading this one super slowly, and then going back and rereading parts of it – I think I loved the parts that I reread even more the second time. That being said, this is going on my reread shelf for sure. There is something spunky and so-very-likable about Kate Quinn – I can see why America fell for her in the campaign; I fell for her while I was reading. I recommend The Wrong Side of Right to fans of young adult contemporary with great female leads and subtle romance plots with no triangles. Fans of stories that have a political thread will also enjoy this one.
********************************************************************************
The Wrong Side of Right will appeal to fans of:
Romance: No triangle. Lite romance.
Great main character.
Coming-of-age
Sibling Relationships
The Wrong Side of Right by Jenn Marie Thorne
is currently available for purchase.
********************************************************************************

Enter here for a chance to win one of
The Wrong Side of Right by Jenn Marie Thorne
+ a campaign button and a bookmark!
PLUS: follow the rest of the Blog Tour as the
Campaign Trail continues!
3/17 – Candace's Book Blog – WA
3/19 – The Reading Nook Reviews – Sacramento, CA
3/23 – The Reading Date – LA, CA
3/25 – Mostly YA Book Obsessed – AZ
3/27 – Gone With the Words – Houston, TX
3/30 – YA Bibliophile (WI)
4/1 – Coming at YA – SC
4/3 – The Reader Bee – TN
4/6 – Into The Hall of Books (NC)
4/8 – Ticket to Anywhere – MA
4/10 – Lost in Literature – CT
4/13 – Effortlessly Reading – NYC
4/15 – No BS Book Reviews – Annapolis, MD