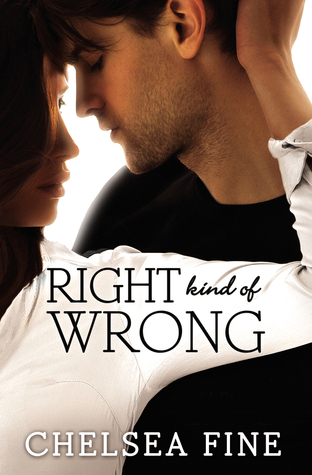 Right Kind of Wrong by Chelsea Fine
Series: Finding Fate #3
Published by Forever
Publish Date: September 2, 2014
Source: Publisher

Sometimes wrong can feel oh so right . . .

Jenna Lacombe needs complete control, whether it's in the streets . . . or between the sheets. So when she sets out on a solo road trip to visit her family in New Orleans, she's beyond annoyed that the infuriatingly sexy Jack Oliver wants to hitch a ride with her. Ever since they shared a wild night together last year, he's been trying to strip away her defenses one by one. He claims he's just coming along to keep her safe-but what's not safe for her is prolonged exposure to the tattooed hottie.
Jack can't get Jenna out from under his skin. She makes him feel alive again after his old life nearly destroyed him-and losing her is not an option. Now Jack's troubles are catching up to him, and he's forced to return to his hometown in Louisiana. But when his secrets put them both in harm's way, Jenna will have to figure out how far she's willing to let love in . . . and how much she already has.
(Goodreads)
Right Kind of Wrong by Chelsea Fine
My Thoughts: I'm SUCH a fan of this series and Right Kind of Wrong is probably my favorite of the three books. I was completely sucked into this story.
********************************************************************************
Jenna Lacombe
: Fiercely independent, scared of commitment, has a need for control. Jenna has a plan for her life and if you aren't a part of it, then you may as well give up. She likes having a good time, but can't help but hold herself back just a little in everything – this is because she just can't allow herself to fall completely in love with the one guy she
wants
to love. Everything in her life basically revolves around her fear of loving love Jack.

Jack Oliver: Big handsome guy with tattoos, but not the stereotypical bad boy. He's so nice and genuinely kind and he has his eyes on Jenna, only Jenna. He makes it no secret that he wants her as more than a friend. He is frustrated and a little angry that Jenna is so stubborn about her "life plan" that does not include him, even though she's more than happy to be his best friend and spend tons of time with him.

Hey, Jenna, your walls are coming down, little lady. Just give up, already!
********************************************************************************

Okay so what happens in Right Kind of Wrong by Chelsea Fine is we see Jenna continuously try to push away Jack, who pursues her calmly and with intention. But I'm getting ahead of myself. Ahem. Let me start over.

At the beginning of the book, Jenna gets a call from her grandmother in Louisiana that she is dying, please come home. Now this isn't a new thing, her grandmother cries wolf like this from time to time. Frankly, Jenna is a little over it. Traveling from Arizona to Louisiana is expensive and she always finds that her healthy-and-fit grandmother is as healthy as ever. Jenna decides that this time, she's going to save money by driving cross-country instead of flying, no big deal that she has to drive herself. No one is happy about her decision, particularly Jack (who is in love with her). It works out well that Jack's family needs him to come home too and oh hey guess what, they also live in Louisiana. Jack invites himself along on Jenna's road trip, giving safety and saving money as the reasons, and Jenna can't really refuse. Jenna doesn't take kindly to him inviting himself, but she doesn't have much of a choice because of Jack's persistence. (She also doesn't put up a huge fight because she really secretly loves him too even though she doesn't want to admit it.)

This road trip was one that I knew I would love from the very beginning. LOVE LOVE LOVE.

To say there is tension is putting it lightly. Jenna is one tough chick. She gives Jack a hard time, but he is so cool with her. It's obvious that his feelings for her are real and run deep. What makes this trip even more interesting is the reason that Jack is heading back to see his family. As readers, we know that Jack's brother has gotten himself into some trouble – dangerous trouble – and big brother Jack has to come save his life, but Jenna doesn't find this out until later.

Why? Because Jenna is being Jenna, trying to keep up her walls, trying to stay hard. But it's difficult when she is stuck in small spaces with Jack Oliver, see. And when she hears him talking to his family, such love and concern. But then when she sees him interact with his family, his forced and faked calm easing their biggest fears, JENNA CAN'T HELP IT. She begins to break. It's awesome, it's wonderful, it's the best.

Right Kind of Wrong is the third book in this series, but you can read these books in any order, no problem. The characters in each book appear here and there in all three books, but it isn't a big deal at all, no confusion. This book was a little more serious than the other two although there are some funny parts in it (the other two are a laugh-out-loud at times), but the story in this one is so, so good. Here you have a couple that fights hard for the love that they finally get, you have the guy fighting hard for the girl's love, and you have a little bit of action and holding your breath while Jack has to take care of some family stuff to rescue his younger brother. It's great to see character development in Jenna, who is fiercely independent and strong in the beginning but still has some things she needs to work on – she is so much better off at the end of the book when some softer edges! And Jack, just a great all-around character. You think you have him figured out within minutes of meeting him, but NOPE NOPE, there's really so much to his character.
I have devoured these three books, the Finding Fate Series. They're so fun, they're happy-ending stories, no-triangle books. They're rereads for me. I want more contemporary from this author. I recommend Right Kind of Wrong by Chelsea Fine to readers that enjoy romances with happy endings, no triangle, and swoony-swoony romances. (All three of these love interests have been so great, good gracious.)
***********************************************************************
Here's an excerpt from
Right Kind of Wrong by Chelsea Fine
and a chance to win a signed copy of the book!
Opening my car door, I slide into the driver's seat, turn to put the key in the ignition and—
"Ahh!" Jumping back, I thwack my open palm against the gigantic body of pure muscle seated in the passenger seat. "Dammit, Jack! You scared me!"
"Good morning." He grins.
"What are you doing in my car?" I snap, throwing him some serious stink eye.
"I'm going with you to Louisiana." He nods to a large duffle bag in the backseat.
I blink. "Uh, no you're not."
"Uh, yes I am."
"Like hell."
He crinkles his brow. "I've never understood that phrase. But okay. I'll go with you 'like hell,' whatever that means."
"Get out of my car." I point to the door.
"Oh, Jenna." He clucks his tongue. "This will be good for both of us. Listen." He casually leans against the passenger window and pierces me with his gray eyes. "For reasons beyond my control, I need to go back home. And for reasons beyond your control, so do you. And since our 'homes' are right next door to one another, I figured we'd carpool to Louisiana and you can just drop me off at Little Vail on your way to New Orleans."
He gives me that little-boy smile of his and it's all I can do not to lean forward and soak it in. I hate me.
"I don't see how that's good for me," I say. "At all."
He shrugs. "You get some company on the road."
I nod with a clenched jaw. "And you get a free ride."
His smile grows and I instantly realize that was the wrong thing to say.
"Precisely," he says.
I can't afford to spend any excessive time with Jack. Not just because we fight, but because of what happened last year. It was one crazy night when we were both drunk, and we never spoke of it after the fact, but our "friendship" has been tense ever since.
"Well, I don't need any company," I say, shaking my head.
"Sure you do," he says easily. "Everyone needs company."
"Not me. So get out."
He grins. "No."
God I hate him. But not really.
God I hate that I don't hate him.
I jut my chin and stare him over. "Fine. If you won't remove yourself…" Exiting the car, I stomp around the hood to his door, yank it open, and wrap my hands around his bicep. Then I start pulling.
He doesn't budge. Like, he literally doesn't move an inch as I tug at his oversized arm and grunt like I'm trying to move a massive piece of hardwood furniture and not a human being.
His eyes dance as he watches my struggle. "What's your plan here, Jenna? Haul me out of the car and leave me in the street?"
"Sounds good to me."
"Well, that doesn't sound friendly at all," he says, flicking the lever to recline to seat a bit so he looks even more relaxed than before.
"I wasn't trying to be friendly," I grit out.
"Clearly."
I try pulling him out again, to no avail. He's giant and solid, and honestly, just touching him is turning me on.
I drop my hands and glower at him. "You can't just tell me that you're coming along on my road trip."
He cocks his head. "Would you feel better if I asked?"
"Not especially."
"Jenna." He leans forward and his gaze bores through me, down into the deepest parts of my being. "Will you please let me join you on your trip to Louisiana?"
For a moment, I'm lost in his eyes, debating with myself. I don't trust myself around Jack. Not at all. But I did spend half the night tossing in my sleep with nightmares about traveling alone so maybe having Jack tag along might not be so bad after all. Maybe.
Pulling back, I straighten my shoulders and relent, like usual when it comes to Jack.
"Fine," I huff out as I stomp back to my side of the car in climb in. "But no talking," I say, hoping I haven't just made a huge mistake.
Enter here for a chance to win one of
Right Kind of Wrong by Chelsea Fine!
***********************************************************************
Right Kind of Wrong will appeal to fans of:
New Adult Contemporary Romance
Romance: No triangle. Slow-burn.
Alternating POV's
Great secondary characters
Companion Series
Right Kind of Wrong by Chelsea Fine
is currently available for purchase.
***********************************************************************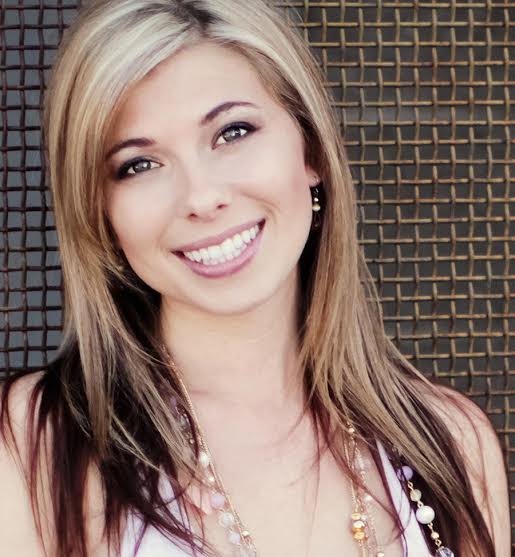 CHELSEA LIVES IN PHOENIX, ARIZONA, WHERE SHE SPENDS MOST OF HER TIME WRITING STORIES, PAINTING MURALS, AND AVOIDING HOUSEWORK AT ALL COSTS. SHE'S RIDICULOUSLY BAD AT DOING DISHES AND CLAIMS TO BE ALLERGIC TO LAUNDRY. HER OBSESSIONS INCLUDE: SUPERHEROES, COFFEE, SLEEPING-IN, AND CRAZY SOCKS. SHE LIVES WITH HER HUSBAND AND TWO CHILDREN, WHO GRACIOUSLY TOLERATE HER INABILITY TO RESIST TEENAGE DRAMA ON TV AND HER COMPLETE LACK OF SKILL IN THE KITCHEN.