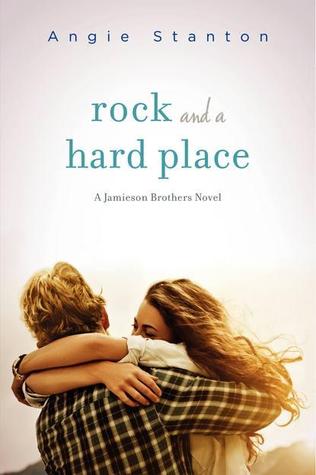 Rock and a Hard Place by Angie Stanton
Series: The Jamieson Collection #1
Published by HarperTeen
Publish Date: September 24, 2013
224 Pages
Find it here: Goodreads / Amazon / B&N


In an instant, Libby's life went from picture-perfect to a nightmare. After surviving a terrible car accident, Libby is abandoned by her father and left with her controlling aunt. A new town, a new school, no friends–Libby is utterly alone. But then she meets Peter.

The lead singer in a rock band with his brothers, Peter hates that his parents overly manage his life. Constantly surrounded by family, Peter just wants to get away. And when he meets Libby, he's finally found the one person who just wants to be with him, not the rock star.

But while Peter battles his family's growing interference in both his music and personal life, Libby struggles with her aunt, who turns nastier each day. And even though Libby and Peter desperately want to be together, their drastically different lives threaten to keep them apart forever.



******************************************************************
I recently read Rock and a Hard Place by Angie Stanton and shared my thoughts here on the blog. I enjoyed the book so much and am eager to get started on the second book! Today, I'm excited to be sharing an excerpt from Rock and a Hard Place with you all!
This is a very sweet part of the book, you guys!
"I have something for you." He had moved heaven and earth to pull this together.


"You do?" Her eyes glittered in surprise.


"Yup. Close your eyes and hold out your hands." He couldn't wait to see what she thought. Libby obeyed. Her dark eyelashes lay against her rosy cheeks. His heart beat in anticipation. He reached into his jacket pocket and pulled out a white plastic bag, then glanced up. Her closed eyes changed to little slits.


"Hey, stop peeking!"


Libby squeezed her eyes closed and laughed. She held out her hands and waited. Peter pulled the slim item out of the bag and placed it in her hands.


"Okay, look."


She peered at the shiny device and then back at him in disbelief. "You gave me a cell phone?" She stared at the gift. "You gave me a cell phone!" This time she yelled it.


Her excitement touched him. "It seemed like a good idea. You didn't have a phone number to give me, and I really missed you. It's gonna get harder to see you. I thought this way we could stay in touch and actually talk whenever we want."


She closed her hand around the precious phone and turned pensive.


"Is something wrong?" He wondered what could have upset her.


"I don't know if I should accept this." She gazed up at him with large doe eyes. He couldn't believe this. She needed to take the phone.


"We barely know each other, and, well…" Mischief lit her face, and he wondered what she was up to. "We've never even kissed."


Peter paused and took a good look at her. He'd been wondering how to sneak a kiss; she just made it simple.


He tossed the umbrella aside and pulled her close. He let his fingers tangle in her wet hair and lowered his mouth to hers. He kissed her long and slow, taking his sweet time. Cold rain trickled down his neck as he savored each moment. Startled at first, Libby now matched his kiss. He enjoyed each touch of her tender lips.


He slowly pulled away.


"Now can you take the phone?" His forehead rested against hers.


"Yeah, I think so," she answered in a breathy voice.


"I'd better be sure." Empowered by their perfect chemistry, he leaned in for more. Her body melted against him. He wrapped his other arm around her and pulled her close.


"Wow," she whispered, her eyes dark and smoky.


"Haven't you ever been kissed before?" His eyes searched hers.


"Not like that."
******************************************************************
Rock and a Hard Place will appeal to fans of:


Romance: Develops quickly. No triangle. Clean.
Great Setting: Parfrey's Glen, Wisconsin
Some Issues: Drug Abuse (Libby's Aunt)
HEA
Rock and a Hard Place
by Angie Stanton
is currently available for purchase.
******************************************************************
Angie Stanton never planned on writing books, she wanted to be a Rockette. However, growing up in a rural setting with her brothers' 4-H pigs as pets, dance didn't work out. Instead she became an avid daydreamer. After years of perfecting stories in her head she began to write them down and the rest is history.
She loves dipping french fries in chocolate shakes, all natural disaster movies and Broadway Musicals. When not writing, Angie is concocting ways to make more dreams come true, whether it be tickets to a Broadway show or convincing her family they should rent an RV and travel the country. She's still working on that one.
Angie is a proud double finalist of the 2011 National Readers Choice Awards for Love 'em or Leave 'em, as well as a finalist for the Golden Quill Awards.
******************************************************************
And now for the Giveaway!