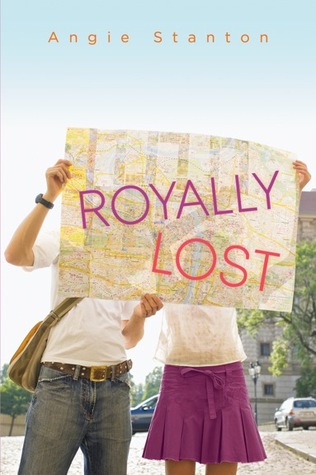 Royally Lost by Angie Stanton
Published by HarperTeen
Publish Date: May 6, 2014
336 Pages
Source: Publisher
Find it here: Goodreads / Amazon / B&N

Dragged on a family trip to Europe's ancient cities, Becca wants nothing more than to go home. Trapped with her emotionally distant father, over-eager stepmother, and a brother who only wants to hook up with European hotties, Becca is miserable. That is until she meets Nikolai, a guy as mysterious as he is handsome. And she unknowingly finds herself with a runaway prince.

Nikolai has everything a guy could ask for-he's crown prince, heir to the throne, and girls adore him. But the one thing he doesn't have…is freedom. Staging a coup, he flees his kingdom and goes undercover on his own European tour.

When Nikolai and Becca meet, it's their differences that draw them together. Sparks fly as they share a whirlwind of adventures, all the while dodging his royal guard. But Becca's family vacation ends in a matter of days. Will Nikolai and Becca be forced to say goodbye forever, will his destiny catch up to him, or will they change history forever?

Royally Lost by Angie Stanton
My Thoughts: Royally Lost by Angie Stanton another one of those really great books that is perfect for those in-between times – it was light romance and travel around Europe and having fun while Becca is on a European vacation with her family. She never meant to have a fun romance while she was there – and certainly not with royalty! Nikolai just had to escape his parents and everything royal after being under the scrutiny of the public eye and the pressure of the monarchy for his entire life. After having his future mapped out for him without any room for his own opinions, he decided on a whim to just LEAVE, so that's what he did. A chance meeting places Becca in his path and, and then the two cross paths a couple more times before they decide to hang out together while Becca vacations. They have a ton of fun along the way while Nikolai tries to evade the paparazzi, but once he is spotted and Becca figures out who he is, things get a little bit crazy.
Becca never wanted this vacation with a family she doesn't feel very connected to. She and her brother are like opposites – she always does what she is told, never gets into trouble. Dylan, however, is a bit of a rebel, always doing the opposite of what is told. While on this trip, Becca gets fed up with the lack of attention her father gives her despite always craving his love and affection, so she decides to just stop trying so hard. While basically ditching as many "family" events as possible, she stealthily carries on her own vacation with new friend Nikolai as her trip around Europe progresses. Nikolai follows along with her journey on his motorcycle. Before meeting Nikolai, Becca was not having a good time. After meeting him, she has the time of her life.
Nikolai does not reveal his true royal identity to Becca at first, and it is a while before she figures out who he is. This is how he comes to know that they are really compatible as friends and then as two people that kinda-sorta like one another, and then more. Nikolai LOVES the freedom he experiences as he navigates Europe on his own without constant supervision and he learns a great deal as well, like how to manage his own budget and how to do things for himself.
I like Nikolai as a character, and I like Becca and Dylan as well. I think that the odds of something like this really happening are pretty rare, and I think that it is pretty incredible just exactly how far all three of them go to be rebellious to each set of parents, but ultimately it made a really fun story and a fun romance. Once the public realized that Nikolai was traipsing around Europe, the travels became even more fun to read about, and reading them as American non-royalty was very much like experiencing the entire event through Becca's eyes, minus the romance. I think brother Dylan's secondary role in the story is one of the funnest parts because he always just threw caution to the wind and did whatever, and I think sometimes it is really neat to read what we all wish we could actually experience.
Royally Lost is a fun, quick read – another light romance from Angie Stanton for my shelf. I've read enough by this author now that I feel comfortable in going to her books for certain types of read, and I really like that a lot. This is a quick, easy, fun romance that might not necessarily be plausible every day of the week, but is a heck of a lot of fun to read. I recommend Royally Lost by Angie Stanton for fans of fun, light romances that do not include triangles, fans of stories that include travel, and fans of European settings.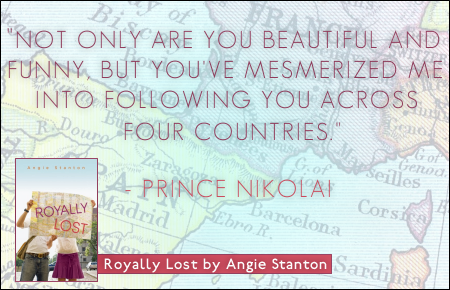 ******************************************************************
Today I get to share Author Angie Stanton's Music Playlist for her newest book, Royally Lost! It's a great one – I hope you enjoy it!
Music is such an integral part of writing and setting the mood. It's also a great inspiration for coming up with new plot twists and turns. All of these songs serenaded me to picturesque Europe where Becca, an American girl, meets Nikolai, a prince on the run. They fall helplessly in love and fight against all odds to stay together.
I loved this song the moment it came out, which was about the time I began
writing
Royally
Lost
. The lyrics drive home that Becca knows she will never be royal.
This adds a level of pressure to their relationship and causes her to feel in adequate. A part of Becca wants to just live that fantasy.
It's the epitome of Becca and Nikolai knowing they can never be together, and their desperate need to sneak away. The video for Love Story is awesome!
This party song is exactly how Nikolai and Becca feel when they race off on his
motor bike and finally steal some time to be alone.
Summer has come and passed, the innocence can never last. I love that line. It paints the perfect picture of how painful saying goodbye at the end of summer can be.
This could be the end of everything, so why don't we go, somewhere only we know. Reading that line brings up all the desperation and sadness of being forced to say
goodbye forever.
Who doesn't love Imagine Dragons? They are so awesome, and this song is all
about a guy trying to protect the girl he loves from who he really is, and how the
pressure are mounting as his world closes in around him.
This is one of those great songs that play along to a montage of photos at graduations and funerals. I hope you had the time of your life. That is exactly what Nikolai and Becca had.
I don't want to give any spoilers, but this is an iconic song for when your heart is
breaking. Makes me cry every time.
Thank you so much for hosting me on your blog today. I hope everyone enjoys
******************************************************************
Royally Lost will appeal to fans of:
Romance: Develops quickly. No triangle. Clean.
Road Trips, Travel
Great Setting: Europe
Sibling Relationship
HEA
Royally Lost
by Angie Stanton
will be available for purchase on May 6, 2014.
******************************************************************
Angie Stanton never planned on writing books, she wanted to be a Rockette. However, growing up in a rural setting with her brothers' 4-H pigs as pets, dance didn't work out. Instead she became an avid daydreamer. After years of perfecting stories in her head she began to write them down and the rest is history.

She loves dipping french fries in chocolate shakes, all natural disaster movies and Broadway Musicals. When not writing, Angie is concocting ways to make more dreams come true, whether it be tickets to a Broadway show or convincing her family they should rent an RV and travel the country. She's still working on that one.

Angie is a proud double finalist of the 2011 National Readers Choice Awards for Love 'em or Leave 'em, as well as a finalist for the Golden Quill Awards.
******************************************************************