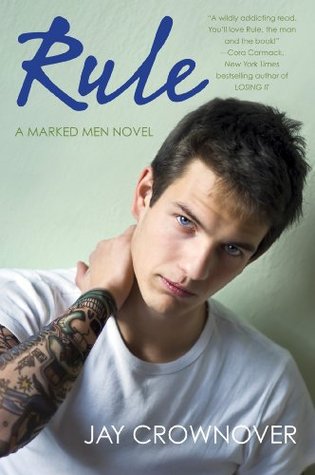 Rule by Jay Crownover
Series: Marked Men #1
Published by William Morrow
Publish Date: October 22, 2013
(first published December 30, 2012)
339 Pages
Source: Publisher
Find it here: Goodreads / Amazon / B&N


Opposites in every way . . . except the one that matters

Shaw Landon loved Rule Archer from the moment she laid eyes on him. Rule is everything a straight-A pre-med student like Shaw shouldn't want—and the only person she's never tried to please. She isn't afraid of his scary piercings and tattoos or his wild attitude. Though she knows that Rule is wrong for her, her heart just won't listen.

To a rebel like Rule Archer, Shaw Landon is a stuck-up, perfect princess—and his dead twin brother's girl. She lives by other people's rules; he makes his own. He doesn't have time for a good girl like Shaw—even if she's the only one who can see the person he truly is.

But a short skirt, too many birthday cocktails, and spilled secrets lead to a night neither can forget. Now, Shaw and Rule have to figure out how a girl like her and a guy like him are supposed to be together without destroying their love . . . or each other. (from Goodreads)



Rule by Jay Crownover


My Thoughts: Aside from the great cover, Rule by Jay Crownover won me over with 1) great, well-developed characters that we will see in this book and in future books in this series and 2) THE MENTION OF THE BAND LUCERO, which kind of owns my heart a little bit. I realize Lucero has nothing to do with the story, but HEY sometimes it's the small things, right? YES.


Okay, so the Archer family consists of three brothers – older brother Rome and twins Remy and Rule. Then there's Shaw, who really isn't a part of the Archer family as much as she's been sort of "adopted-in" because she's spent so much time with them over the years. A long time ago, Remy – just two years her senior – brought her home and she's basically been there since then, in her free time. Shaw's own home life hasn't been the best of times but she found comfort and love and acceptance and understanding not only with the Archer boys but with their parents, and they've considered her daughter and sister.


As the book opens, Shaw blows into Rule's apartment to drive him to Sunday brunch with the Archer family…only to find him *ahem* entertaining someone else. He quickly gathers himself, dresses, makes the gal leave, and allows Shaw to drive him home, where – just as he expected – he is met with exactly the acceptance from his family that he's had for years now: in other words, NONE. Aside from Rule's "different" appearance – tattoos and piercings – his mother has blamed him for the untimely death of his twin brother several years ago and his father has gone along with his mother's hurtful words. Really, the only reason he attends the Sunday brunches is because Shaw practically forces him to go, but this time – this time – Rule decides that he has had enough of the hurtful words and the lashing out, and he isn't coming back. And you know what? Shaw stands by him and tells his parents that until they decide to accept and love their son for who he is, she isn't coming back either. This is kind of a big deal.



*****************************************************
Okay, so Rule by Jay Crownover! This is a totally unexpected fun new series for me! I've been seeing it around in the bookish world but hadn't taken the time to read it yet – BOY am I glad that I did now! I found that this story is relatively possible and that it was pretty easy to conjure up visually in my head as I was reading, which is something that I really love. I love the great characters – how they are all developed really well, to the point that I feel like I know them.
I want to give some nods to the characters in this book because they are almost all pretty great. One of the things that I really enjoyed about these characters – the main cast and the secondary cast – is that I already know that I'll be spending more time with some of them in the future as there are already companion books out supporting some of these people. And it isn't like these characters are glossed over, mentioned only in passing – some of them are given enough of a personality that I feel like when I read the next books, I'm going in with great information and a pretty realistic visual image of them. I LOVE THAT. There are other companion series out there that mention future main characters, but I'm not sure that I've read any (or many, at least) that have spent so much time on developing the characters right away. (However, this series is an exception and a favorite.)
Let's talk about some of these great characters:
Rule: Surviving Archer twin. Talented tattoo artist. Many tattoos and piercings. Archer family outcast. Main character.
Shaw: Female lead that has been "adopted" into the Archer family. Assumed to be in a relationship with Remy by the rest of the family even though she consistently maintained that she and Remy were always just friends. Beautiful, from a wealthy and influential family. Plans for medical school.
Remy: Rule's identical twin that died about three years ago on his way to pick up Rule from a party in which Rule didn't feel safe driving himself home. Always clean cut. Was in school. Very similar to Shaw. Opposite of Rule in many ways, but they were very close.
Rome: Oldest Archer brother. Currently at home temporarily after being injured during active duty in the military. Respected by both the twins and parents. He and Shaw have a special "brother/sister" relationship.
Nash: Rule's roommate. Fellow tattoo artist at his Uncle Phil's shop alongside Rule. Been Rule's best friend since fifth grade.
Jet: Good friend of Rule and Nash. Lead singer in a local rock band.
Ayden: Shaw's roommate. Has a crush on Jet.
This is a big batch of solidly recurring characters, but there is an ease with which Author Jay Crownover writes them – it isn't even possible to confuse them. It's like you've known them in your own life or you're possibly a part of their group of friends. I absolutely love the way that Jet, Rome, and Nash have their own books in this series – reading about them so much in this book allows us as readers to go into those books with great prior knowledge about them. I'm not talking about the standard mention of them – I'm talking about the fact that I can carry on a conversation about each of these characters with a fellow reading friend that happens to be reading this book along with me. Also I'm very excited to see what will happen with each of these characters in future installments.
*****************************************************
Regarding Rule Archer – in the beginning he appears to be one of those broody and angsty bad boys, but I love the way that my initial reaction to him was stripped away once I got to know him. Rule has had an icky hand dealt to him in his life with the loss of not only his brother but his twin brother and with his mother placing that blame on him. It doesn't surprise me that someone with that sort of weight and guilt acts out the way that Rule does. However, he's also had Shaw to stick by him even when she probably had great excuses to let him go. He's been rude to her, he's not deserved the care and attention she's given him, and he's flat-out disrespected her on occasion – but Shaw never gave up on him. In all honesty, it was Shaw and her kindness above all others that brought Rule out of his funk, that taught him that he was worthy of love and acceptance and kindness, and that he didn't have to subscribe to the ideas and feelings that his mother was laying on him every week at Sunday brunch. When Rule decided to quit visiting his mother until she treated him better – and when Shaw stood by him in this without provocation – that opened Rule's eyes. Plus the perfect timing of older brother Rome being home and helping support Rome and Shaw, and standing up to their mother, also proved to Rule that he didn't have to feel guilt and shame and any of those other negative feelings either. I loved Rule's growth. Such a fun character and really, such a great guy.
Then there is the romance: I kind of loved it. Shaw put herself out there to Rule to show him how she felt and even though it took a while, it was really something super swoony. I loved the way their relationship built – slowly and steadily and awkward at times. Isn't that often how it is in real life? It took a lot of trust from both of them, but MAN it was great to read. I'm not giving anything else away about these two because I think it's best to JUST READ IT.
Honestly, this has been one of the best surprises in New Adult for me in a long time, and you guys, I read a ton of New Adult. I loved that there was relationship building, great friendships, and actual time spent on a college campus and building careers. I loved so much about this book and am already making plans on reading the next book along with a friend – hopefully the whole series. I am a FAN of the Marked Men.
I recommend Rule by Jay Crownover to fans of New Adult Contemporary Romance, fans of college campus as a setting, fans of tattoos, and fans of great friendships. This has just been a joy to read and DID I MENTION THAT THE BAND LUCERO IS MENTIONED IN THE BOOK? Because that was pretty awesome too.
**************************************************************
Rule will appeal to fans of:
NA Contemporary Romance
Romance: Slowly developing. No triangle.
Great Characterization
Great Friendships
Alternating POV
Tattoos
Surprises!


Rule by Jay Crownover
is currently available for purchase.
A copy of this book was provided by the publisher for me to read and review on this blog. My thoughts and opinions are mine and mine alone, and I received no compensation for them! Thank you William Morrow!
**************************************************************
And now for the Giveaway!
I have two copies of RULE by Jay Crownover up for grabs!
One copy will go to a US/Canada resident.
One copy will go to an International resident.