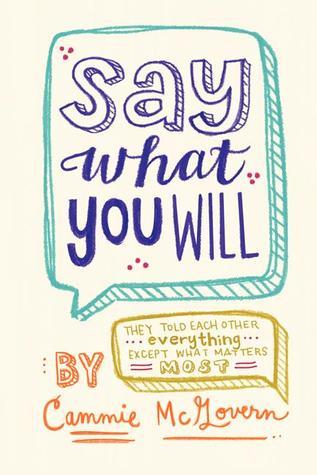 Say What You Will by Cammie McGovern
Published by HarperTeen
Publish Date: March 20, 2012
343 Pages
Source: Book – Library, Audiobook – Library
Find it here: Goodreads / Amazon / B&N
John Green's The Fault in Our Stars meets Rainbow Rowell's Eleanor & Park in this beautifully written, incredibly honest, and emotionally poignant novel. Cammie McGovern's insightful young adult debut is a heartfelt and heartbreaking story about how we can all feel lost until we find someone who loves us because of our faults, not in spite of them.

Born with cerebral palsy, Amy can't walk without a walker, talk without a voice box, or even fully control her facial expressions. Plagued by obsessive-compulsive disorder, Matthew is consumed with repeated thoughts, neurotic rituals, and crippling fear. Both in desperate need of someone to help them reach out to the world, Amy and Matthew are more alike than either ever realized.
When Amy decides to hire student aides to help her in her senior year at Coral Hills High School, these two teens are thrust into each other's lives. As they begin to spend time with each other, what started as a blossoming friendship eventually grows into something neither expected.
(Goodreads)
My Thoughts: I have wanted to read this book since I first saw the cover, back before this book was officially published. THAT BEING SAID, I never read the summary for this book until just now, as I began to put this blog post together. You know, sometimes I think I really need to stop doing that because in this case I wasn't prepared for what I was about to read when I began this book.
Say What You Will is the story of two people that are paired through an unusual circumstance and overcome some really tough odds to become friends. And then there is love. Now, that is a super-simple sentence or two for what happens because as I read along (not knowing what to expect, remember?), MAN THE HITS JUST KEPT COMING. It was like real life, I guess. But wow, I guess I didn't know what to expect.
No spoilers here, but this book is about overcoming odds.
Amy is an incredibly smart high school student that meets and befriends Matthew when she hires teen helpers at the end of her high school career. Amy has a very bright future; her family has money and she has options for college. BUT she has no friends, no peer relationships, none of the social experiences that teens usually have at her age. Matthew is in many ways the opposite of Amy – he is pretty much controlled by his OCD. Like, every part of his life is affected by his OCD. Amy's character constantly astounds me and also frustrates me here and there, but Matthew's character is the one that I felt more invested in. I liked them both.
Their relationship progressed into a friendship that became a crush. Before long, they each loved one another but doggone it, they had THE HARDEST TIME telling one another — just like with "regular" couples. Okay, see, this is where the book was interesting. Their relationship was as much like a "regular" couple as it could possibly be. There was crushing in secret and jealousy and insecurity and OH THE WANTING. But they just had these huge, massive issues to deal with that made everything much harder for them than for "regular" people.
I can't say that this book is emotionally manipulative because I really do not think that it is, and I completely dislike the comparisons to this book or this book for various reasons. But what I DO feel is that Say What You Will really challenged me. I found myself becoming frustrated with Amy's character at times here and there because of things she would say or think, and I had to take a step back and clear my head for a second. Amy is a great character – I have no way to measure myself against someone with issues like hers! So when I found myself getting frustrated at her jealousy or insecurity…I really tried to squash that immediately. (And it happened several times because that's how Amy is for a time – jealous and insecure.) In this way, I love that Amy challenged me as a READER. And I'm glad I worked through these feelings I had about Amy's immature thoughts because she really progressed as a character because of some pretty HUGE things that happen with her in the story. I think finally having some friends later in her high school career was pivotal for Amy to mature socially, and while she still has work to do at the end of the book, the story leaves both Amy and Matthew in a really great place.
This isn't an easy, breezy story, but it is a good one. This is the kind of stuff that I can imagine really happens out there in life somewhere. I appreciate the opportunity to get into the heads of these characters with lives that are so unlike mine. I LOVE when characters work hard to try to change for the better and even with all that life throws these two, that is what they do. The romance is a little awkward, but their lives together are a little awkward, I think. I recommend Say What You Will by Cammie McGovern to readers that enjoy YA/NA contemporary/realistic fiction with romance. I also recommend this book to readers that enjoy reading about diverse characters and characters with disabilities/mental issues. I don't know that every single reader will connect with this story. I don't really think that this story is 'reread status' for me, but I will absolutely recommend it to reading friends that I think will enjoy it, and I'm glad that I read it.
Audiobook Notes:
The audiobook format of Say What You Will
by
Cammie McGovern
is published by
HarperAudio
and is 9 hours and 2 minutes, Unabridged. It is narrated by Rebecca Lowman
who is a great narrator for this book. I actually really loved listening to this audiobook while following along with a print copy because I was able to SEE how the print copy differentiated Amy's speech via the speaking device while also listening to Ms. Lowman's great delivery of Amy's character's lines. I would easily recommend this audiobook for first-reads or for rereads.
***********************************************************************
Say What You Will will appeal to fans of:
YA Contemporary with Romance
(*I* would ALSO call this YA/New Adult because part of the book takes place as the characters are college-aged and living on their own.)
Say What You Will by Cammie McGovern
is currently available for purchase.
***********************************************************************
Have you read Say What You Will?
What books have you read in which characters have disabilities or mental issues? A few of my favorite books have fall into this category.