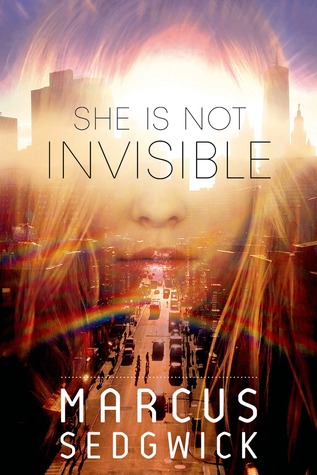 She Is Not Invisible by Marcus Sedgwick
Published by Roaring Brook Press/Macmillan
Publish Date: April 22, 2014
224 Pages
Source: Publisher
Find it here: Goodreads / Amazon / B&N


Laureth Peak's father is a writer. For years he's been trying, and failing, to write a novel about coincidence. His wife thinks he's obsessed, Laureth thinks he's on the verge of a breakdown.He's supposed to be doing research in Austria, so when his notebook shows up in New York, Laureth knows something is wrong.

On impulse she steals her mother's credit card and heads for the States, taking her strange little brother Benjamin with her. Reunited with the notebook, they begin to follow clues inside, trying to find their wayward father. Ahead lie challenges and threats, all of which are that much tougher for Laureth than they would be for any other 16-year old. Because Laureth Peak is blind. (from Goodreads)



She Is Not Invisible by Marcus Sedgwick




My Thoughts: There are several maybe-coincidences about me picking up this book which is something very, very cool since coincidences play such a HUGE HUGE role in the story. MASSIVE. First of all, I love books with beautiful covers but until about ten minutes before writing these very words, I had never even seen a cover for this book. You guys know that I often choose a book based on its cover – judge me if you will – and HELLO ISN'T THIS ONE BEAUTIFUL? Also very interesting is the fact that I don't really tend to read thriller-y or mystery-ish books because they tend to tear my nerves to pieces and make me bite my fingernails and I don't like that nasty little habit. HOWEVER, in the case of this one, I did NOT read the synopsis when I made this choice – I had heard that this author was quite talented and that I should give his work a try. So I did.


In this book where the question over the existence of coincidence pops up a few times, what are the chances that I ended up picking up a book that is way outside of my norm THAT I INHALED and also with a cover that I would have spotted from miles away? (Because, once again, in case you didn't catch my enthusiasm the first time – I think it is really stunning.) I digress.



The first thing you need to know is this:
Jack Peak is a writer.
He used to write funny books but he doesn't anymore.
Jack Peak wrote funny books earlier in his career but lately he has been researching an idea for a book that has him a bit consumed, you could say, almost to the point of obsession. He is constantly traveling off to this place or that place, interviewing or visiting someone that might be able to help him understand his topic: coincidences.
Jack pays his daughter Laureth to help him out – an assistant of sorts. She checks his email, things like that. But her breath catches when she receives a bizarre email from someone in New York City claiming that he has found her father's notebook (containing notes for his upcoming novel) and that he is interested in claiming the reward mentioned on the inside cover if the notebook were to be found. This freaks Laureth out for several reasons, mainly: 1) he always has his notebook with him and 2) HE WASN'T IN NEW YORK. HE WASN'T EVEN IN AMERICA. After emailing back and forth with this guy a couple of times, Laureth arranges to meet him in New York City to pick up the notebook and pay him his reward, all the while hoping that she may also find her father. She has a horrible feeling that there is something horribly wrong.
A couple of things to consider:
Laureth mentions this to her mother, who seems completely unaffected by it and offers no words of comfort or hope for Laureth.

Laureth is a young girl – a minor, actually – and she is legally blind.

Laureth cannot travel to New York without the help of her younger brother Benjamin.

Laureth goes anyway.
The second thing you need to know is this:
Laureth and Benjamin travel internationally.
It seems impossible, but they have it all worked out.
Laureth prints off a note 'from her parents' giving her permission to travel without them, buys two plane tickets using her mother's credit card, and withdraws $500 cash – th
eir mother is out for the day so she never noticed that they left. Laureth wears sunglasses so people do not notice that she is visually impaired and she relies on Benjamin's guidance by voice and hand-holding to maneuver throughout the airport – through lines, up and down stairs, when she has to hand people things and receive things by hand, things like that. They have it down to a science, almost.
They board the plane and make the long flight and then have to make it through US Customs – these are tricky parts of the traveling for Laureth and Benjamin to navigate. With just a few hang-ups, though, they make it out and are able to meet the emailer, Michael Walker, at the agreed-upon location, which is Queens Library.
When they meet Mr. Walker and he relays the story of how and where he found the notebook, there is a brief pause on Laureth's part – kind of like OKAY, I HAVE THE NOTEBOOK. NOW WHERE SHOULD I START? She's very determined to find her father, you see. But there is one clue inside the notebook that sets her on a path, and from there she doesn't stop. She pushes on and forward and ahead, constantly seeking out answers using whatever she has available to her – mainly Benjamin's sight along with her older and more mature thinking skills – to figure out where to go next. And next. And next…
The third thing you need to know is this
:
I forgot this was a mystery book. I forgot the thriller component.
Right away, I was so wrapped up in Laureth as a character and the things about her that made her special to this story that I forgot that this was the type of story that I do not normally read. As I've mentioned before, I don't like mystery stories because they make me feel nervous and I don't like thrillers for the same reason. BUT THIS ONE didn't really feel that way to me. I never felt much more than a rise of anticipation for what was coming next and I really enjoyed that feeling more than I feared it. THAT IS HUGE, you guys, for me.
I think this has so much to do Laureth, her adaptation to her visual (dis)ability, Benjamin and how he works well with Laureth, and the great setting of New York City.
**********************************************************************
Okay, so WOW. WOW? WOW.
This is my first experience with Mr. Sedgwick's work and I am really impressed with She Is Not Invisible. It is not a long book by any means, but this story is absolutely FULL of things. There is a ton of information in there and it is all important and none of it is wasted or filler. I love the way that the book began with a bang and didn't let up until the end. I love the way I forgot what the genre/category of this story is and I just enjoyed the story. I love the way I was trying to anticipate next moves and figure things out, but I never really could – it kept me on my toes the entire time. And I love the way the story's female main character used her sight to show that she was NOT weak, that she was NOT to be walked-upon, and that she was still every bit as awesome and kick-butt as girls that can see.
Laureth begins the story by taking action to go and find her father after her mother sort of brushes her off. Now, to be honest and real, most of us cannot advise a young girl, blind or not, to take her seven-year-old brother and make a trans-Atlantic flight on her own because she feels like she can find her father OR because she wants to trade a reward for his notebook. SO right away there is a little bit of suspension of belief required. BUT! This is a fictional story SO JUST DO IT. Just allow Laureth to get on the plane with Benjamin and go to New York, okay? And enjoy the story.
Okay, now that we've established that, as a character – Laureth is a very forward-thinking gal. She decided a long time ago that she did not like people treating her like she is this invisible person because she is blind – people talking to her parents instead of her, things like that. So Laureth adapts. She uses modern technology like her iPhone and her father's computer, she just adapts it to talk to her, and she gets along very well. She wears sunglasses so people do not realize that she may/may not be looking in the correct direction. And she uses her other senses to perceive what is going on around her. I love how Laureth is a lot like her father in that she sort of jumps-the-gun on things sometimes. Or, rather, she doesn't always make what would be considered the best or smartest decision in a pinch. It would have been pretty easy for Laureth to make some phonecalls to the United States with regard to the notebook and her father potentially being missing, but instead she just GOES TO THE UNITED STATES. As you read the book, it is evident that she is much like her father in this way – which is really kind of neat, really, because Laureth and her father have a really lovely parent-child relationship. No spoilers here, but after I finished the book I realized a few times when they both could have done things a little differently, a little better, and it made me smile a bit because of how much alike they are.


Benjamin, just a child, is amused by things and filled with wonder at things and carries around a stuffed animal that he affectionately calls Stan. Benjamin treats Stan almost like an invisible friend. But Benjamin has this really great relationship with Laureth that is filled with mutual respect and a dependence on one another, and it is obvious in the reading that even at his young age, Benjamin understands this. Laureth feels guilt and a sort of regret at having to involve her younger brother because there is a point at which Laureth realizes that what she is doing is actually pretty dangerous and kind of/maybe stupid, but Benjamin just keeps up with her and hangs in there. AND he plays some pretty integral roles in the story whether he even realizes it or not. He is a great character and I loved the sibling relationship that these two have.


As far as the rest of the characters, there are some that come and go. Some are good guys and some are bad guys. But everyone has a place in the story and everything is important. While Laureth and Benjamin are searching for their father, they take moments in taxicabs and while sitting on benches or whatever to read excerpts from his notebook – it is in these times that they try and decide their next move. It was during these times that I also tried to figure out what happened to Jack Peak. I felt like I was looking for him too, but like I said earlier, not to the point that it felt like I was involved in a mystery. WHICH IS SO ODD because normally I'd be completely in panic-mode. (Weird, I know, but we all have our things.) Also, as an American, I almost always have trouble with BritSpeak but I had no trouble at all with this book. NONE. It took me like half of a second to realize that a "queue" meant a "line" – like when you're waiting in line at the airport, but other than that, I was good to go with this one. This is another huge thing for me, because I have often not read books that I am interested in before because I have trouble with the translation. This one felt seamless.


And the setting! OH NEW YORK CITY. This book felt so very New York City that I could have been there. I don't even know what else to say about it except that this author NAILED IT.


I'm just as impressed as I can be with She Is Not Invisible by Marcus Sedgwick. I opened the book knowing pretty much nothing about it and became fully engrossed in it very, very early on. I love the little clues and the little details and the way it made me think. I love the setting and how visual it was – I was easily able to see this book play out in my head, which I LOVE. I love the way the book ended and I never would have figured it out – and I love the actual ENDING, like the END. Such a great surprise. If you are able to suspend the fact that in real life, Laureth and Benjamin probably would not have done what they did, I think you will likely love this one too.


I recommend She Is Not Invisible by Marcus Sedgwick to fans of Young Adult Contemporary with Realistic Fiction, strong female leading characters, strong family relationships, a great setting, and mystery stories. It's a fairly short read but there is so much in there and WOW I can't believe I loved it as much as I did. More Marcus Sedgwick for me, please and thank you.
Also, Sidenote: High-five to the author for putting me in Laureth's shoes and making me understand a little bit, on a small scale, how it must be for a person with a visual disability to navigate life. I know not every visually impaired person uses the same methods that Laureth used, but I was amazed at how she did things that I take for granted, like tell which/remember which American dollar bills are which, etc. This was a definite bonus to the book, I think.
**********************************************************************
She Is Not Invisible will appeal to fans of:


Young Adult Contemporary with Realistic Fiction
Strong Female Lead
Great Setting – New York City
Mystery Stories
She Is Not Invisible
by Marcus Sedgwick
will be available for purchase on April 22, 2014.
**I received a review copy from the publisher in exchange for an honest opinion and review. I received no compensation for my thoughts and they are mine, mine, mine! Thank you so much Macmillan!
**********************************************************************
YEP. An early review.
Y'all need to be aware of this one.
Is this on your to-read list/wishlist?


Can you recommend any other books by this author?