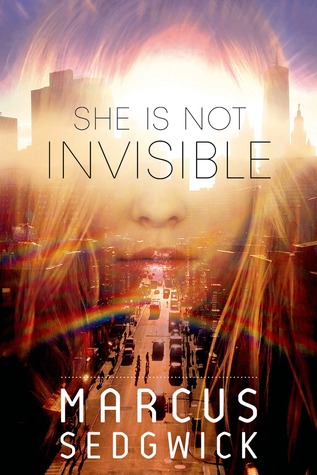 She Is Not Invisible by Marcus Sedgwick
Published by Roaring Brook Press/Macmillan
Publish Date: April 22, 2014
224 Pages
Find it here: Goodreads / Amazon / B&N

Laureth Peak's father is a writer. For years he's been trying, and failing, to write a novel about coincidence. His wife thinks he's obsessed, Laureth thinks he's on the verge of a breakdown.He's supposed to be doing research in Austria, so when his notebook shows up in New York, Laureth knows something is wrong.

On impulse she steals her mother's credit card and heads for the States, taking her strange little brother Benjamin with her. Reunited with the notebook, they begin to follow clues inside, trying to find their wayward father. Ahead lie challenges and threats, all of which are that much tougher for Laureth than they would be for any other 16-year old. Because Laureth Peak is blind. (from Goodreads)



**********************************************************************
I feel very fortunate and honored to be hosting Marcus Sedgwick on my blog today.
When I read
She Is Not Invisible
a while back, I was blown away. I loved the concept of the story, I loved how the author approached his story, and I loved the cover. I thought it was brilliantly executed.
Here is an excerpt from my review:
"This is my first experience with Mr. Sedgwick's work and I am really impressed with She Is Not Invisible. It is not a long book by any means, but this story is absolutely FULL of things. There is a ton of information in there and it is all important and none of it is wasted or filler. I love the way that the book began with a bang and didn't let up until the end. I love the way I forgot what the genre/category of this story is and I just enjoyed the story. I love the way I was trying to anticipate next moves and figure things out, but I never really could – it kept me on my toes the entire time. And I love the way the story's female main character used her sight to show that she was NOT weak, that she was NOT to be walked-upon, and that she was still every bit as awesome and kick-butt as girls that can see."
(You can read my thoughts on She Is Not Invisible HERE.)
**********************************************************************
This book is a bit of a departure from Mr. Sedgwick's "normal" work, so he has been kind enough to share a few thoughts on his writing process on writing a "happy" book where he normally writes books that are a little…different.
MY HAPPY BOOK
She Is Not Invisible is My Happy Book. At the start of my career it only took me about
four or five books to get myself a reputation for writing dark fiction. I don't mind that rep at all – there's no shame in it, and furthermore, I rather like writing dark things. It's fun. Or perhaps I mean 'fun'? Anyway, the dark things in life give you something to get your teeth into, as a writer. From time to time I have tried to point out that there is, in fact, a lot of optimism, hope and kindness in my books. Of all the extensive critical analysis I've read in the UK on my books, it was, of all people, my aged mother who hit the nail on the head; your books have really bad things happening, she said one day, but in the middle of them is a truly kind and gentle individual trying to make sense of it all.
I think she was dead right in that; and without realizing why I was doing it at first, that
is what I have been doing; it's how I see life; most of us are gentle and kind people, stuck in a world that can at times be bewildering and difficult. As a writer, you just exaggerate those things, and put them between the covers of your book.
Despite all this however, I had been feeling for some time that it would be nice to write a
happy book. A book that was more light-hearted in tone. Perhaps, even, a book in which no one died! Because that had never happened before.
She Is Not Invisible is the result. In part, it became a happy book because I decided to
have a protagonist who had been blind from birth. This might not seem immediately obvious at first, but bear with me! Having made that decision, I spent two years in and out of a specialist school for the blind and visually impaired, speaking at length and in depth with the children and teenagers there. They are amazing people. I was inspired by them endlessly. Going blind is probably one of most people's biggest fears, and yet here was a school full of young people who had either been blind from birth, or whose sight had degenerated over time, and who were almost unfailingly happy people to hang out with. I spoke to the librarian a lot too. She's worked there about fifteen years now, I think, and in that time she said she's never once heard a student say 'poor me'. Yes, there are some tough moments in these people's lives, without question. Moments of darkness in a life of literal darkness. And yet I found it such an uplifting and optimistic place to be, every single time I went.
So I wanted to write a happy book, with a lovely, positive depiction of the relationship
of the siblings in the book; Laureth, the blind protagonist, and her kid brother Benjamin. I hate that contemporary fiction seems unable to ever show a brother and sister who actually like each other, never mind love each other. That's not my experience of family life, and I wanted to show the pair in a really positive way.
Of course, through the book, they tackle some dark and difficult moments, but overall,
and despite these moments, this is a book about love. It's a book about a family who had forgotten what they mean to each other, and have to find out again. And does anyone die? Well, that would be a spoiler too far, but despite everything that happens in it, this is, at last, my happy
Back to the doom and gloom next time…
**********************************************************************
Click here to check out the rest of the Blog Tour!


Thank you for being here today, Marcus Sedgwick!
Check out these other websites
!
Click HERE to read an excerpt from She Is Not Invisible!
She Is Not Available by Marcus Sedgwick will be available for purchase
**********************************************************************
GIVEAWAY!
Author Marcus Sedgwick & MacMillan Publishing
are offering
one hardcover copy of
SHE IS NOT INVISIBLE
to
ONE LUCKY WINNER
!

(US/Canada Only) (ends April 20)