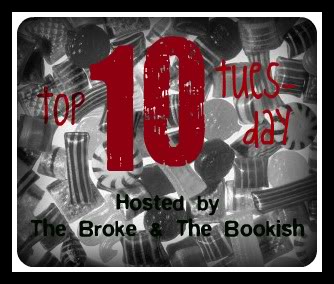 Click

HERE

to check out Top Ten Tuesday
at The Broke and the Bookish
Ten of the Best Books I've
Read in 2011
I started this list thinking it would be easy,
but
MAN OH MAN
it was super hard!
I've read SO MANY GREAT BOOKS this year.
And there are like 100 I didn't put on this list!
I am a sucker for mythology, folks, and this is by far
my favorite of the re-tellings or adaptations
that I've read this year.
And it's Cupid and Psyche, one of my favorite myths.
I sobbed like a baby through the second half of this series.
(I rarely do that. Honest.)
I read the entire series in a really short time.
I read along with blogger friends
and was Team Ash all the way.
I'm SO SAD this series is finished.
Fire by Kristin Cashore

This is the first book I read in 2011 after having
finished Graceling shortly before it at the end of 2010.
LOVED IT.
Yall, I'm like a kid on Christmas Eve waiting for Bitterblue.
I can't even believe this book. I love it so much it hurts.
I hugged it so hard after I finished it and then painfully
had to return it to the library. I need to buy it, like, yesterday.
A love like Celia and Marco have…
– so intimate yet without touching –
have mercy…
I'm one of John Green's biggest fans.
This is my favorite of his books.
I read it this year and I love it so much.
This is one of the best books I've ever read in my life.
Yes, it's non-fiction. But that shouldn't stop ANYONE
from reading it. It is beautiful and if you haven't read it,
YOU'RE MISSING OUT ON SOMETHING SPECIAL.
I don't even have the words to fully express
how much I love this book.
So I'll just have to let you all imagine it for yourselves.
But my heart swelled so big it almost burst,
all from alphabetical wordplay.
So much emotion. So much.
(my reviews are yet unposted)
I wondered why Jamie

(@brokeandbookish)
loved these books so much…
until I read them. Weeks and weeks later,
I'm
still struggling to make coherent sentences about them.
I know Fever isn't out yet (Feb '12) but
WOW WOW WOW, you guys.
Beautiful writing, brilliant story.
This book changed my life a little bit, and still is.
I read it on recommendation from Adam

(@RoofBeamReader).
This story is one of those "total package" stories…
excellence in everything. Also, another case where
barely any physical touching
between the characters escalates the romantic tension
and the effect is dizzying.
I loved this book SO HARD.
(Laini Taylor, I'm holding my breath for the next part of the story!)
This book is coming SOON!!! *Yay!*
Thinking about this book gives me palpitations.
Thinking about the next book makes me nearly pass out.
I have a ridiculous book crush, and it's all RIGHT HERE.
I love every single thing about this book. Period.
(Only a few more days until release, everyone!!!)
Anyone who knows anything about me at all knows that
I read this series this year on the recommendation of Lisa

(@heylisarenee)

, and
IT WRECKED ME.
I cried STUPIDLY when it was over. Like an idiot.
And I don't often do things like that, y'all.
I'll be reading these books again in 2012, and
they'll be on this list again one year from now.
I loved this series so much, I still haven't even
Yes, I realize that is more than ten…
But I don't often abide by the rules when I do this meme.
It was hard enough to cut it back this far!