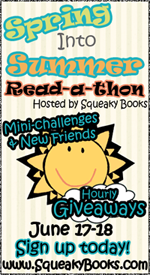 The end of Day One has arrived and I need to say a big thank-you to Squeaky Books for hosting this event. This is my first read-a-thon and I am happy with my progress so far. Here's a brief report of my day:
First of all, give us an end-of-day status update. Books read, pages read, you know the drill!
Total Books Read: 2
Total Pages Read: 553
Books Read Since Last Update: 1
Pages Read since last update: 190
Total time read: 6.5 hours
What I'm currently reading: I'm actually between books right now…
How I'm currently feeling: I'm pretty happy right now. The house is quiet. I've read two books so far, and I can read a little more before my eyes close automatically. Things are good right now.
What is the favorite thing you have read today?
Out of the two books I read, one was an absolute childhood favorite that I re-read because I'm participating in the Award Winning Reads Challenge. It was a great short and easy pick that was easy to read with several distractions. I've read it several times in my life, and loved it every time. The other book I read was absolutely thrilling from page one until the end, and had me holding my breath at times throughout the day. I suppose if I had to choose, I'd say Julie Kagawa's The Iron King was the favorite of the two. (But saying so makes me almost feel like I'm betraying sweet little Ramona Quimby!)

Which mini-challenge was your favorite?
I only participated in one of the mini-challenges, so I suppose it would be my favorite by default. I participated in the favorite/least favorite movie adaptation mini-challenge from the first update. I really wanted to do the wordle, but I couldn't figure out how to shrink the wordle down into a size that would fit on my blog. It was huge! But it was neat and I enjoyed at least learning how to make one.
What has been your favorite thing about the read-a-thon?
I have completely *loved* all of the cheering the book bloggers have done for each other. It is so much fun to be excited about something when there are other people that can be excited with me. The #SiSRead Twitter feed has been fun.
What has been your LEAST favorite thing about the read-a-thon?
Aaahhh, distractions! I'm a mother with three young children, so my distractions are many.
Are you on track to meet your goals?
Yep. And it feels pretty good.
Will you be participating tomorrow? Do you have any new goals?
I am participating tomorrow despite having some things to do away from my house. I'll be carrying books with me everywhere I go, and I'll be updating as much as I can. My goals remains at completing at least three books. We'll see how it goes…