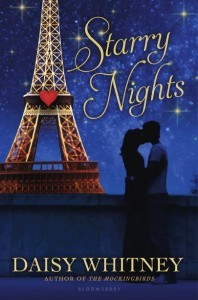 Starry Nights by Daisy Whitney
Published by Bloomsbury USA Childrens
Publish Date: September 3, 2013
288 Pages
Source: Publisher for Review
Find it here: Goodreads / Amazon / B&N


Seventeen-year-old Julien is a romantic—he loves spending his free time at the museum poring over the great works of the Impressionists. But one night, a peach falls out of a Cezanne, Degas ballerinas dance across the floor, and Julien is not hallucinating.

The art is reacting to a curse that trapped a beautiful girl, Clio, in a painting forever. Julien has a chance to free Clio and he can't help but fall in love with her. But love is a curse in its own right. And soon paintings begin to bleed and disappear. Together Julien and Clio must save the world's greatest art . . . at the expense of the greatest love they've ever known.


Starry Nights by Daisy Whitney


My Thoughts: My first Daisy Whitney experience was When You Were Here and I was completely blown away with that story. I just knew that I wanted to read more by this author so when I had the opportunity read Starry Nights with it's absolutely stunning packaging and art themes and fun summary, I jumped in head first, without hesitation.


The first thing you need to know is this
:
Julien Garnier loves art
.
This works out in Julien's favor tremendously because 1) not only does Julien aspire to be an artist but 2) HELLO his mom is in charge at the
Musee d'Orsay
in Paris (which is actually a real place). Julien has a great deal of freedom within the museum in that he gets to wander in and out of the rooms, admiring the art – and he can do this basically at any time of the day, whether or not the museum is open or closed. His mother trusts him to also help handle some of the more interesting jobs around the museum, and he often finds himself a liaison between the Musee d'Orsay and its sister museum, the Louvre.
It is during one of his late-night strolls through the museum that things start to…happen. Julien sees a ballet dancer moving about through the halls when there should be nobody else in the museum but the guard on duty. Interestingly, she looks exactly like one of the dancers from a Degas painting…
The second thing you need to know is this
:
It started with the dancer from the Degas painting.
Then it was a peach from a Cezanne.
Then things started to get a little crazy.
Dancers and musicians are out in the halls performing Swan Lake for fun late at night. Fruit is falling out of Cezanne's paintings. Ladies that normally spend their days in awkward, nearly-nude poses have begun to wander the halls at night and are having conversations – and friendships? – with men who are the subjects of Van Gogh's art. Something incredibly weird is happening to the art in the Musee d'Orsay and Julien is both enchanted by it and perplexed by it.
Around the time all of this craziness is going on, the Musee d'Orsay acquires something fantastic: a new Renoir piece. The Girl in the Garden is a piece that pretty much the entire art world has been scrambling for over the course of many years and WOW they are about to place it on their walls! This has both Julien and his mother elated, and for very different reasons. Obviously Julien's mother is excited for the famous piece to grace the walls of her museum. But Julien has seen the painting, and it has a beautiful girl in it. He wonders if the girl in the painting will come alive at night too, just like the other pieces of art. Will he get the chance to meet her, to talk to her?
The truth is this: once Julien sees the painting in person for the first time, it is pretty much love at first sight.
The third thing you need to know is this:
The girl in the painting has a name: Clio.
Clio has a story. Her story has some secrets.
And her painting has some mystery.
There is actually a lot going on with Clio and her story. Clio's story begins over one hundred years ago when she was painted by Renoir – there's a big story there, you see. Who Clio is, why she was painted in the first place, things like that.
And Julien – Julien is smitten with this girl. The interesting thing about Julien and Clio and their interaction is how Julien is the first person that Clio has been able to see on the other side of her canvas, ever. How is that possible? Is there something special about Julien? YES. Yes, there is.
While Julien and Clio are falling in love, while Julien is learning Clio's story, while Julien is learning what is so special about himself…there are some people out there that are trying to get their hands on Clio's painting, which could end up disastrously for the couple. To add insult to injury, remember when the art was coming to life a little bit ago – dancers dancing, people talking, fruit rolling around everywhere? Well, now – NOW – the art is becoming damaged somehow and in some cases, it is disappearing in pieces – and it's not only happening at the Musee d'Orsay but it's happening at the Louvre.
WHAT IS GOING ON???
**************************************************************
Starry Nights by Daisy Whitney is a fun book that reads a bit whimsical and requires a bit of suspension to get through the lot of magical realism that is scattered through the story. The part that I loved the most was the fact that it had a ton – a ton – of art in it and that there was also some mythology mixed in.
Julien is an interesting teenage boy – he isn't the typical boy in terms of being interested in music and television and pop culture. Julien has a heart for art – he eats it, breathes it, and wants to be able to make it. Art is so enmeshed into his life that he is a bit of an oddball, in my opinion, but it made me love him even more. One of the things that I loved about Julien is that when he began to see the art come to life, he didn't completely freak out – he wanted to see more. His days were spent waiting for the nighttime so he could wander around and see what wonders would grace the halls of the museum in front of his very eyes, and his eyes alone. When he finds out that the Musee d'Orsay will acquire a prized piece with a beautiful girl as its subject, Julien is more than excited. He can't wait to see he she, too, will wander the halls of the museum at night. And OH! Julien is beside himself with happiness when she does. The two are instantly in love.
Clio is the girl from the painting – the subject of Renoir's famous missing piece of work. When she steps out of the canvas and into the halls of the museum, Julien is mesmerized by her and wants to know everything about her. Clio is an interesting character – she is not at all what I would expect a girl from over one hundred years ago to be – she seems, at times, to have a pretty good understanding of the present-day world going on around her when she is outside of the painting, which I would think would be…not the case, but it made the story flow well. She also has a nice sense of humor and oddly enough, she has plenty in common with Julien.
It's the secrets that both Clio and Julien have that make their characters all the more interesting – Julien learns his unexpected secret for the first time and Clio reveals hers after a little while. Much of the story is built on these things, so no spoilers here, but there is some mystery and some adventure and some magic that result from learning these secrets.
Aside from Julien and Clio, there are some fun secondary characters. The setting is a plus, of course, being not only European but a museum for much of the story. The story itself is fun and the narrative is quick and easy. While I liked this story quite a bit, I have to admit that When You Were Here is still my favorite by Daisy Whitney.
I recommend Starry Nights to fans of YA Contemporary with Magical Realism, fans of art, fans of a European setting, and fans of male points-of-view. It's a fun story that reads quickly and I think that all-ages YA readers would enjoy it.
**************************************************************
Starry Nights will appeal to fans of:
YA Contemporary with Magical Realism
Romance: Love at First Sight, aka Insta-Love. No triangle.
Male POV
Great Setting: France
Art, Art History
Starry Nights
by Daisy Whitney
is currently available for purchase.
I received a copy of this book from the publisher to read and share my thoughts on this blog. All thoughts belong to me! Thank you Bloomsbury USA Childrens!
**************************************************************