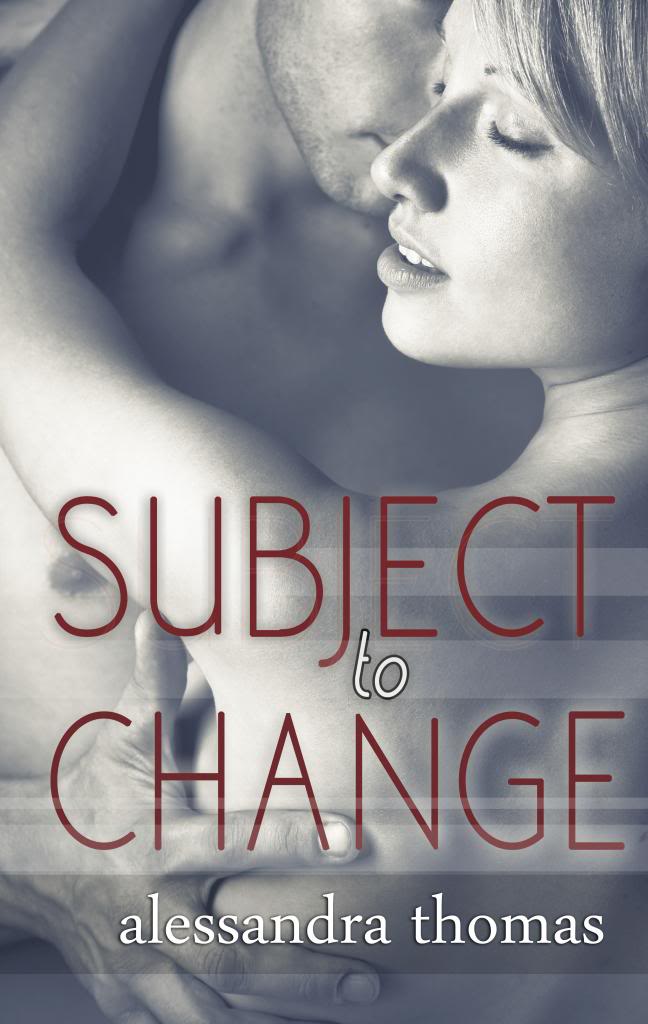 Subject To Change by Alessandra Thomas
Series: Picturing Perfect #2
Publish Date: June 25, 2013
Source: Author for Review – Thank you!
Find It: Goodreads / Amazon / B&N



Joey made her dad a deathbed promise that she would become a doctor, and dedicate herself to fighting the very cancer that took his life. There's just one problem -three years into her pre-med classes, she's struggling to stay on top of the curve, let alone prove she's dazzling enough to earn a spot in an Ivy League medical school. In a Hail Mary move, she throws a basic Business 101 class into her semester schedule, banking on a perfect score to boost her GPA.
That is, until she's paired for a final project with Hawk, the bartending, motorbike-riding, gorgeously bedheaded loser who falls asleep in class and communicates in one-word sentences.
Hawk does whatever he wants, whenever he wants, which sets Joey on edge – in every possible way. As they get to know each other, her urge to scream at him is curbed only by her fantasies of tearing his clothes off. Soon those fantasies become reality, and Joey realizes Hawk makes her feel more fully herself than any of the rich boys her mother and sorority sisters approve of.
But the promise to her father hangs over her head, and the harder Joey tries to succeed in her chosen career, the faster everything falls into a hopeless tailspin of bad grades, broken promises and guilt. It doesn't help to have Hawk sitting like a devil on her shoulder, insisting she should be free to live however she wants to live – like he does.
The only thing Joey knows is that her neatly organized life is crushing her
– and Hawk's bad attitude
might be the only thing that can save her.
Subject To Change by Alessandra Thomas
My Thoughts: So it wasn't too terribly long ago that I read a little book by Alessandra Thomas called Picture Perfect and it took me by storm and I loved it and told everyone about it and they've loved it and there has been this huge ripple effect of love around me for Alessandra Thomas and Picture Perfect. You guys, it's the TRUTH. So when I found out that she was already working on her next book – like the very second – I was so stupidly excited about it, I even embarrassed myself. I think I did a dance. A fan, I am, because I knew I'd love it. Gosh, it's so much fun to be right.
I love solid writing, y'all. I love it when a writer can take a book and make something GOOD of it, when she can take a story and make people FEEL THINGS. That's what happened with Picture Perfect (because all older girls/women need to be reading that one). So I decided based on that book that I wanted to read the next book, sight unseen. Summary unread. Cover unseen (BIG DEAL FOR ME). I can now say that I've read and loved two of Alessandra Thomas' books and she is instant-read for me. 2/2, ladies and gentlemen. But I'm not here to discuss Picture Perfect today, I'm here to celebrate and discuss Subject to Change, and I just cannot wait to do that.
(You can read my thoughts on Picture Perfect HERE.)
********************************************************
Subject To Change is the story of Josephine "Joey" Daly and the incredibly hot William "Hawk" Hawkins. YES I SAID HAWK. Just stop for a second and take in the name Hawk because it GOT ME every time I read it. Yes, I realize that has nothing to do with the story and may be mildly childish but HAWK.
Okay, now back to the actual story.
Joey is a pre-med college student, an aspiring oncologist. Guilted into this career path by her father who was dying of cancer at the time, Joey is struggling. Big time. She's barely keeping her head above water and after spending some time shadowing a renowed pediatric oncologist, Joey is actually not really sure if she wants to continue down that exact path. But she promised her father, and
this
is something she's struggling with – along with the grades in some of the classes that are over-her-head (organic chemistry, anyone?). Because of all of the time she spends studying, she does basically nothing, meaning she has a virtually non-existent life outside of school except for the little time she spends with her super-cool sorority sisters, including the incredible Cat (from
Picture Perfect
– anyone remember her? – yeah, she's an AMAZING character). Joey could use a little excitement in her life – a little somethin' somethin' – but she refuses to change her career choice because she promised her father, so her classes are kicking her butt. The story begins when one day, Joey is sitting in a new class – new semester – and in walks
this guy
. He stinks. He's disheveled And he can't keep his eyes open. Falls asleep in class, first day! WHAT A LOSER.
Ahem, everyone, meet William "Hawk" Hawkins. Ahem.
Hawk made an awful impression on the very straight-laced Joey on that first day in classes. Late, smelly, and sleepy. He absolutely reeked of cigarette smoke, so much so that Joey had to turn her head. She could barely concentrate on what the professor was saying, she was judging him so hard (bad Joey!). Wouldn't you know the professor would assign group projects – two people each – and randomly assign people to work together? And wouldn't you just know that Joey and Hawk would randomly be assigned to work together? Isn't that how it always goes? Joey is way, way less than pleased and figures she'll be carrying the grade – she knows hers can't suffer and this guy can't even stay awake – but she reluctantly makes a plan to meet with him so they can get started. It promises to be a tough project, lasting all semester. Time after time, Hawk lets her down – missing scheduled meeting times, being late, things like that. Joey is livid more than once. But then Joey learns a few other things…
Things like: Hawk owns a bar. What? Yep, he's a bar owner at his young age (he's over 21, no worries) but there are reasons for this that might surprise you. Hawk has some family issues – big ones – way bigger than Joey could imagine. Joey realizes that she has been way out of line in judging him. For example, he comes to class sleepy because he's struggling to keep his business afloat. He comes to class smelling bad because he's coming from work – you know, people smoke in bars. There's so much to this guy that Joey doesn't realize – but slowly, slowly Joey realizes she wants to find out. Because OH NO! the girl is crushing attracted to him wants him so bad she can't even stand it. NOW.
Okay, let's back up a second. Back the heck up! Because I wanted you to get Hawk-the-person before I mentioned Hawk the EYES. They're blue, perfect crystal clear blue. And good gracious if they don't captivate Joey. Even through his stinking, even when he is late, even when she is angry with him – it's those eyes. ALSO ALSO ALSO, Hawk is a motorcycle man. He. Is. A. Motorcycle. Man. With some lovely tattoos. I could go on… But okay! I'm gonna stop here. (Hawk is one of the best book boyfriends I've read in like ever.)
********************************************************
Okay, so you guys, Alessandra Thomas! I'm such a fan. What she's done here with Subject To Change is given us Joey who has this growth from this flailing college student that really doesn't want to do what she's doing to this confident, amazing woman. Let us not forget that she also gave us this hot guy that has some serious issues, is a bit of a jerk, but he has his reasons. Alessandra puts on her New Adult belt, picks up her New Adult pen, and writes the heck out of this story to put these two together so they can work out their issues. Together, they are better than they are apart. Joey learns to stop judging so dang much and see the person inside and underneath and Hawk, well, Hawk becomes better.
Y'all, Hawk has issues, but he has some great things about him too. I don't want to leave the impression that he's this angsty, awful New Adult guy – because there is plenty of that in the category and people get turned off by that. Ms. Thomas doesn't write that crap. Hawk has reasons for the way that he is and I just loved finding out what they were and watching his transformation into the person he became at the end. And Joey, gosh – thank goodness she didn't stay the same way throughout the story too. Her development was key in finding herself and her happiness and perhaps the happiness that the two shared together. Yeah, HEA guys.
Subject To Change is the second book in the Picturing Perfect companion series by Alessandra Thomas – this means that you don't technically have to read them in order but I personally think it would be best to. The characters from the first book make an appearance in this second book and I always think it is great when you know their backstory. Even so, picking up this one would be excellent even if you haven't read Picture Perfect. You can always go back and read it later (and you should).
Alessandra Thomas has shown me, as a reader, that after two efforts, she writes relatable characters that are going through real-life issues – you can find these characters at any college in America, or maybe the world, and they may be/probably are having issues similar to this. That's what I love about her books thus far. They are REAL and that is what contemporary ought to be. The swoons and steams don't hurt either, guys.
I recommend Subject To Change to fans of New Adult Contemporary Romance and fans of books that have college settings. Also, readers that enjoy those bad boys that ride motorcycles, have tattoos, and have names like HAWK will absolutely love this one. Good grief, that boy is hot.
Alessandra Thomas: more, please and thank you!
********************************************************
Alessandra Thomas is a New Adult writer who swears she was in her twenties yesterday. Since she's not, she spends her time looking back on her college years fondly, and writing sexy stories about guys and girls falling in love and really living life for the first time. When she's not writing, you can find her with a spoonful of ice cream in one hand and the newest New Adult release in the other.
********************************************************
Subject To Change will appeal to fans of:


New Adult Contemporary Romance
Romance: No triangle. Insta-attraction present
BECAUSE IT'S HAWK. (Seriously.)
Men Named Hawk

Subject To Change by Alessandra Thomas
is currently available for purchase.
*Mature audiences only – this book is New Adult and contains some scenes
that are inappropriate for younger readers.
********************************************************
And now for the Giveaway!

Author Alessandra Thomas
is offering ONE SIGNED COPY and
THREE EBOOK COPIES of
SUBJECT TO CHANGE as well as
one COFFEE MUG and two T-SHIRTS!
Huge contest, you guys!
US/Canada Only.