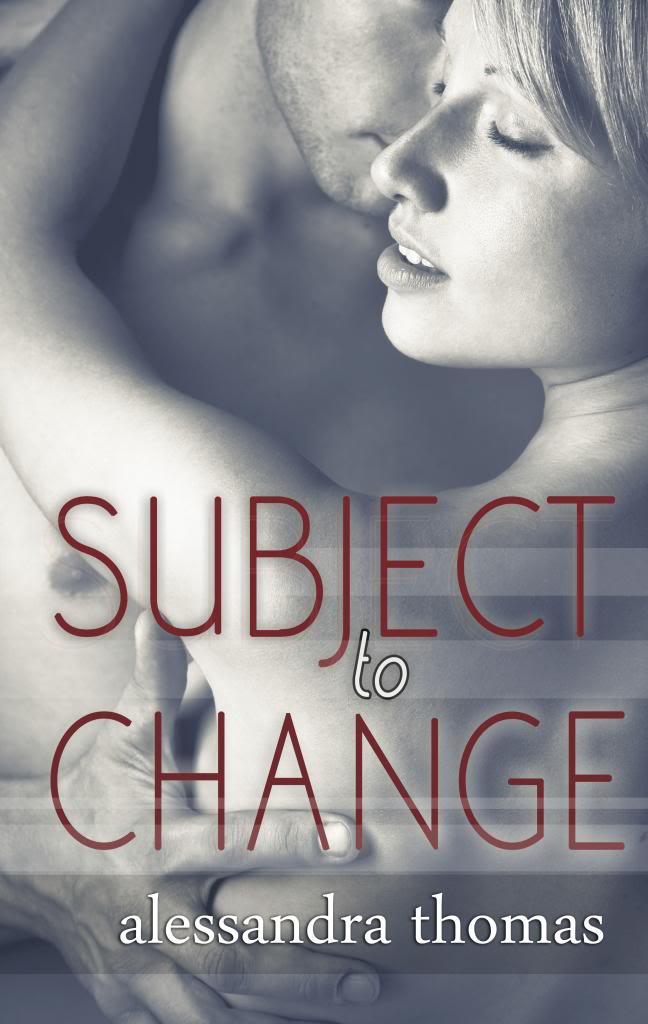 Subject To Change by Alessandra Thomas
Series: Picturing Perfect #2
Publish Date: June 25, 2013
Source: Author for Review – Thank you!
Find It: Goodreads / Amazon / B&N



Joey made her dad a deathbed promise that she would become a doctor, and dedicate herself to fighting the very cancer that took his life. There's just one problem -three years into her pre-med classes, she's struggling to stay on top of the curve, let alone prove she's dazzling enough to earn a spot in an Ivy League medical school. In a Hail Mary move, she throws a basic Business 101 class into her semester schedule, banking on a perfect score to boost her GPA.
That is, until she's paired for a final project with Hawk, the bartending, motorbike-riding, gorgeously bedheaded loser who falls asleep in class and communicates in one-word sentences.
Hawk does whatever he wants, whenever he wants, which sets Joey on edge – in every possible way. As they get to know each other, her urge to scream at him is curbed only by her fantasies of tearing his clothes off. Soon those fantasies become reality, and Joey realizes Hawk makes her feel more fully herself than any of the rich boys her mother and sorority sisters approve of.
But the promise to her father hangs over her head, and the harder Joey tries to succeed in her chosen career, the faster everything falls into a hopeless tailspin of bad grades, broken promises and guilt. It doesn't help to have Hawk sitting like a devil on her shoulder, insisting she should be free to live however she wants to live – like he does.
The only thing Joey knows is that her neatly organized life is crushing her – and Hawk's bad attitude might be the only thing that can save her.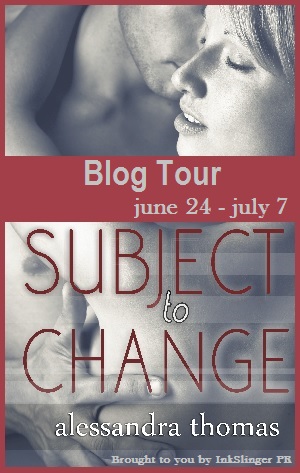 Like, really excited.
(You can read my thoughts on Subject To Change HERE.)
Today is extra awesome because
I have Author Alessandra Thomas here on this blog sharing her playlist from Subject To Change. Now, a few days ago, this little teaser popped up on Twitter:
Finishing a Subject to Change playlist blog tour post for a stop at @BookwormAsheley 's place. Two words: KELLY and TAYLOR.
— Alessandra Thomas (@AuthorAless) June 22, 2013
This little tweet was so much fun for me, having read the book, because I went scouring the music of both Kelly and Taylor, trying to pick out which songs made the cut. I was right, for the most part. Yay, me!
Basically with this one blog post, we get a combination of a super-swoony/sexy book and great music. It really can't get any better, friends.
********************************************************
Hi Asheley! Thank you so much for having me over today! I just love your blog and it's great to be featured here alongside some dear friends who have released recently.


I'm so excited that you asked me to tell you about my playlist for Subject to Change, because it's one of my favorites. I'm the kind of writer who always needs songs to help bring the angst, despair, attitude, or euphoria to my manuscripts. For Subject to Change, I had a list of about 25 songs, but let's be honest – there are always about 10 I find myself clicking on over and over again. (And my books ALWAYS have a healthy amount of Kelly and Taylor on the list, so get ready for that. ;))


So…here they are, and the reasons they fit the story perfectly!


"Everybody Talks" by the Neon Trees – This song is about a couple of people who really shouldn't be attracted to each other, but…they are. It's a relationship that makes everybody talk, and the singer doesn't think they should care.


"Crazy in Love" by Beyonce – Mostly for the mood of it, this is about head-over-heels, dizzying infatuation.


"Kiss Me" by Ed Sheeran – The singer is daring someone to just let go and let their emotions let them decide the right thing to do. So soft, intimate, and lovely.


"Mr. Know It All" by Kelly Clarkson – Hawk thinks he knows a lot about life and relationships – and Joey's 'type.' As you can imagine, that pisses her off. That's what this song is about.


"Forget You" by Cee Lo Green – It doesn't *perfectly* match the story, but there's a part where Joey catches Hawk riding around on his bike with some other girl, and it seriously pisses her off. (Also, Hawk 'can't afford a Ferrari,' so this song always makes me giggle. )


"Since U Been Gone" by Kelly Clarkson – The lyrics don't really fit, but I do like the girl-power vibe of this song. Good for fights and breakups in any New Adult romance.


"The Story of Us" by Taylor Swift – Oh, Taylor. My girl. Such an awesome nearly-broken-up song. For Subject to Change, I love this lyric: "This is looking like a contest of who can look like they care less, but I liked it better when you were on my side."


"Brave" by Sarah Bareilles – Daring girls to be brave and come out and say what they want to say. I adore this one.


"My Life Would Suck Without You" by Kelly Clarkson – A making up after breaking up song. The title says it all.


"Love Story" by Taylor Swift – Again, the lyrics don't exactly fit, I just love the euphoric, giddy, lovey feeling of this song.
********************************************************
Okay, so this is probably my favorite book playlist ever.
That is all.
********************************************************
Alessandra Thomas is a New Adult writer who swears she was in her twenties yesterday. Since she's not, she spends her time looking back on her college years fondly, and writing sexy stories about guys and girls falling in love and really living life for the first time. When she's not writing, you can find her with a spoonful of ice cream in one hand and the newest New Adult release in the other.
********************************************************
And now for the Giveaway!

Author Alessandra Thomas
is offering ONE SIGNED COPY and
THREE EBOOK COPIES of
SUBJECT TO CHANGE as well as
one COFFEE MUG and two T-SHIRTS!
Huge contest, you guys!
US/Canada Only.