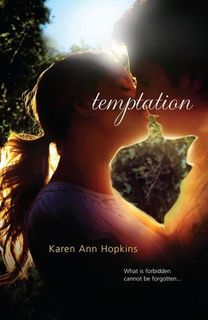 Temptation by Karen Ann Hopkins
Series: Temptation #1
Published by HarlequinTeen
Publish Date: June 26, 2012
383 Pages
Source: Publisher for Review
Find it here: Goodreads / Amazon / B&N


Your heart misleads you.
That's what my friends and family say.

But I love Noah.
And he loves me.

We met and fell in love in the sleepy farming community of Meadowview, while we rode our horses together through the grassy fields and in those moments in each other's arms.

It should be

ROSE & NOAH

forever, easy.

But it won't be.

Because he's Amish.
And I'm not.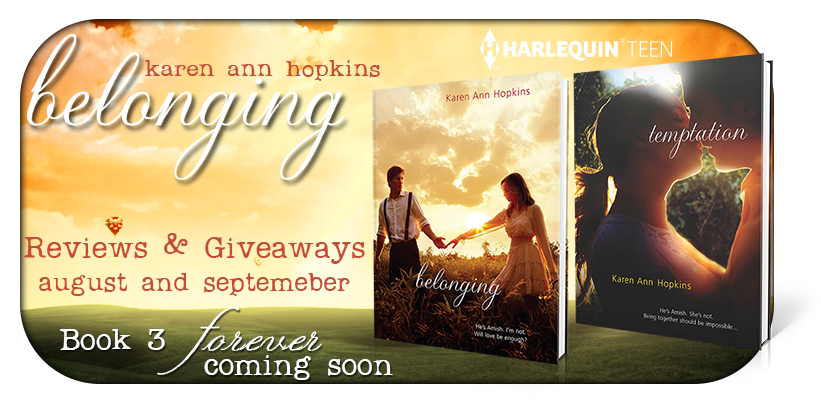 My Thoughts: I really enjoyed Temptation by Karen Ann Hopkins and am so excited to be starting this series!
The first thing you need to know is this:


Rose has just moved to Meadow View, Ohio
.
Rose Cameron is new to the area, just having moved to Meadow View along with her brothers, Sam and Justin, and her father. Her father has recently taken a position in the small town's hospital Emergency Department as a physician, which means they've all relocated from Cincinnati to rural Ohio. The move, while quite large, comes at a fairly traumatic time in Rose's life – her mother died a few months earlier after a months-long battle with cancer. Rose isn't quite sure what to make of this move – it might be nice, but she'll have to make the long commute back-and-forth to continue taking dance lessons, which is something she's passionate about and has been practicing and performing for years.
As the story opens, there has recently been a large rainfall and the creek near their new house has overgrown its banks. The Cameron family is having trouble crossing the creek just to make it to the house to unpack. After pondering what to do for a little while, they decide they'll just wade across by foot. Muddy and wet, they make it across, but now they're all a mess and more than a bit frustrated – they've made it into the house but all of their things are in the vehicle on the other side of the creek! This is causing some some normal-but-raucous behavior between the siblings when there is a knock on the door.
Neighbor Amos Miller has come to greet the Camerons, and he's brought two of his sons – Jacob and Noah. For a long few seconds, everyone is staring at one another. The Millers can't believe the behavior and the noise being exhibited by the Cameron children and the fact that their father is allowing it. The Camerons have never really seen Amish people up close before. The two men introduce themselves, shake hands, and there is more talking – but Rose barely notices it. All she can see is the boy standing behind Mr. Miller. Aaahhh, Noah Miller.
The second thing you need to know is this
:
Rose is a typical, All-American teenage girl.
When the Cameron family is invited to the Miller home for dinner that same evening, Rose can barely believe her eyes. She's never seen such an unusual family – they interact in such an odd way! She knew a few things about the Amish way of life already – they are a people rich in their traditions, often no electricity, they ride in buggies, things like that. But what really makes her bug-eyed is the division between the men and women. She can barely keep her mouth shut at what she feels is "poor treatment" between the guys and gals in the Miller family.
Rose comes to dinner dressed in her normal attire: jeans and t-shirt. She speaks freely and walks about freely between both men and women. She has dreams for her future and plans for school. She dances and takes classes and goes to camps to better herself at this skill. She loves to ride horses. She wears her hear down. She has a mad, mad crush on Noah Miller – she can't stop stealing glances his way.
Rose notices that the women and young girls in the Miller household wear long dresses, all similar in color, with bonnets. Their hair is tied back neatly away from their faces in a bun – all of them dress the same, from the oldest to the youngest. Their interaction with their father and brothers is minimal and they do not interact with her father and brothers. They do not make eye contact. They simply do their work, very well, but almost silently.
The third thing you need to know is this:
Noah is a typical Amish boy that has a problem.
Noah has OF COURSE noticed Rose – she's beautiful. And with the way she wears her hair and those clothes, what boy wouldn't notice her? Noah knows people like Rose's family are very different than his family, but her behavior is almost alarming. She speaks too freely and doesn't seem to be concerned at all with walking around with the guys! That isn't appropriate behavior for a young lady at all. Noah wonders and fears what his mother must think of Rose. And the things that she says! She's so rude with the way she speaks her mind and the way she addresses her father and brothers! No female in his family would ever think of being so open with their opinions and they certainly wouldn't speak so much and without reason.
But there is just something about her spunk and attitude that he finds intriguing and he can't stop sneaking little glances her way.
Noah has to stop, though. Those glances could get him in a heap of trouble. The Amish do not mix with "the English." If his family found out that he had a rapidly growing crush on this girl, he could be punished severely. He really needs to control his thoughts and his wandering eyes and his heart. Besides, it will soon be time for Noah to settle down with a nice, Amish girl and get married. He should concern himself with thoughts of the nice, pretty girls in his own community rather than thoughts of wild, beautiful Rose.
Still, he can't help it. That hair, the way it blows in the breeze. Long and wavy – it's so pretty! And Rose loves horses! Noah loves horses too.
Noah has got to find a way to be with Rose. He just can't be without her.
**************************************************************
You know what? I had a feeling I'd like Temptation by Karen Ann Hopkins, but I didn't know how much I'd like it. I mean, it has a forbidden romance, so YEAH I'm all over it. But there is so much more to this story than just a love between two people that are forbidden to be together and the accompanying heart flutters and swoons and things.
The basic premise of the story is this: Rose wants to be with Noah. Noah wants to be with Rose. They can't be together because Rose is not Amish. Being together would mean that Noah basically forfeits everything: his family, his name, the land he will inherit, his livelihood. This is a huge deal because as a man in this particular community, Noah finished school only up to the eighth grade and would have a difficult time finding work and supporting a family, particularly without the support of his own family. OR it would mean that Rose would have to become Amish, which would mean that she would give up her "freedom" – she'd have to turn to and embrace the ways of Noah's community, and she is very vocal throughout the story about how she feels about their customs.
But the two love each other so much that they try to find ways to be together. Secretly. Naturally this doesn't last very long and BOOM it kind of blows up in their faces as their secret is discovered and all kinds of trouble comes from it.
Aside from the romance aspect of the story – which is pretty huge – there is the theme of family, which is also pretty huge. I loved the relationship between Rose and her brothers because it felt very authentic and real. They argue and bicker back and forth like regular siblings, but when it comes down to it they love each other very much. I also loved reading about the relationship that Noah's family shared – it is different than Rose's, sure, but it is close-knit and loving as well. The Miller family, being Amish, seem very unreasonable at times because their customs and their culture is very different than what we (and Rose) are used to, but it does not mean that they do not love their son. The family relationship is there, you just have to look beyond the forbidden romance to see it.
The relationship that the Amish community plays in this book is very interesting, too. Their community is very important to them, to this particular group. They are very mindful of what the community as a whole thinks of them – of their actions, what they're wearing, what they're doing and saying, etc. It's interesting to see that when, as a culture, Americans often have an attitude of "I don't care what people think of me."
Speaking of the Amish community in this book, I love the way the author wrote them. The book could have taken a heavily religious tone, but instead it has a very "cultural" feel to it – what I mean is that as I read, I learned a ton about the culture of these people rather than their religion. There was so much about this group of people embedded into the story that I was learning as I read along. I did not struggle at all with not knowing much about the Amish at all when I began the story – the author was great about explaining things and setting up the story, the setting, the scenes very well.
Ultimately, I really enjoyed Temptation. I am intrigued by what has happened between Noah and Rose (and what is happening now that the book has ended!). I spent the entire book on their side, wanting them to have the chance to be together even though I knew that it was forbidden. With an ending like this one, I don't know where the author is going to take this young couple, but thankfully the second book is already released so I don't have to wait AT ALL to find out. I recommend Temptation by Karen Ann Hopkins to readers who enjoy YA Contemporary Romance.
********************************************************
Temptation will appeal to fans of:
YA Contemporary with Romance
Romance: Instant attraction, builds into love.
Alternating POV
Temptation by Karen Ann Hopkins
is currently available for purchase.
I received a copy of this book from the publisher to read and share my thoughts on this blog. All of the above thoughts and opinions are mine and mine alone! Thank you so much HarlequinTeen!
********************************************************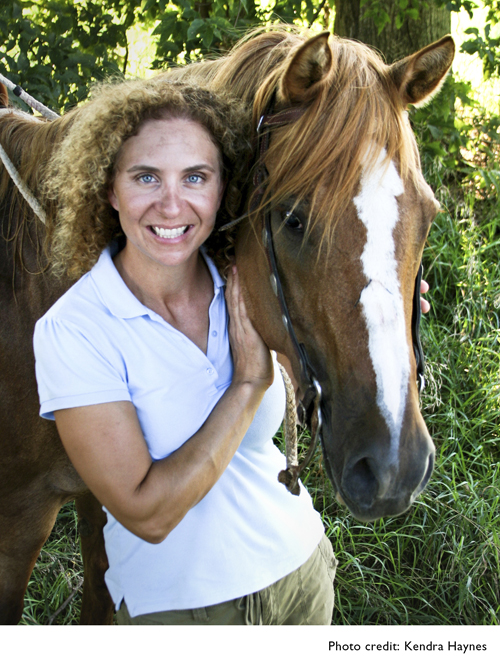 A native of New York State, Karen Ann Hopkins now lives with her family on a farm in northern Kentucky, where her neighbors in all directions are members of a strict Amish community. Her unique perspective became the inspiration for the story of star-crossed lovers Rose and Noah. When she's not homeschooling her kids, giving riding lessons or tending to a menagerie of horses, goats, peacocks, chickens, ducks, rabbits, dogs and cats, she is dreaming up her next romantic novel.
********************************************************
And now for the Giveaway!