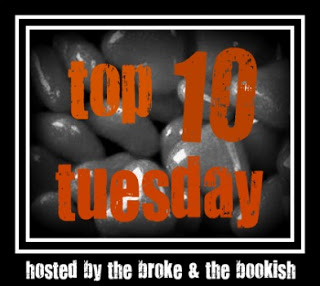 Click HERE to check out Top Ten Tuesday
at The Broke and the Bookish
Ten Bookish Confessions

(In no particular order. This blog post includes some snark!)
1.
I actually like YA Contemporary. WHAT?
Before this year, I didn't like YA Contemporary at all. But I was open to becoming a more well-rounded reader, so I challenged myself to read more contemps in 2012. I've tripled (I think) my goal for 2012 so far, and I don't plan to stop reading YA contemps just because my goal is met. I'm loving what I'm reading!
I can't even believe it.
Truthfully, it took co-hosting a Contemporary Month and some awesome blogging buddies being supportive and suggesting great titles to get me hooked on the genre. Otherwise, I'd probably still hate it. Now I love it!
2.
I actually like Love Triangles
.
There are a lot of you guys out there that can't stand them. And it's okay. But I actually don't mind a fun, well-executed love triangle. I've read a ton of them that had me
in knots
until the end of the book or series. And I've read some where my heart was
broken
along with the guy (
it's always the guy, right?
) that wasn't chosen in the end.
Ultimately, I really don't mind them at all if they're written well.
And I'll tell you if a triangle exists in a book & if I think it is done well.
3.
I love Series more than Standalones!
Oh! the satisfaction of knowing that a story lasts beyond the pages of just one book! Especially when the series is already established or finished when I start it! All of my favorite series have been nearly finished or completed when I began them so I never felt a long wait between those books AT ALL. The series that I'm working on now are MOSTLY established or finished. The series that I
want to read
that have cliffhangers – I usually wait until they're nearly finished/completed before I even start. (I'm looking at you, Lauren Oliver and Cassandra Clare)
4.
I DO judge books by their covers.
HEY! At least I'm being honest about it. And yet it backfires on me often.
When this happens, I usually am able to own it.
I've been known to pick up a book just because of the cover. Sometimes it works out and sometimes it doesn't. Likewise, I've read books that I've LOVED with covers that are not good at all.
What can I say? I'm a cover girl. First impressions matter, you guys.
But they're not always 100% accurate.
5.
I can hear books cry out when pages are dog-eared.
This is TRUTH.
The worst part about this?
In my family, I'm the ONLY person that doesn't dog-ear pages. The other four don't mind it at all. They'll turn down that corner –
I swear it
– just to make me cringe.

Yes, it's melodramatic for me to say this, but I think I can actually hear the book crying when this happens.
6.
I get annoyed with people that don't use the library.
I'm almost sorry if that's you! 🙂
Let me take it a step further – I get
severely
annoyed by people who have
children
in their charge that don't take them to libraries. As adults, we have a choice.
But kids depend on big people to get them there
. THE LIBRARY IS THERE FOR THE USING. So let's use it!
The most empowering thing I've EVER done for my children is get them their own library cards. True, it doesn't cost anything. But they gain everything! Independence and thousands of stories at their disposal… Freedom to browse and choose which stories come home and which ones stay this time – knowing that they'll be back to make an exchange and next time they'll swap for something that just might be even more exciting…
I just don't understand people that say they 'don't have time' to expose young people to something like that. And I know TONS of them in real life.
7.
I have very little tolerance for people that do not read.
"I just don't have any time to read." Really? REALLY?
But you enjoyed watching Honey Boo Boo the other night, didn't you?
No further comment.
I can understand not having MUCH time to read…
…or not being able to read as much as you'd like…
If I couldn't read, my family would HATE me.
I'd be worthless to myself, my friends and family, and probably society.

The amount of time that I read varies depending on how busy life is for me.
But I seriously doubt I will ever say that I don't have time to read.
Reading is too easy these days with audio, phone apps, ereaders, print books, reading on computers…
8.
If my library books are late,
I AM NOT driving all the way across town
just to turn them in before a fine is due.
I let the fine accrue until I'm going back to that side of town.
It's a long way for me and gas is expensive…
…more expensive than the fines, usually.
PLUS – the money from fines goes back to the library. It's all good.
9.
I can't read only one book at a time.
I get too bored with just one. I have to be reading multiple books at the same time.
It's weird. It's quirky. But it's the way I do things.
10. I don't read series books back-to-back.
Okay, in extremely rare circumstances I've read series books back-to-back.
But I don't like it and I don't want to!

I get bored with a series and it makes me sad when that happens.
So my personal policy for myself is no back-to-back series reading.
It's just another quirky reading thing that I do!

IT'S REALLY HARD STOPPING HERE.
I COULD CONFESS TO MY BOOKISH 'THINGS' ALL DAY LONG.
**************************************


Do YOU have any bookish confessions?